Drone attacks have been quite an issue in Pakistan for some time now. Recently, Jemina Khan (Imran Khan's ex-wife) addressed this issue and released a documentary titled, "Unmanned: America's Drone Wars" which premiered on 26th October in Islamabad ahead of its worldwide premiere on October 30. It later made its world premiere on October 30 at the Sunshine Landmark Theater in Manhattan, New York.
It is a highly moving documentary directed by US filmmaker Robert Greenwald and released in collaboration with Brave New Foundation. It highlights the plight of innocent drone victims and exposes the blatant lies of the US administration about the precision and efficacy of drone attacks.
This documentary highlights the brutal impact the drone attacks have on the lives of millions of people in the tribal areas of Pakistan. More than 70 people were interviewed for this documentary, the drone attack affected families, investigative journalists, top military officials and in the end, Imran Khan himself.
The director has taken detailed interviews in addition to footage that has never been seen before from the tribal areas in Pakistan to show what the people had gone through by US drone policy. This footage, alongside interviews with Pakistani drone survivors, describes the brutal reality of drone attacks ordered by the USA. Some of the stories include that of 16 year old Tariq Aziz, killed by a drone a mere week after he participated in a public conference in Islamabad in 2011; a school teacher, Rafiqur Rehman, who had to deal with the loss of his mother, along with the hospitalization of his children due to a drone strike last year. Unmanned shows how lives of people are no longer of significant importance since no one is ready to accept the responsibility for these attacks. Unmanned also uncovered how the military actions are often imprecise and US have little knowledge of how drone targets are set and the killings carried out.
Greenwald [the director] has stated, "This film was to show the world the human face on a policy that correlates groups of young men as terrorists and children and elderly as collateral damage. I wanted the world to see that this policy is misguided and should be reevaluated. The deaths of these civilians must not be in vain."
The Chairman of Pakistan Tehrik-e-Insaf (PTI) Imran Khan and other top leaders of his party attended the first screening of the film along with journalists, diplomats, activists and members of civil society. Imran's whose former wife Jemima Khan is a co-producer of the film, hoped that film will change public opinion in the West about the lethal drone strikes and their impact.
Jemima Khan also released a statement from London. She stated:
"Unmanned is a detailed look at the US and UK-backed drone attacks in Pakistan, with remarkable footage of the effects of these attacks on the ground. I believe these attacks are unethical in themselves, and — even more crucially — make every one of us less safe, because of the recruitment opportunities they afford the extremists each time an innocent civilian is killed."
Imran Khan has showed immense support for Jemina's work and even tweeted his admiration for the documentary.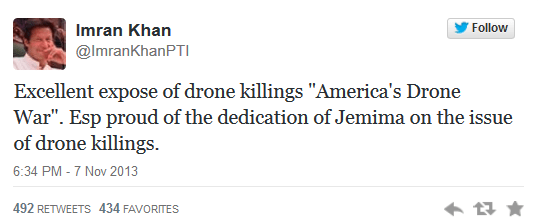 This documentary is a must watch for every citizen to enlighten themselves about the drone attacks. The drone attacks and its casualties have been suppressed for quite some time now, and this documentary gives a clear-cut picture of the drone affected areas.
Mariam Shafiq