Writer: Hashim Nadeem
Director: Saife Hassan
Producer: Momina Duraid
Schedule: Every Tuesday at 8 pm on Hum
I must say that after watching the teasers and promos of Jhok Sarkar, I was looking forward to this one more than any other upcoming drama. In fact after watching the latest promo, I was wondering if Jhok Sarkar will be the next Parizaad! Yes, Parizaad set the bar really high because it was one of those rare dramas which are both meaningful and intriguing. It also proved that the right casting can completely change the final outcome. Did this first episode live up to my expectations? Unfortunately not! I am actually disappointed after watching this first episode because it was so 'basic'. However, I have faith in the Jhok Sarkar team and I am hoping that the drama will pick up in the upcoming episode.
I can't help but compare this first episode with that of Neem because I watched that one only yesterday. I ended up watching Neem twice after watching it when it aired and every time I found myself appreciating the well-written dialogues and the overall feel of the drama even more. Neem's first episode won me over instantly. Whereas, Jhok Sarkar's first episode was not as impressive perhaps because I was expecting the Punjab culture to be reflected in the same way as the Kashmiri dialectic was integrated into Neem's first episode. Having said that, a first episode never determines how a drama would turn out to be in the long run. Some of the dramas start off strong but end up disappointing and there are others such as Ehd-e-Wafa which take off late but impress overall.
Circumstances In Jhok Sial
This first episode of Jhok Sarkar opened by introducing the part of the story which was set in a rural area. As the story progresses, it seems that this part of the story will be the focus of attention. The opening scene showed Sassi (Hiba Bukhari) and Noori (Mamia) having a conversation which revealed details about Noori's track more than Sassi's. Sassi came across as a simple girl who would never take the kind of step Noori was taking. Noori on the other hand had more guts even though she knew she was getting herself in grave danger. Saving herself and breaking free was the main theme in this conversation more than eloping for love alone. This opening scene highlighted the environment of control and the class divides.
I must say that the make-up of both these actresses in this scene proved to be a major distraction. Hiba Bukhari had a full face of make-up and her performance unfortunately remains the same irrespective of the role she plays in a drama. I hope Sassi's character will be written well because Hiba does not bring much to the table. I was hoping Saife Hassan's direction might make a difference but clearly Hiba Bukhari has a certain style of acting which remains the same in every drama. Am I the only one who feels that her expressions were confusing in this scene? While she was trying really hard to look fearful, she also had a smirk on her face. The accents of both actresses did not have the Punjabi touch as well. They sounded very 'shehri' from their accents.
Meeral (Usman Javed) and the police officer's scene was the next important scene in this episode which gave more information about the change in the system which might affect those who enjoy all the power and influence in Jhok Sial. This conversation highlighted who was running the show in Jhok Sial and how confident they were about continuing to do so. Meeral's dialogues indicated he was a spoiled rich brat who knew he will never be held accountable for his actions. This was a well-acted out scene that reflected the complete reliance of the police force on these landlords.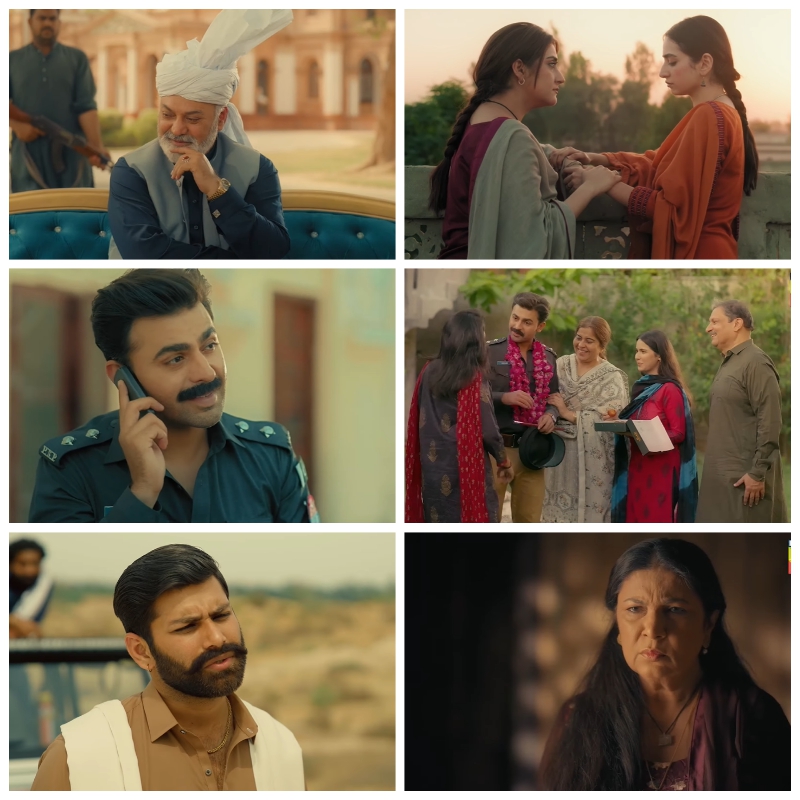 The scenes from Peeral Saeein's (Asif Raza Mir) haveli were quite surprisingly as thanday as some of the other scenes in this episode. I was really looking forward to watching Asif Raza Mir on-screen again but his character or its aura was not as impactful as I was hoping it would be. One thing common between Peeral and Meeral was their confidence. They knew they were going to continue to be in control irrespective of the circumstances. The scenes from the haveli also gave an insight into Peeral's personal life. He has two wives, Zulekha (Faiza Gillani) is the younger one who was introduced as a controlling woman, and the other older one (Sakina Samo) looked more 'polished' but disturbed owing to her circumstances.
ASP Arsalan's Track
In this episode, Arsalan's (Farhan Saeed) track was shown completely separately because he just got the rank and is yet to be appointed in Jhok Sial. The scenes covering his track showed that Arsalan did not come from an affluent background. The success he had achieved was a huge deal for his family and they valued it greatly. He is the only son who is hardworking and self-made. His conversation with his fiancé/ love interest (Mahenur Haider) also showed that he believed in earning whatever he owned and was not interested in expensive gifts or luxuries. This track did not get a lot of screen time because the focus was primarily on the Noori/Shaukat track and everything that was happening in Jhok Sial. After watching all those powerful promos with those dhuwandar dialogues, the introduction to Arsalan's character did not live up to the expectations.
Final Remarks
Surprisingly, this first episode was not impactful and even some of the most powerful actors such as Asif Raza Mir and Farhan Saeed lacked screen presence. I also felt that there was an excessive focus on Noori and Shaukat; screen time was not divided evenly among all the characters. Also, even though this episode covered a great deal, it was not engaging enough.
Did you watch this first episode? Do share your thoughts.