Jo Bichar Gaye has to be the most underrated gem on television right now. Every week it literally jolts the viewers to the core; showing those dark times which are perhaps somewhat of a 'mystery' even for viewers such as me who have studied history for years! The separation of East Pakistan has to be one of those painful topics which aren't talked about a lot in mainstream media since even to date the causes are debatable. While on the one side Jo Bichar Gaye shows the military and political situation at the time, it also focuses more on the human aspect which makes the characters relatable and the journey emotional. Jo Bichar Gaye is such an apt title as well, the more I think about it the more I find myself appreciating the writer/s for coming up with this title. The honesty with which the story and emotions have been covered is beyond impressive since the writer has shown how terrified the military men were at the time and also the fact that the establishment miscalculated certain situations. Even today, historians question if this tragedy could have been averted had the people at the helm of affairs taken the right decisions at the right time.
Even though I have read so much about the separation of East Pakistan, watching this tragedy unfold on screen has an impact like no other. I could honestly not have imagined being this involved in a drama covering the tragedy. Team Jo Bichar Gaye deserves tons of credit for a job well done. The director Haissam Hussain has created the right kind of atmosphere for each scene. The leading men are heroes who are not perfect; you understand their failure to deal with the situation and realize why things got so out of control. Also, the writer has shown how the locals were exploited by those who wanted power and control.
Taking Up Arms
Tonight's episode of Jo Bichar Gaye covered the military aspect of the movement more than anything else. Haroon became a victim of a movement that he thought was meant to protect him and others like him. I couldn't help but wonder why Rumi allowed him to go to the university, given the situation. However, he was the face of all the collateral damage which is most often inevitable in war especially when it is a civil war such as this one. The writer has convincingly shown how those running this movement had motives different from the ones few of the other people such as Rumi and Haroon identified with. They used young people to their advantage and turned their backs when they felt they no longer needed them. Propaganda is an important tool during the war and here we see it being used to the maximum. Wahaj Ali has done exceptionally well as Rumi, it is the kind of role which truly gave him the opportunity to showcase his amazing acting skills. The scenes covering how Rumi desperately looked for Haroon and later on tried to escape with him couldn't have been this powerful had Wahaj and Fazal Hussain not acted so brilliantly. Fazal Hussain was also extremely convincing in the role.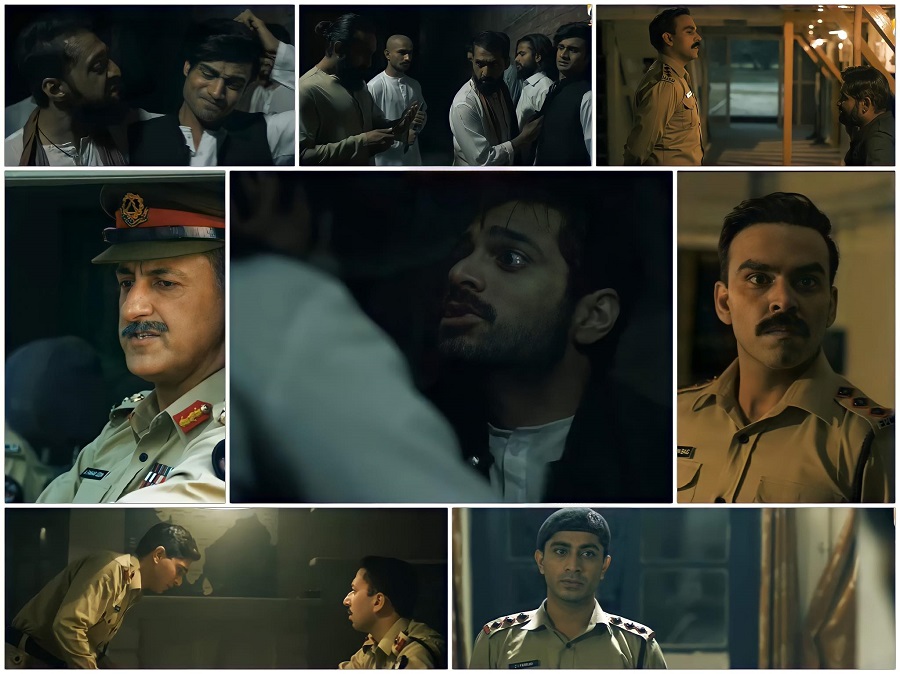 Captain Farrukh's worst fears came true one by one in this episode. He was one of those few officers who predicted early on where this movement was leading but he did not have the decision-making power. He is a young man who is in the middle of this conflict and is getting to see first-hand how things are changing yet there isn't much he has been able to do about it. When you see through this drama how weak the military is getting with every passing phase even with all the manpower and gunpower, you realize why it ultimately surrendered. The final scene of this episode was the most impactful, those dialogues said so much about the state of affairs at the time. While the higher-ups were focused on preventing more damage, officers such as captain Farrukh were trying to understand how and why did the situation get so worse!
Watching each episode of this drama is like reliving these days which we have read about in books multiple times yet perhaps never understood the human cost of this tragedy and the havoc it played with those who were directly involved in it. I found myself feeling everything all these characters went through even though some of them put up a brave face, the underlying fear has been such a dominant element in all the recent episodes. This drama has encapsulated the lack of trust and fear of your own countrymen like no other.
Final Remarks
With this episode, the story took a more tragic turn than ever. The previous few episodes set the foundation for everything we witnessed today convincingly. The writer, director, and actors deserve tons of credit for breathing life in every scene. Talha Chahour, Wahaj Ali, Adnan Jaffar, Fazal Hussain, Rana Majid, and Fahad Hashmi truly stood out in this latest episode. This episode was just as emotional and reality-stricken as all the previous ones. It is truly sad that this drama is not getting the attention that it deserves. I did not even find out about it until two episodes had already aired because I hardly ever watch Geo dramas and most importantly because there was barely any mention of the drama on social media! While Geo goes out of its way to promote dramas such as Aye Musht-e-Khaak, it has done the bare minimum to promote the drama. Even Maya Ali did not go out of her way to promote the project. I won't be surprised if so many viewers, such as me, who do not tune into Geo don't even know that this drama is on air! It is unfortunate when such projects do not get the viewership they deserve.
Are you watching Jo Bichar Gaye? Do share your thoughts about it.