Writer: Zafar Mairaj
Director: Kashif Nisar
Schedule: Every Tuesday 8pm on Green TV Entertainment
After masterpieces such as Dumpukht, Inkaar, and Lashkara, the dynamic and exceptionally talented writer/director duo is back with another drama that started off on an extremely promising note. Kabli Pulao's first episode, just like its title, was a combination of many different ingredients added in the right proportions to make the perfect final product. It also had its own distinctive flavor exactly like the dish it is named after.
 Kabli Pulao a Must-Watch
The unfamiliar yet appealing characters coupled with the most unexpected initial storyline made Kabli Pulao truly stand out among all the new dramas that have aired on Green TV Entertainment so far. Impressive performances, perfect execution, well-written dialogues, and a gripping plot made Kabli Pulao's first episode thoroughly engaging. This episode definitely had "Raqeeb Se" vibes even though the plot and the characters are entirely different. The opening episode of Kabli Pulao belonged to Haji Mushtaq, Muhammad Ehteshamuddin, who I am certain, will give every present-day hero out there a run for his money.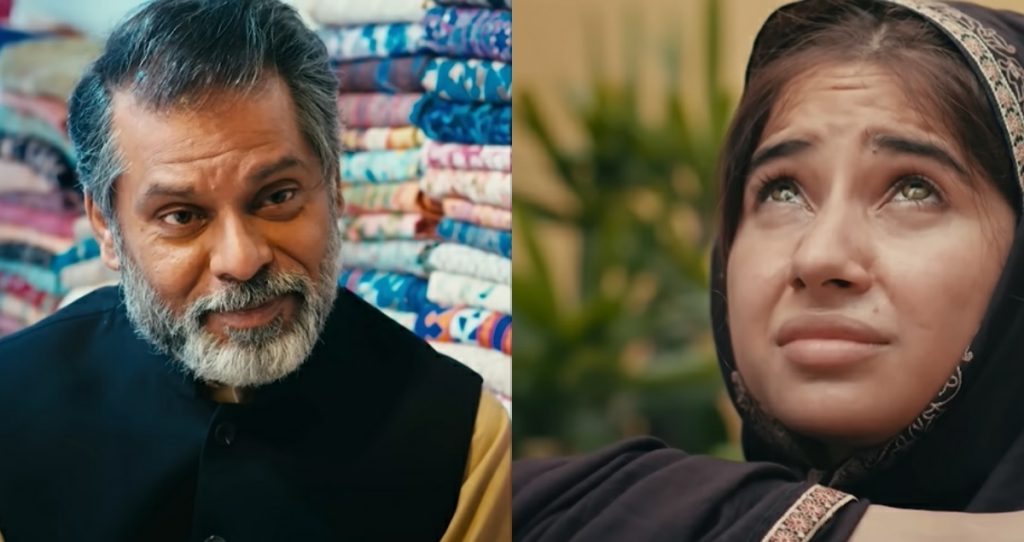 Haji Mushtaq
This first episode focused a great deal on the main protagonist Haji Mushtaq who was originally from Punjab but was presently in Mardan with his jamaat. Haji Mushtaq's character was introduced with the utmost clarity. The majority of the conversations and scenes gave new information about Haji's character. His background, his beliefs as well as his relationships with those close to him were revealed through different conversations. All these conversations were to-the-point and added something or the other to the viewers' knowledge.
Interestingly enough, Haji Sahib has quite a few interesting aspects of his personality. While he is a simple and religious individual who does not care much for worldly things, he values his relationships and holds them really dear. Maa ro pari hey hamari and so many other such dialogues about his dear niece Ayesha instantly revealed what kind of a relationship these two individuals had. This was such an interesting conversation which showed what kind of a bond he had with his siblings and their children. Perhaps, that was the reason why he never felt he needed to get married. This was such a refreshing element of this story. It is always great seeing a character who is both religious and soft.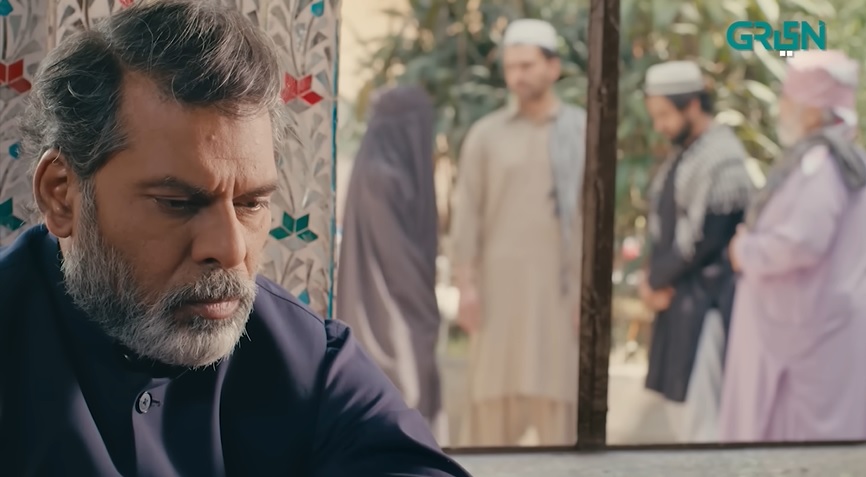 Haji Mushtaq's religious and balanced personality was reflected through so many other scenes as well. Not once did he come across as someone who was gullible or naïve. Nazr nayaz mein bs itni tasali honi chahyeh keh paise haq halal ke hoon was one of the finest dialogues in this particular episode that summed up the essence of his thought process while helping someone in need. Later on, when Abdullah's sister insisted on entering into a nikkah with him only, his annoyance was translated on-screen impeccably by Muhammad Ehteshamuddin. All of a sudden the Lahori and Punjabi accents took over which came across as natural and made the scene even more relatable. The convincing manner in which this nikkah finally took place was the most satisfying part of this episode because this was such an important development.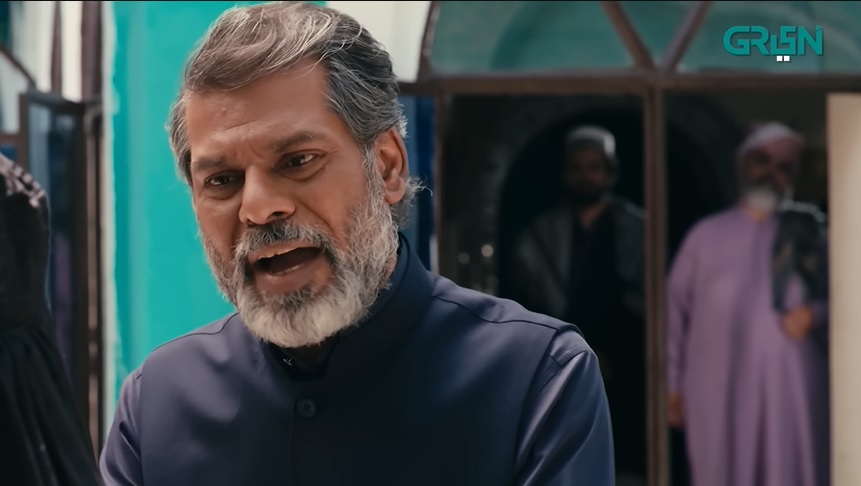 Because Haji's background was presented so well on-screen through dialogue and the flashback scene, it was easy to understand why he could not refuse this widow who was a complete stranger to him. He was doing this to save her because there was no other way. Barbeena and Haji's equation in the scenes after the nikkah during the journey were some of the most enjoyable and cute scenes in this first episode. His honest question regarding Barbeena's behavior and her equally short and honest reply was a scene that guaranteed that this union will be one-of-a-kind in so many ways. The dua Barbeena gave Haji when he gave her water and what the driver said about it was such a good way of introducing the culture and traditions of Afghanistan which might be unknown to many.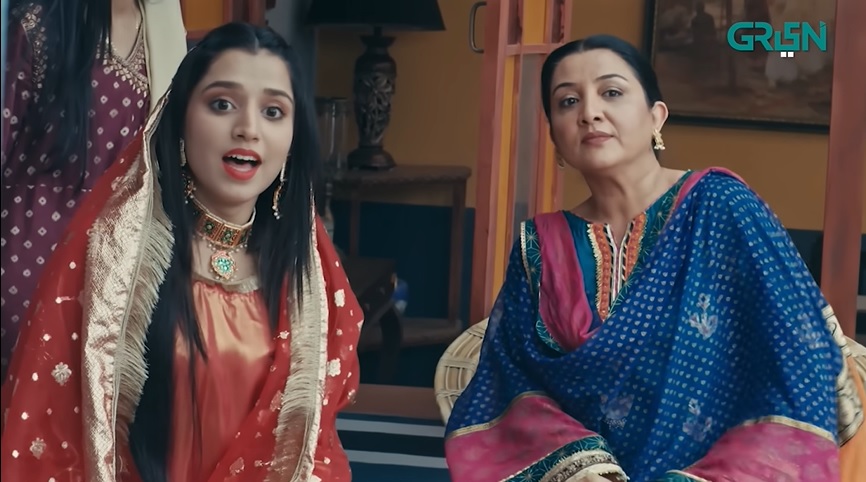 Strong female characters
Other than Haji Mushtaq's character, what appealed to me the most were the strong female characters in the drama. Each one of these characters had an appeal and a definite presence. Even though our leading lady showed her face only in the last scene and had a story full of misfortunes, her strong personality was clearly visible from the one decision she took and stood by. She refused to marry anyone else and made sure she decided who she would eventually enter into a nikkah with. That was a really bold move even if it involved pleading to Haji Mushtaq. Also, she did not hold back while expressing herself throughout. Even though she was in a burqa, you could tell that she was intelligently observing everything.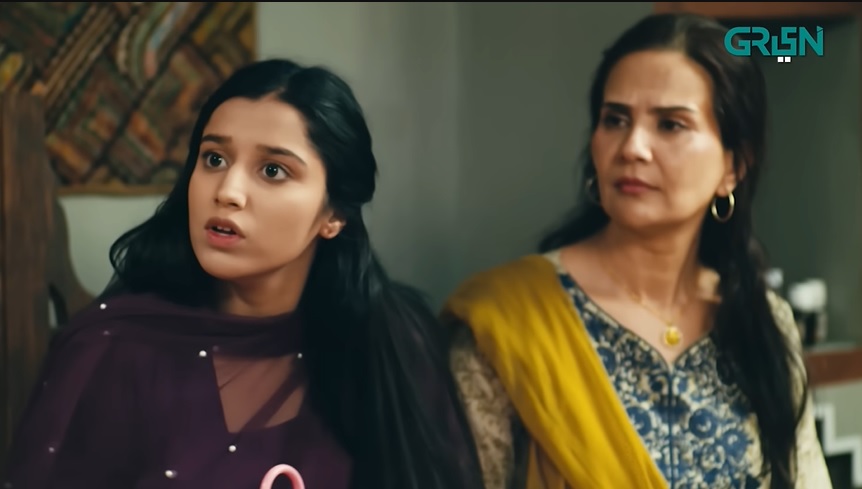 Ayesha and all the other women in Haji Mushtaq's brother's household were equally empowered in their own way. Ayesha put her foot down and made his beloved uncle reach in time for the engagement. She openly spoke her mind and even chose an outfit which she wanted to wear completely ignoring all the opposition. Ayesha's mother also did not come across as a 'typical' character from a Pakistani drama. The sisters did not even pay heed to their brother's advice regarding nach gana. Everything about all these women was refreshing and wholesome. Even though these characters did not take center stage in this particular episode but they definitely made their presence felt.
Final Remarks
This first episode Kabli Pulao starting from the first scene till the last one was just as flavorful as the dish the drama is named after. The only scene that did not work for me was the last one. However, I did love the way Haji Mushtaq looked at his dulhan, he was clearly 'smitten' but of course, he does not know that yet ;) Sabeena Farooq's look and expressions in that last scene truly made me look forward to more of her in the upcoming episodes. Even someone like Haji Mustafa was afraid of being judged when he entered into Nikkah with this woman, it remains to be seen how his family will actually react when they find out who Barbeena is. Will he tell them the truth or wait? I am eagerly waiting to find out.
Did you fall in love with this first episode Kabli Pulao too? Share your thoughts.