Ohkay so, the execution of this episode of Kashf was definitely different than the previous ones. The scenes seemed unnecessarily prolonged & there was a lot of focus on the minute details which could've been skipped. The entire time it seemed a lot of scenes were dragged & used as fillers. Probably for the first time, I also found quite a few glitches which made me wonder what went wrong because this episode, in particular, didn't seem to have been directed by Danish Nawaz himself. Having said that, I will say that I really liked watching Kashf & Wajdan's marriage & the scenes that followed because that definitely was the best part of this episode.
Executional Errors
In the previous episode, Rashida herself contacted Imtiyaz & told him to consider Kashf & Wajdan's marriage because she found that to be the only answer to all of their problems. Therefore seeing her meltdown didn't really make much sense. I honestly feel the change of actor, unfortunately, has compromised upon the overall personality of the character. The Rashida that I knew was always supportive of her son, she had a lot of character & was never the 'bechari' types no matter how tough or difficult the circumstances were. I feel Asma Abbas has treated the character of Rashida as a bechari who has nothing under her control but the way Lubna Aslam played it, she really would've pulled it off gracefully & with a lot more dignity even at this stage of her life when even the roof over her head wasn't her own. I couldn't help but think how beautifully Lubna Aslam fitted this character & I actually imagined all the expressions or even a few befitting replies she would've given when Dilshad was being dramatic & extra!
Rashia herself was the one who wanted Wajdan to settle down with Kashf & after she realized that all the dreams that Kashf sees are true, she developed this immense respect for her, therefore for her to now mourn over the fact that her son got married to the girl she opposed all her life didn't really make sense. In my opinion, the entire conversation that Rashida had with Wajdan was so unlike Rashida. Yes, she did like Zoya & has all the reasons to despise Kashf because if it wasn't for her, she wouldn't have lost the ownership of her house but still to make it look like she never once liked Kashf was untrue & actually quite unconvincing. I am glad though that Wajdan didn't let any of it put him or his spirit down & in fact, he continued to make his mother realize that she should be rational about it & accept it wholeheartedly.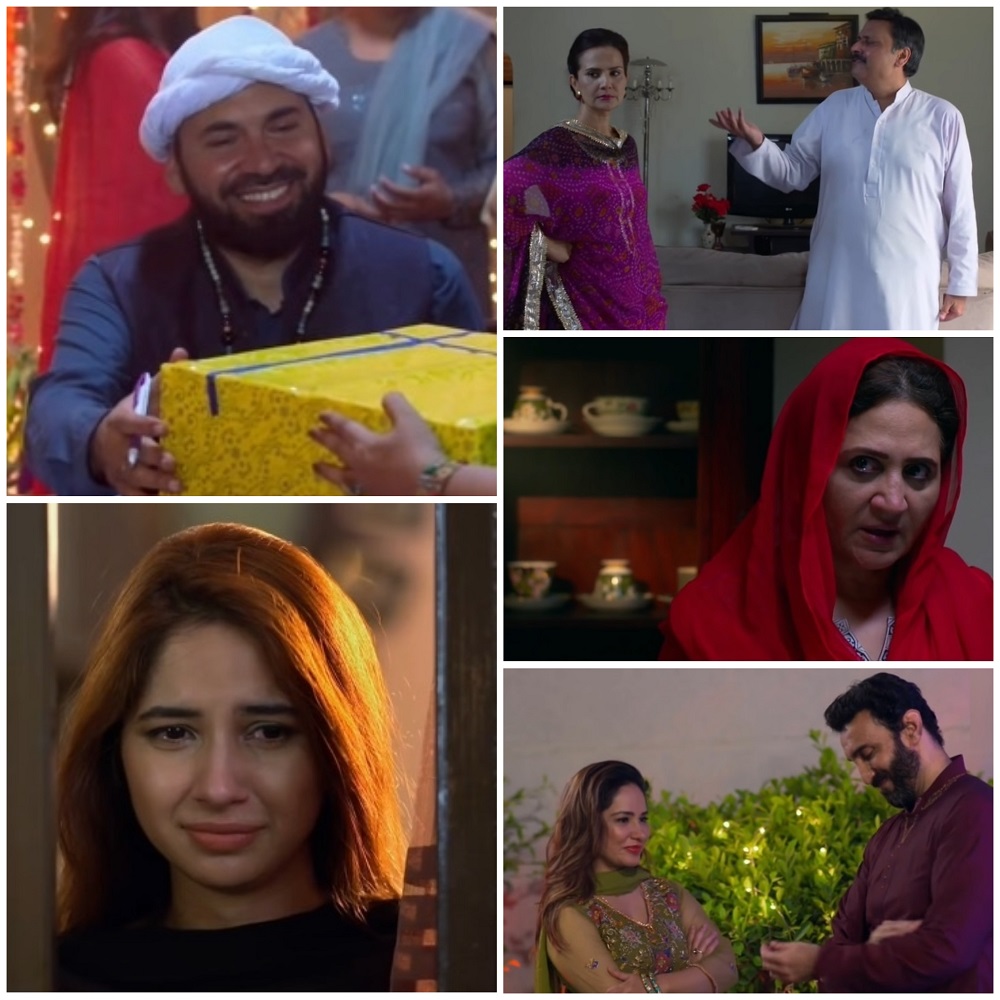 I really wish that out of all the people, Zoya's curses do not come to harm Kashf because she should be the last person whose prayers related to Wajdan should be answered. Kashf has done enough for the entire family, therefore none of them should be in the position or given the power to utter such gibberish that will come to haunt her or Wajdan in their marital lives. Not that Kashf had any doubts but I am glad she got to hear the conversation that Imtiyaz & Zoya had, at least she will not have any misapprehensions to believe that her family loves her or respects her. This way she will get to be fully committed to Wajdan emotionally & mentally because he will get to be her priority.