Introductory Details:
Ohkay so, writing of Sarwat Nazeer, direction of Danish Nawaz & production of Momina Duraid Productions; Khaas is the new drama airing on Hum TV every Wednesday. The first three episodes of Khaas introduced the characters in great detail & set the undertone of the story. The story of Khaas is mainly about Saba, who has no idea what life has in store for her. I decided to give this drama a go because of Sarwat Nazeer & the first three episode had Sarwat Nazeer written all over them.
Cast & Characters:
So, Saba (Sanam Baloch) belongs to a loving family where she has her father Faraz (Behroz Sabzwari), her mother Sadaf & sister Mehak. Saba's elder sister Samreen is married & she is settled in Islamabad. Saba's parents are an ideal couple who love & respect each other. Saba has grown up seeing such a perfect relationship in front of her, that is why it is natural for her to expect the same kind of relationship with her spouse.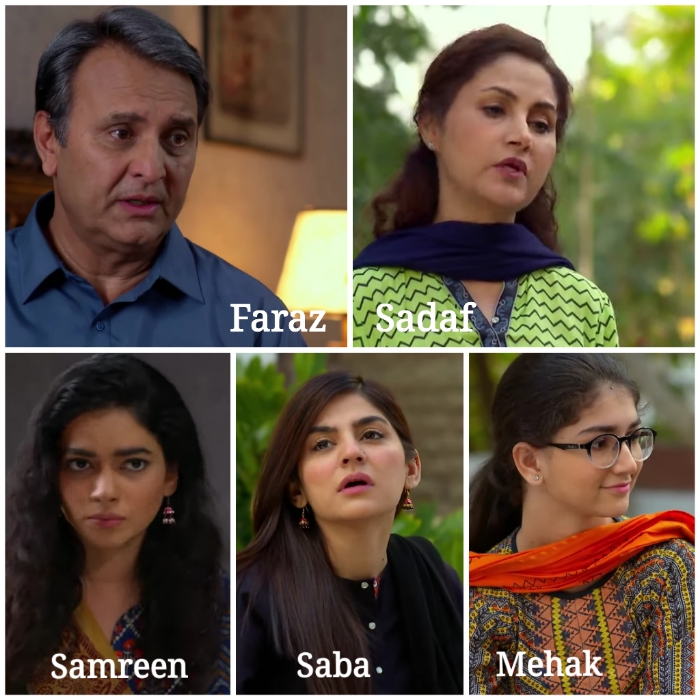 On the other hand we got introduced to Ammar (Ali Rehman) who happens to be the eldest & only son of the family. He has a younger sister Nida (Anam Gohar). Ammar has been the centre of attention of his entire family all his life & that is why he has gotten used to the royal treatment. Ammar is egoistic & he can not take no for an answer. Ammar has always been treated as the most important person in everyone's life that is why he expects everyone to treat him the same way.
Ammar's friend Fakhir (Haroon Rashid) is the sensible, wise & mature person who tries to show Ammar the other side of the picture every time but because Ammar is so self-obsessed & thinks he knows better, he doesn't pay heed to anything!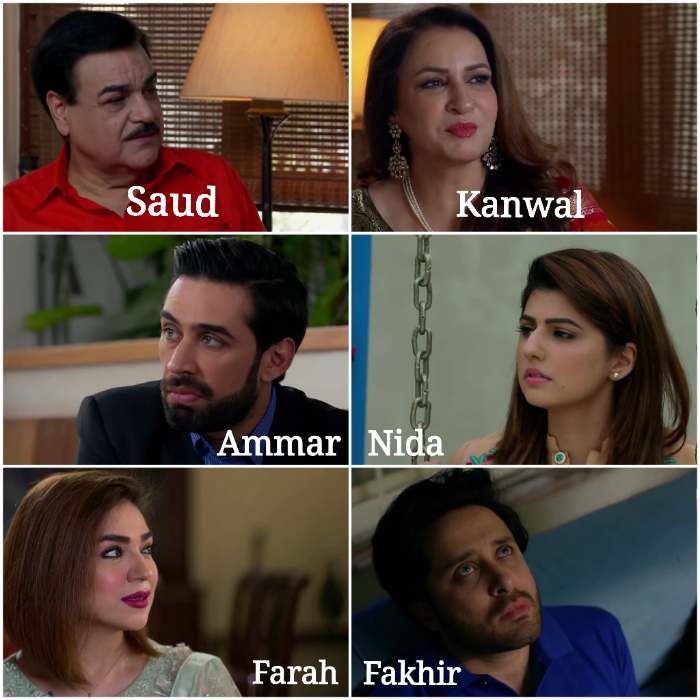 Story So Far:
So, Ammar sees Saba in her university & that's when he decides to get married to her. Ammar's cousin Farah (Natasha Ali) who happens to be a lecturer in the same university finds Saba for Ammar & that's how things proceed. Ammar's family puts forth his proposal for Saba & that's how everything gets going.
Saba is someone who has big plans for herself that she will complete her education & focus on her career. The marriage was not on her mind but this unexpected proposal did put Saba in a tight spot. Saba's parents did say that she had all the freedom to make the decision but kept on highlighting how much they liked Ammar & his family & how lucky Saba was to land such a proposal. The way Saba said made to say yes was a complete case of her getting pressurized but pyaar se. Saba was not in a mood to get married but because she saw how keen her parents especially her mother was, she couldn't say no.
All this while, they kept on highlighting the fact that Saba's delay in saying yes to the proposal was basically a big deal for Ammar & his family. Ammar couldn't really wrap his head around the fact that there was this ordinary girl who wasn't jumping with joy over his proposal & rather took her time to think things through. All those conversations about Saba making Ammar wait started to sound a little repetitive though. Ammar couldn't take it therefore he even decided to call the wedding off but decided to go for it because firstly his family & friends pressurized & secondly, he spoke to Saba, that too when she kind of took an initiative. I think this was the interesting aspect how the writer tried to highlight the fact that things on the surface might seem perfect but ego & narcissism are deeply rooted & are mostly unseen in a person till the girl gets married. Everyone couldn't stop praising Ammar over the face value but they had no idea how his attitude later will create problems for Saba.
Fakhir is also involved in a one-sided love with Saba. They both had a brief interaction over a little car accident but Fakhir couldn't take her out of his mind, I guess it is because Saba probably resembles Fakhir's mother a lot, that is why he developed feelings for her. Fakhir also happens to be a neighbour of Saba's best friend & that is how he finds out about Saba's engagement but he has yet to find out that Saba got engaged to Ammar.
Closing Thoughts – Commercialized Treatment:
Overall, the first three episodes of Khaas were decent but borderline average. This drama definitely can be tuned to but after seeing the first three episodes & also the promo of the fourth episode, I feel it lacks the spark that actually could've made it Khaas. Sarwat Nazeer's scripts are simple & they deserve that kind of treatment as well, like the currently on-air Do Bol is a perfect example. I feel by commercializing her script, Danish Nawaz has kind of compromised on the essence of the story. The main issues seem to be suppressed by the least important details that have gotten coverage like Sadaf's fixation with Whatsapp & Facebook? Every time these apps were mentioned, I wondered how are they related to the story or are going to help? I know the director has tried to make it all very real & relatable to the daily lives or regular people but I think even the teenagers don't announce out loud that they need to click a picture for Facebook. Anyways, Sanam Baloch looks good in this drama, probably better & less tired than she looked in Teri Raza but I hope her role is substantial & doesn't turn into another bechari who chooses to stay in a dysfunctional marriage because she doesn't want to upset her parents. Ali Rehman looks bored, not because of the character that he is playing but because of the overall attitude & styling. I think it's high time that he should experiment with his looks a bit. Haroon Rashid seems to be playing the same kind of role that he has already played in Do Bol, the only difference is that in this drama he is far more mature & rooted. The character of Farah is loud & Nastaha Ali has done everything to make it louder, but yes, looks nice & does justice to the overall character. The direction is alright but it could have been better definitely because Sarwat Nazeer's scripts come across as best when they are given a fairly simple treatment. The OST is alright too & I so don't want to make this reference but I will say that so far the first three episodes have been just alright & I hope the remaining episodes turn out to be Khaas. Oh yes, before I end my review I so want to know who wrote the dialogue 'Ab ai na billi thaylay se bahir'? Like who did the literal translation of the proverb 'the cat's out of the bag now', because I had a good laugh at this gem. I hope there are more such gems in the rest of the drama. Anyways, please share your thoughts about the first three episode of Khaas.
Keep Supporting,
Cheers,
Zahra Mirza.