Ohkay so, this episode of Khuda Aur Mohabbat was dedicated entirely to the meeting that took place between Mahi & Farhad. I will be honest the slow pace of the drama is forcing me to focus on things that do not matter & also gives me plenty of time to think about how the characters have not been etched out properly because even after so many episodes, I fail to feel connected to them. The director definitely deserves the credit for making Khuda Aur Mohabbat 3 a visual treat, each & every frame is worth watching but when it comes to the characters & story development, he hasn't done justice to it. It makes me think that direction is the actual reason why the characters & overall story & scenarios aren't making such an impact as they did in the previous seasons, considering it is coming from the same writer who has written more or less similar story!
Self Inflicted Misery
Mahi decided to meet Farhad finally & he once again misconstrued the actual reason what made her come & see him. Before getting into their meeting, let me just get out of the way of how sad-looking that library was. Although it was suggested repeatedly that no one actually visited the library apart from Mahi but like her mother said, she continues to dig for treasures there? If that was the case & she was passionate about books, this library wouldn't have been in such a sorry state. Anyways, once again the director used the element from the previous seasons because the library was the place where Hammad & Imaan met therefore Farhad & Mahi had to meet there too.
Farhad assumed that Mahi was finally moved by the feelings he had for her therefore she came all the way to meet him but then Mahi decided to burst the bubble. It was also quite obvious that Mahi magnified everything & said all those hurtful things to put the point across because she too realizes how stubborn Farhad is. She did feel guilty that she was being a bit too rude & arrogant in dealing with him but then again, Iqra Aziz made it clear that Mahi just wanted to get rid of him & did not have anything in her heart for him. Honestly speaking, all the things Mahi said made sense & although it might have made her look a bit negative but, I did not see that happening. Mahi was making sense & just wanted to make it clear to Farhad that he stood no chance.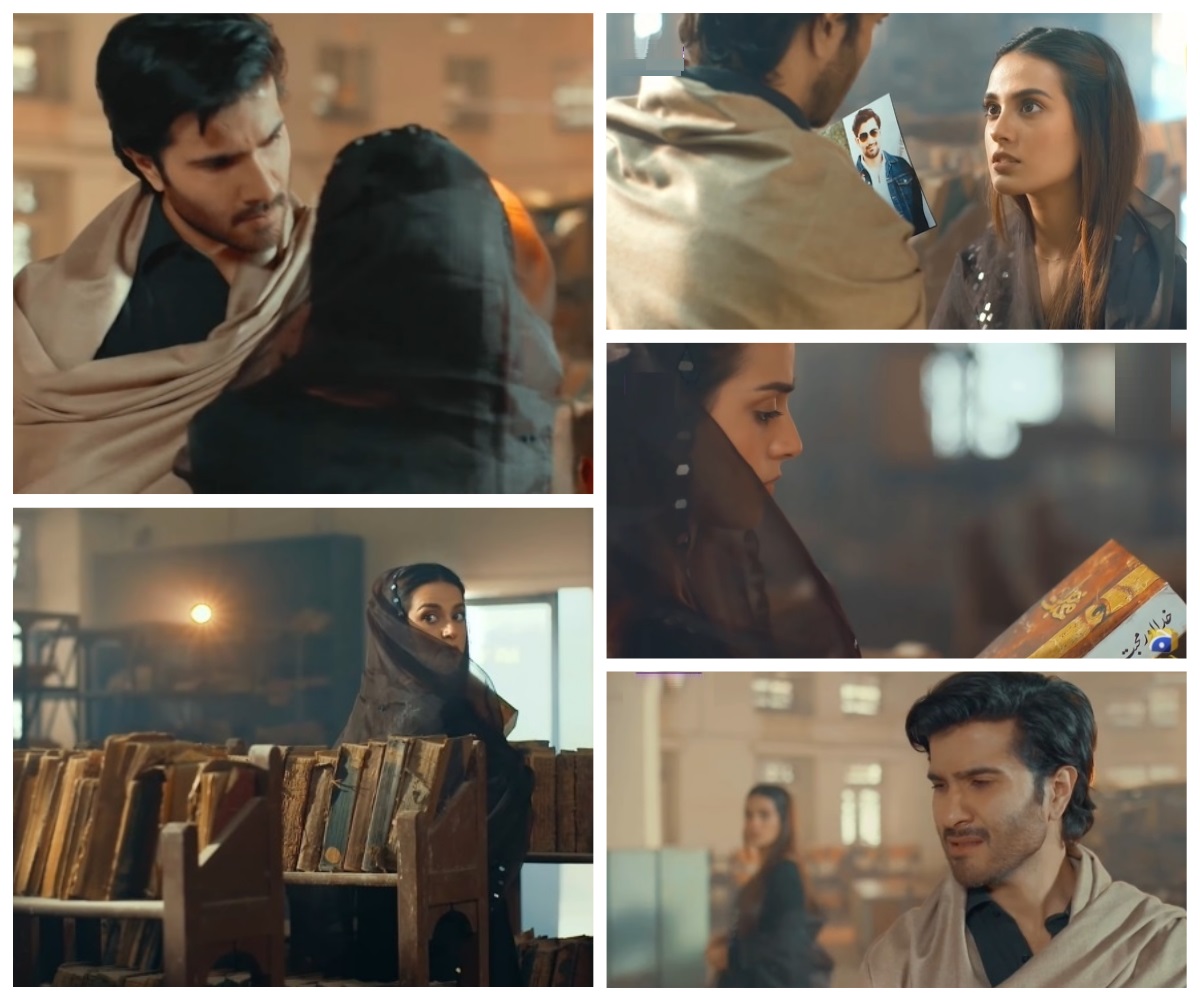 Farhad's reaction to everything that Mahi said was pretty wrong. It kind of took me back to how humble, polite & respectful Hammad was towards Imaan. However, here we have Farhad, who literally grabbed Mahi crossed the line of decency. The way he started speaking to her casually was another thing that I found off-putting because he sounded a bit too casual as if he was actually talking to his girlfriend, which Mahi was not. I fail to see the sense of respect Farhad should have had towards Mahi, the girl he loves so much. At this point, everything that Farhad is feeling seems like a self-inflicted misery & nothing else. He is entitled to love her but to literally push her to feel the same way makes him look irrational.
The only thing I agree upon with Farhad is the comment he made on Mahi's parda & hijab, because right from the moment Mahi came to meet Farhad, I couldn't help but notice the absence of parda observed by Mahi. I have said it before & I will say that again, this is one important aspect that has been dealt with just so callously in Khuda Aur Mohabbat 3 that it actually makes me upset. If the director had omitted the entire hijab from Mahi's attire, it wouldn't have made any difference & the audience wouldn't have said anything. For a girl who observes hijab, it was a bit too much to just show up in front of Farhad dressed to the nines, looking absolutely stunning. It is obvious that the director has tried to make the most of how gorgeous Iqra Aziz looks in this drama but it deprives me of taking her or her character seriously. So yes, out of all the things that Farhad said, this one made the most sense & the rest of it just did not really strike a chord.
Now, coming to the bad-dua, Farhad should not have done it. When you love someone, no matter what happens you can never wish ill upon that person for something as basic as them not reciprocating your feelings but because Farhad is so tunnel-visioned & thinks the entire universe revolves around him, he had to say that to Mahi to rip her off the happiness she deserved to have witnessed while starting the new chapter of her life with a man who is best suited for her. I really feel Farhad's financial background & the kind of personality he had wouldn't have stuck out like a sore thumb if he had been a bit more humble & polite in approaching Mahi & showing her the love he had for him. This stubborn behavior makes him look like those guys the girls tell on to their cousins & in the end, they get nudged, shoved, pushed, slapped, kicked & are shooed away. This is exactly the kind of category Farhad falls in but once again, because Feroze Khan has played this character so convincingly, he is making Farhad a bit tolerable, despite the fact that his antics, his character & personality traits are off-putting.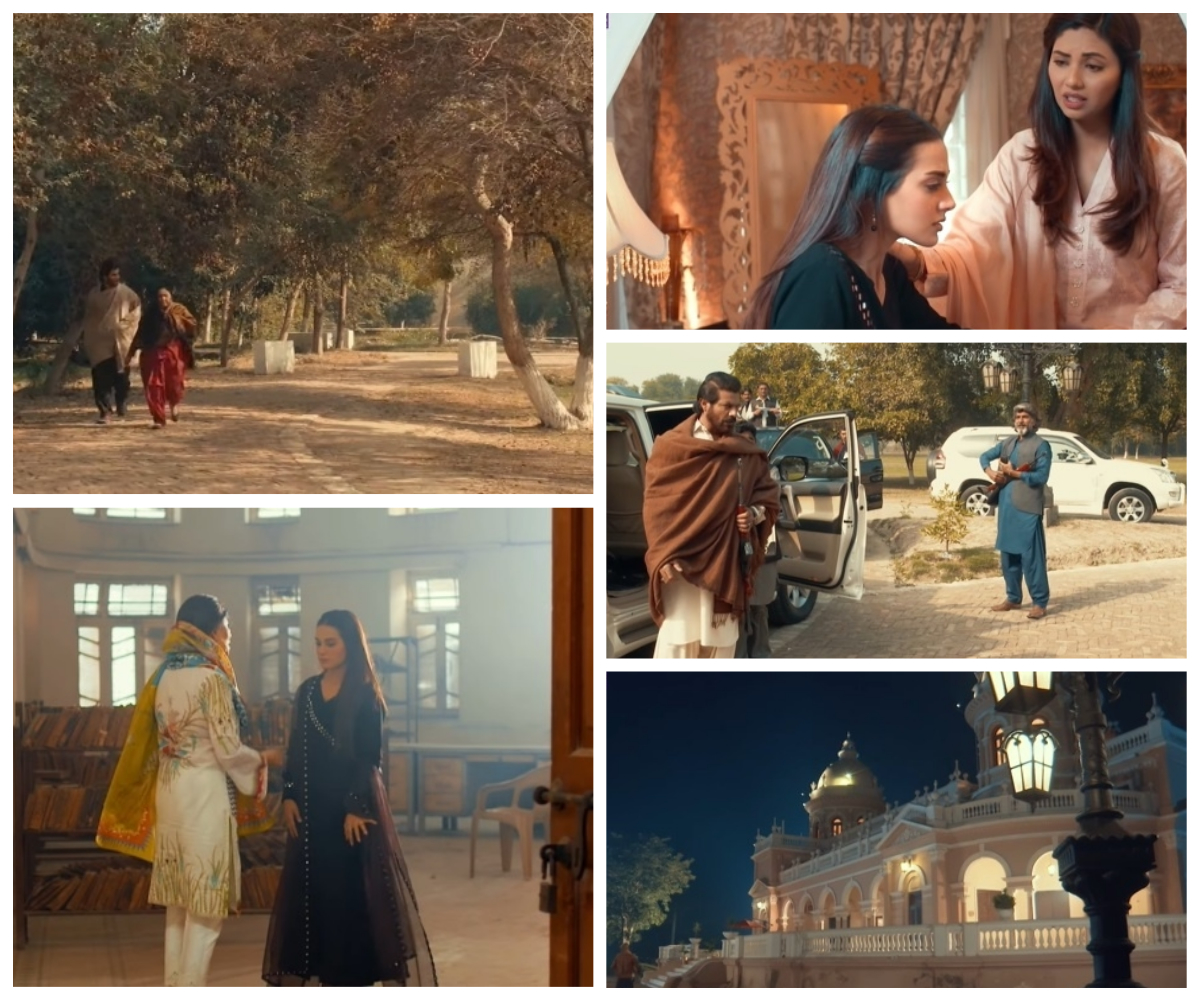 A Visual Treat & That's About It
The director deserves full points for making Khuda Aur Mohabbat a visual treat, making all the actors look absolutely glamorous & gorgeous. These aspects of the drama definitely make it a decent watch but when it comes to the story, the essence is lost, the characters lack those qualities which would make me warm up to them. I wish there was more to Mahi's brother other than hopping in & out of his cars threatening & rejoicing over shooing his enemies away. I wish there was more to Sahiba than just hovering around Mahi like she has zero life of her own. I really wonder if there has been a single conversation that has taken place between Mahi's brother & sister in law? The characters seem too superficial & that is only because the director was too focused on the glamorous & commercial side of the drama-making. Although the drama makers are lucky that such strong actors decided to be a part of this project because it is only due to their convincing performance that is a reason enough to tune to this drama. Please share your thoughts about this episode of Khuda Aur Mohabbat.
Keep Supporting,
Cheers,
Zahra Mirza.