Ohkay so, this was yet another slow episode of Khuda Aur Mohabbat 3 with a few buckets that were filled with tears. I am not sure whether Khuda Aur Mohabbat 3 is a drama or a trauma. However, before saying anything, I just want to thank Naheed's parents from the bottom of my heart for their decision of getting their daughter married – it brings some kind of relief to me because then there will be minus 1 set of eyes shedding tears for Farhad. Apart from a few conversations here & there, this episode practically had nothing much to offer. Another week passed by & I was left wondering whether there is anything substantial to the story or not?
Trauma In The Name of Drama
Mahi is definitely getting used to the idea of being a mother figure to Sikandar's children. Although she is not doing this deliberately but because she actually has nothing much to do, she has found some sort of meaning to her life, even if it means taking care of those children. It is nice that even Sikandar's kids have gotten attached to Mahi because at least this is what keeps her busy. I can totally see where this is going to go because once Mahi will decide to go back, she will find it difficult because the kids won't allow that & then the conversation about her & Sikandar's marriage will start.
Sikandar has lost his motivation, he is in a mental block but excuse me for being too blunt here, the pep-talk his servant gave to him about going to Romana's mehfil to find that lost motivation, his purpose of life was a bit too much to digest. I think the writer has taken it a bit too far, putting a woman like Romana on such a pedestal to show that men like Sikandar need them in their lives to keep themselves going. There were so many other ways through which the concerned servant could've shown Sikandar a brighter side of the picture but to make it all about visiting Romana to find the peace he is looking for did not sit well with me. Although I have said this before & I will say that again, I do like the way Romana's character has been written & the kind of personality she has, also the level of respect she has for Sikandar but I think that was enough to establish her position in Sikandar's life.
A bit of insight was given into Farhad's family & how they were going about their lives. Farhad's father is just not himself anymore, his mother is not in her senses & Fari can't help but sympathize with her parents. Honestly speaking, hearing Fari giving all these details to Naheed made me wonder why was she stating the obvious to her because as far as I know, Naheed has not left Farhad's place since the news of his death surfaced, so it made it look like Fari was just rambling because everything that she was saying was already known by Naheed. At this point, these kinds of conversations kind of take away from the seriousness of the story because it shows that the director has purely relied on the dialogues to do to the talking, instead of relying more on the visual impact. It also highlights the lack of depth in the story because of which such superficial scenes have been shot to convey to the viewers what the characters are going through. It is unfortunate but at this stage of the drama, I fail to connect with any of these characters & like I have said before, I feel the focus on commercialism & larger-than-life portrayal has created that barrier between the audience & the characters that you just watch them perform without feeling any emotion for them.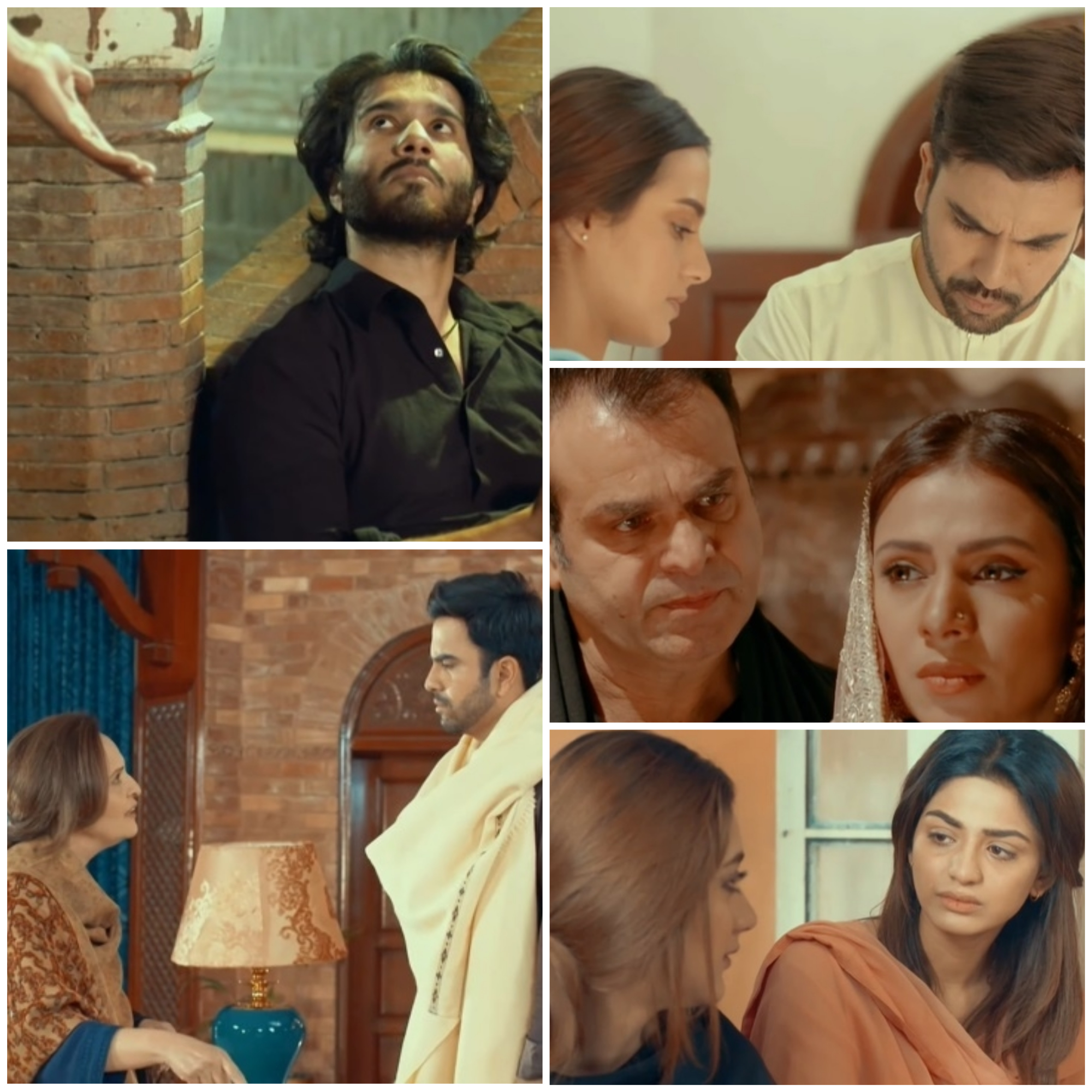 Mahi's mother-in-law continues to be toxic & she has made it quite clear that she can not tolerate Mahi's presence. I don't really understand why she bothered & wanted Mahi to stay when all she had to do was show her what a typical saas she was going to be. Sikandar is obviously going to start noticing all the things Mahi will do for his children & which will make him think about the possibility of marrying Mahi for the sake of his kids.
I think all Farhad did in this episode was eat a packet of rice. Oh yes, Romana couldn't stop thinking about him. Another dialogue that made me roll my eyes was Chanda told Romana to use Niqaab in order to prevent herself from Nazar. I definitely expected better from Hashim Nadeem & never expected that he would reduce the purpose of Hijab & Niqaab to this in any of his scripts. The way Hijab has been used & dealt with in this drama is nothing but a joke, which is quite disappointing. The conversation Romana had with one of the visitors once again seemed out of the blue, at this point I don't think as a viewer we have gotten enough insight into Romana's character to sympathize with her because of all the taunts related to Sikandar that she had to endure. Although Tooba Siddique performed brilliantly in that scene to show that Romana was deeply affected & also offended at all the things he said but there isn't much emotional connection to feel it myself as a viewer!
Underwhelming & Far-Fetched
This episode of Khuda Aur Mohabbat 3 offered absolutely nothing. The preview however did seem promising but with the slow pace of the drama, I am not sure whether Farhad will come across Mahi next Thursday or not. I think it will take him at least 10 Thursdays to get noticed by Mahi but let's see, it might be a miracle since everything about Farhad is miraculous as per the writer & also the dervish. Tooba Siddique has acted well & she looked stunning throughout the episode. At this point, I can only say that I had a lot of expectations from this drama but it fails to meet any of my expectations. I am definitely going to watch it till the end but overall, I am underwhelmed & definitely feel the writer tried to push a lot of wrong ideas in this script. Please share your thoughts about this episode of Khuda Aur Mohabbat 3.
Keep Supporting,
Cheers,
Zahra Mirza.