Ohkay so, this episode of Khuda Aur Mohabbat 3 had the exact same pattern as the previous episode. It started off with the sermon of Dervish at the Mazaar, followed by similar happenings at Sikandar's place, a scene reminding that Romana is still relevant, a scene of Mahi's parents with the camera overly zoomed into their faces to capture their teary eyes. However, it fortunately ended on a good note where at least someone acknowledged that Mahi was being treated unfairly.
Someone Spoke For Mahi
I will definitely give a lot of credit to Dervish for giving Jageerdarni a different perspective, because as the preview suggested it definitely is going to work & she will have a change of heart. Dervish's meeting with her & saying things that needed to be said was the only 'new' scene in this episode because apart from that everything has been pretty repetitive. At this point, after 23 episodes, all I see is how the drama makers have tried to justify & focus on the Mohabbat aspect of the title, but when it comes to Khuda, not as much!
I am glad Rida took a stand for Mahi & before leaving she proved that she was her friend as she could not see Mahi being treated unfairly. Mahi has accepted everything without any complaints & this selflessness stems from the guilt she has been feeling all this while. At least Rida tried to talk her out of this feeling but because Mahi is confined in such a dark place, both mentally as well as physically, no one can help unless Mahi allows that!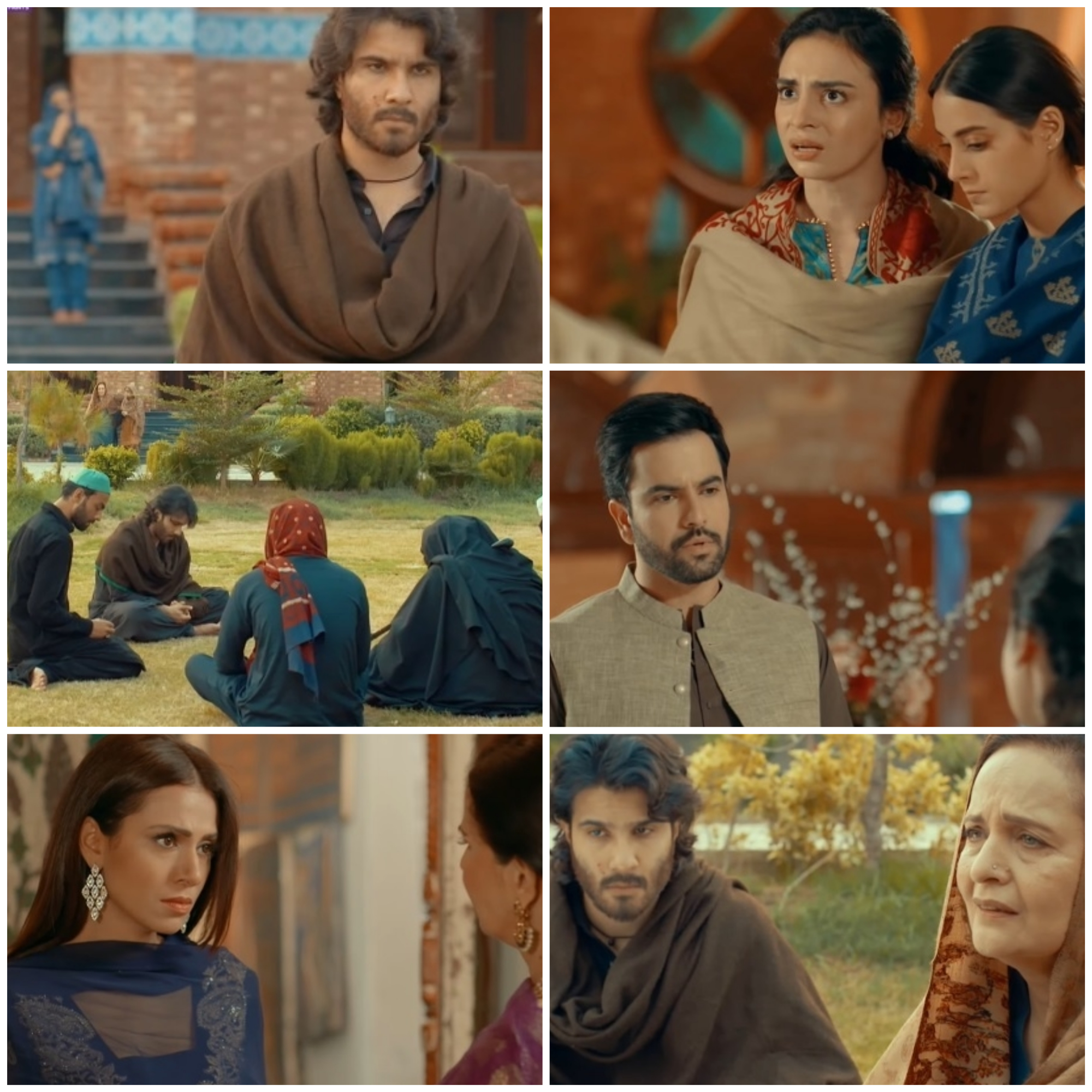 In this episode, Farhad looked a little sharp & there was a sudden change in his look. I feel his look till the previous episode went well with his condition & frame of mind but in this episode maybe because the makeup artists & stylists knew he was paying a visit to Mahi's house, they gave him a makeover. It is amusing that although the story is centered around Farhad, he happens to be the only character who now looks like a shadow. The imbalance in the coverage & treatment of this character is pretty obvious at this stage of the drama. In the initial episodes, even a random stranger who crossed paths with Farhad became obsessed with him but now although he is kind of in seclusion, he is nowhere to be seen. No one knows what he is feeling, what are his thoughts? I think a scene or two showing his self-reflection was definitely required but maybe those scenes were never written in the first place. I am not sure what to think or feel about a central character who barely has spoken anything since the last 6 – 7 episodes maybe? The director definitely took an extreme approach in dealing with this character but sadly, in both cases, he hasn't been able to give the audience an insight into what his character actually is like.
Oh yes, Romana is still relevant to the story, what a relief I must say. She looked stunning I must say but apart from that, there was nothing new that she said or did. Once again, I think the director was so focused on making Khuda Aur Mohabbat 3 & each of its scenes look so 'pretty' that he forgot to focus on the characters & making sure that he should extract the personalities given to them.
Repetitive & Monotonous
This episode of Khuda Aur Mohabbat 3 did not have much to offer. I will however say that I definitely liked the scene where Dervish came to Taimoor's house & said the things he wanted to. I am still trying to figure out how he found out that Farhad is in love with the girl who now happens to be Jageerdarni's daughter in law? I really want to know. Sadly, the preview of the next episode also didn't seem promising & looks like we'll have to watch a few repetitive scenes again. The only difference would be in Jageerdarni's attitude towards Mahi where she will become more accepting towards her bahu. Romana will once again come to praise Farhad for the things she too has miraculously seen in him which I am still wondering about.
I think Khuda Aur Mohabbat 3 should have had a total of 21-22 episodes (just like Alif), with a different pacing & a lot more focus on the characters & their tracks, instead of the focus on glamour & commercialism. It would've definitely changed a lot of things. I also find the background music & soundtracks quite burdensome, it is like they mentally drain you while you are watching the episode without even listening to them consciously. Meherbano acted brilliantly in this episode & I will definitely say she acted as a relief in this episode. Please share your thoughts about this episode of Khuda Aur Mohabbat 3.
Keep Supporting,
Cheers,
Zahra Mirza.