Ohkay so, this episode of Khuda Aur Mohabbat 3 was based on two things – one the glorification of Farhad & second the neverending flashbacks, which served no purpose other than filling the episode & prolonging the drama further. The drama itself is so slow that to see the editors relying on flashbacks was off-putting. At this stage, the least they can do is speed up the progress & wrap things up but the drama makers don't seem to be in a mood for that. While watching this episode of Khuda Aur Mohabbat 3, I found myself reaching for the remote control more than usual because of how loud the background score & OST was!
Glorification of Farhad
Farhad will be happy to know that he has gained a few more followers on his Instagram in the form of Sikandar & his mother too. Once again, I fail to see any specialty or extra-ordinary-ness in Farhad but to see everyone literally bowing down to him as if he is some spiritual being is unbelievable. Sikandar was now floored because Farhad was protecting Mahi. I am not too sure what it was that Sikandar wanted to know whereas he had heard everything from Romana directly. His curiosity got the better of him & he decided to know more about Farhad & Mahi's equation.
The only scene that I liked in this entire episode was Jageerdarni's support towards Mahi. I am glad out of the entire lot, Jageerdarni not only has sensibility, but she has sensitivity too. She has not only claimed to be Mahi's mother but wants to prove it through her actions too. It would've been so nice if Mahi's biological mother had kept her breathlessness aside & had this conversation with her daughter but anyhow, it is Jageerdarni who did that. She wanted to know what it was that Mahi wanted & no matter how much Mahi tried to cover up, she figured out that this was yet another decision taken by Mahi due to the family pressures & nothing else. I am really glad that in this entire drama, there is a character like Jageerdarni who has shown so much growth – she started off on a bitter note with Mahi but now she truly loves her selflessly & only wants to see Mahi happy!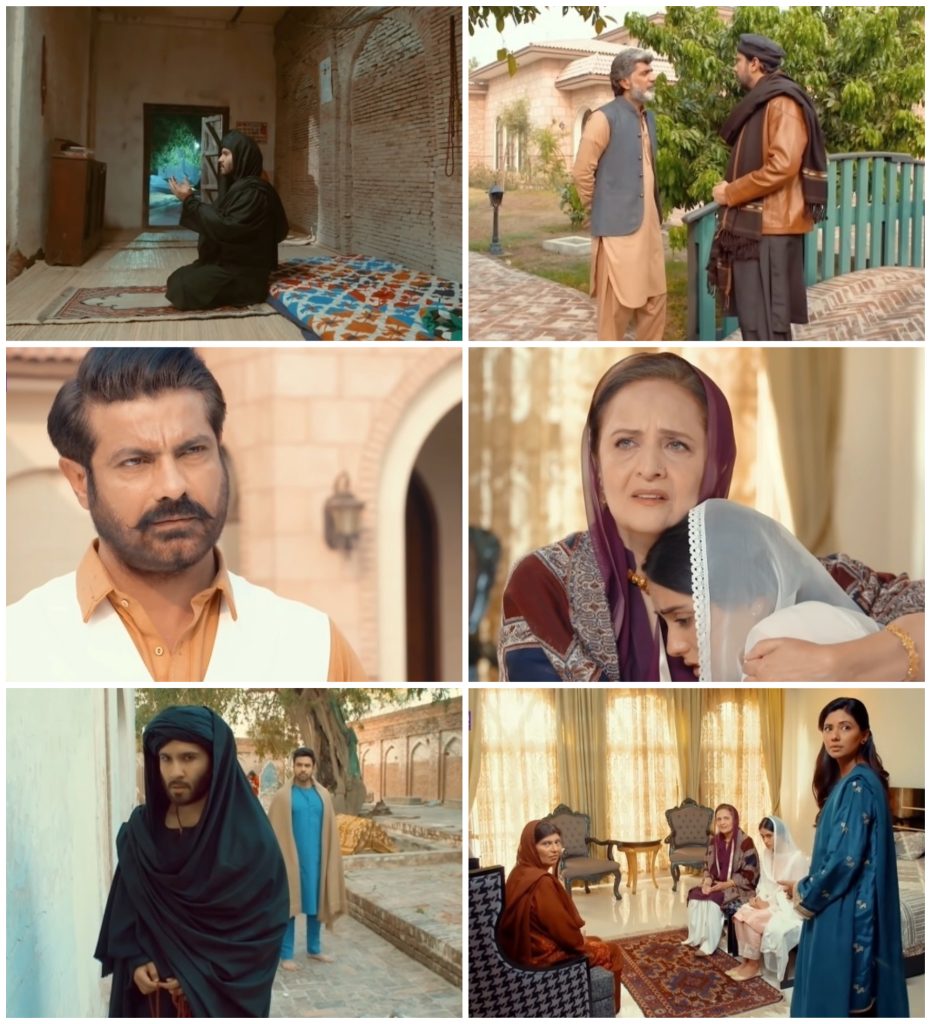 So, Dilawar has entered the picture & he has been assigned to assassinate Farhad. Noora has prepared a place for Dilawar in Sahiwal, I am sure when Dilawar will find out who he's about to kill, he will most likely offer Farhad to escape & come with him to Sahiwal. Dilawar already was quite uneasy with the fact that he has to kill someone affiliated with Mazaar but Noora chose not to tell him who it was. I am surprised that Noora suggested Dilawar's name to Nazim because when it was rumored that Farhad has passed away, Noora himself saw how Dilawar took this news to his heart & how upset he was. It is unrealistic that despite knowing the nature of friendship that both Dilawar & Farhad shared, Noora thought Dilawar was fit for this job!
Please Move The Story Forward
This episode of Khuda Aur Mohabbat 3 practically had nothing to offer, apart from a scene or two that were actually related to some development in the story. Jageerdarni also wanted Mahi to meet Farhad, I am glad Sahiba now has a partner. The new flashbacks which showed Mahi & Sahiba in Hijab left a bad taste in the mouth because so far it has been established that the ladies of this Peer Gharana do not observe Hijab in its true essence, so just to use it merely for the sake of a 'new' & 'forced' flashback was unnecessary. The kind of Hijab that was given to Sahiba was aesthetically so poor that it actually showed why she was better off without one. Please share your thoughts about this episode of Khuda Aur Mohabbat 3.
Keep Supporting,
Cheers,
Zahra Mirza.