This episode of Khuda Mera Bhi Hai was equally well-executed as rest of the episodes. The best aspect of this drama so far is that everything is being covered logically and the viewers get to see variety of characters on screen. Also, the overall feel of the drama is quite different from what we usually see in dramas, there are hardly any situations or even dialogues which would have a done-to-death feel to them. Overall this is a very well thought out play with the exception of the fact that no one has discussed the entire issue with a professional who is an expert in this field. The writer completely overlooked this particular aspect which would have answered many questions for the viewers. The drama so far shows how the birth of Noor has effected everyone and it also covers the struggle both the parents are going through but for now it is not covering the more "technical" aspect of the entire issue. The viewers however can safely conclude on their own that Noor's problem is permanent. Another aspect of this drama which makes every episode worthwhile are the relationships between all the characters and also the superb performances by the entire cast.
This episode showed Mahi taking control of her life once again and at the same time it showed how Mahi and Zain felt about each other. I love the approach the writer has taken while showing the relationship between Mahi and Zain after the separation. Also, the way Mahi turned this situation into an opportunity for Bubbly was beyond amazing! Two scenes in particular showed how much things had changed over the course of a year or so. The breakfast scene in Zain's house showed that the family had driven apart mainly because of Arshi's attitude. There was a time when Zain did not take his mother's negative attitude seriously but now he does not have the energy to put up with the negativity. Mahi and her mother's scenes in tonight's episode showed that these tough times had only brought these two strong women together. It is always great watching a mother standing by her daughter and it is even more so when the actors playing these roles give flawless performances and have amazing on-screen chemistry. Aisha Khan and Saba Hameed compliment each other in all the scenes which makes their strong bond and beautifully written dialogues truly effective. Zain and Mahi both have changed in a few months but in a completely different way. Mahi's conversation with Sanam was another one of those scenes which went to show Mahi's open-mindedness. This drama has some really strong women who are standing by one another and balance out Arshi's negativity which is my least favorite part of this drama.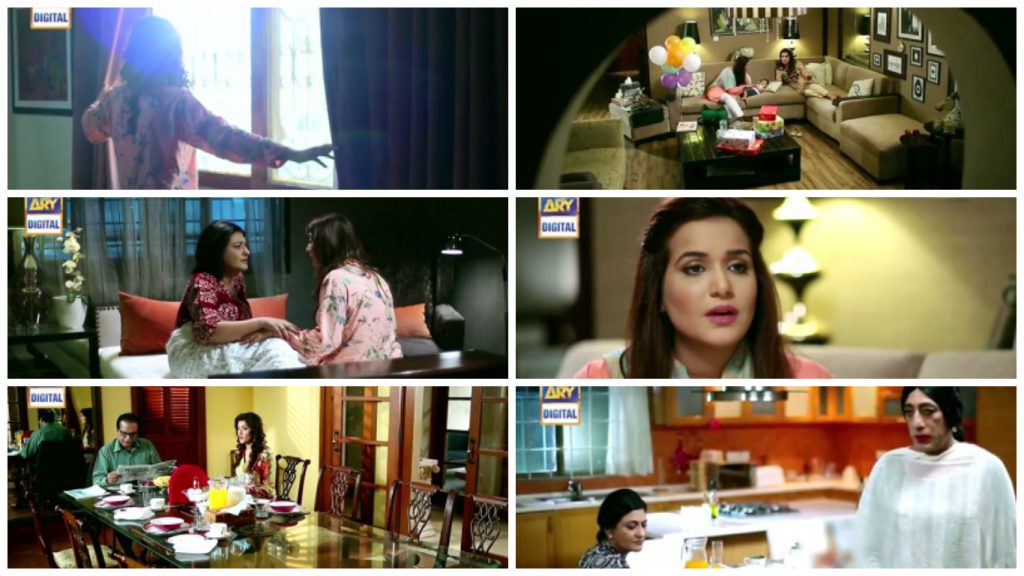 Zahir's proposal did not come as a surprise. It was good to see Sanam wondering how Mahi would feel about the way she felt about Zahir. Sanam and Mahi's relationship so far has also been a terrific part of this drama. Similarly H's character is also positive and balanced. His scenes with Mahi always put a smile on my face; he is caring and sensible which makes one wonder how he managed to spend all those years with a woman like Arshi!
Apart from the medical aspect of the situation, the writer has done complete justice to this script and the director has executed this script seamlessly. Also, Khuda Mera Bhi Hai is one of those few dramas in which all the actors involved are giving their best performances. Most of the characters in this play have a story to tell and you feel an instant connection with them without even trying and that in my opinion is the real beauty of this drama.
How many of you watched this latest episode? Please do share your thoughts about it.