The pace of the drama has slowed down and although all the tracks in the story are still interesting but they are being stretched. Mahi took too long to make a decision and after all these years it is difficult to understand why she was not able to understand that she couldn't find a better life partner than Mikael. I am wondering if the writer was afraid that the viewers will judge Mahi for getting married to Mikael therefore in the end Noor and Mahi's mother played a major role in "convincing" her. If this track was going to reach its ending only when the drama was near its end then it would have been better if Mikael did not show his interest in Mahi so many years back. It was however good to see Mahi finally making a decision. I hope that they get married in the next episode and this track is not stretched further. Mahi and Mikael's last conversation in this episode was the only one which said a great deal about Mahi's actual feelings. I hope that Mahi gets her happy ending and her track does not have a tragic ending.
Exploring Noor's feelings for Sania was an interesting twist in the story but just like all the other tracks, this one too is being dragged. I am all for showing everything in detail and exploring all aspects of the story but there comes a point when you want to see the climax and then a decent ending to a particular track. Noor's conversation with Babban Mian suggested that he had fallen in love with Sania and he was wondering if it was okay for him to feel this way. Noor's reaction to what Babban Mian said wasn't covered in an apt manner. He should have been terribly disturbed but later on he was shown having another one of those outings with Sania.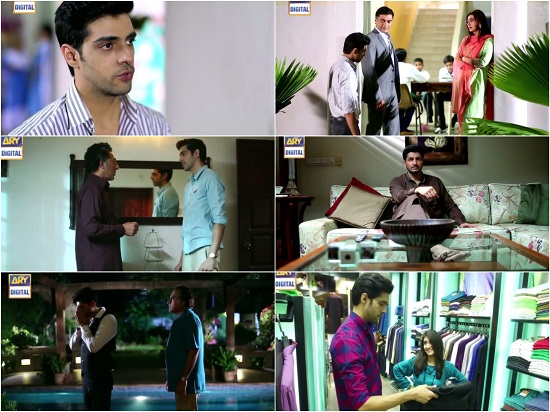 There was absolutely nothing new about Zain and Kashmala's track! Kashmala's attitude towards Zain and his family was always bad so it couldn't possibly be any worse. The message this track gives out is loud and clear by now. Kashmala thought she could get everything in life because she was so clever but she now knows that you can't make someone love you. Zain rejected his child and now he can never be a father. Arshi was so sure Zain could have more kids and he could have a happy life without Mahi but she has been proven wrong. It is time to wrap up these tracks too by showing that Zain and Arshi actually realize that they were wrong all along.
Overall, tonight's episode of Khuda Mera Bhi Hai was strictly okay. The story needs to move on now and it is definitely time to wrap things up. I am wondering how the writer will do that since there was a new development even in this episode, I hope Mahi does not get killed! This episode was all over the place and wasn't very engaging either. The preview of the next episode suggested that Noor's story will only get more complicated in the upcoming episodes.
How many of you watched this latest episode? Don't forget to share your thoughts about it.