The only saving grace of this drama right now is its direction and steady performances by all the actors involved other than that the script has lost its direction completely and the slow pace is testing the patience of the viewers. While it was good to see Zain finally acknowledging his mistake and Arshi asking him to accept Noor, I am beyond sick and tired of watching writers rely on Cancer and heart attack over and over again for making characters have a change of heart or to make the viewers feel sorry for someone.
Honestly speaking Mahi's character lost its charm a long time back but this had to be the final nail in the coffin! Mahi was shown as a strong woman who was more of an inspiration and an ideal, putting her in this situation goes to show that a strong woman does not deserve a happy ending! I am not talking about the disease but the fact that she might not get to live a happy life with Mikael and she will most probably die a "heroic" death gives all the wrong messages. This isn't the first time in a Pakistani drama that a woman whose husband left her and she toiled hard to bring up her child ended up dead in the end! A woman like Mahi deserves much more than sympathy, she could have been shown as one of those rare women in our dramas who gets married to a good man and get over the useless husband who never deserved her in the first place and lives a fulfilling life. I hope I am wrong and Mahi does not die but Mahi's dialogues certainly suggested that she will not survive. She might leave her legacy but she will not live to be happy!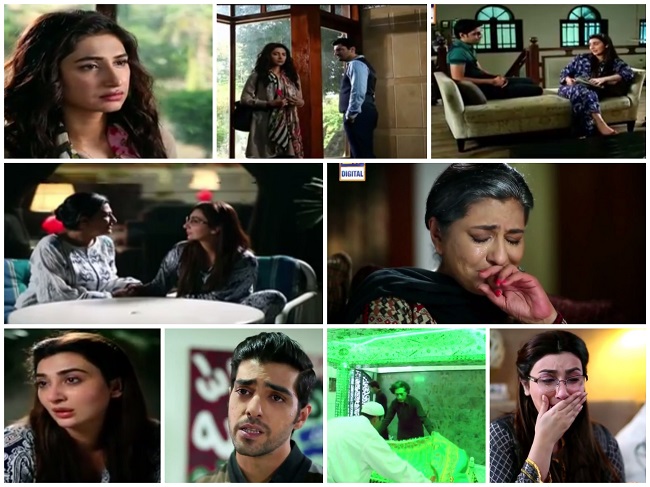 The worst part of this drama right now is the overall feeling of impending doom which is part of every single episode and has completely taken over all the positivity. Also, it was really strange when Zahir did not share this tragic news with Sanam first and as if this was not enough this episode did not have a single scene which showed Sanam and Mahi talking about her disease! To be honest, right now I feel more for Mikael than anyone else! He is the real hero here and someone who deserves to be happy more than anyone else. I would also love to see Noor rejecting his father because it would be truly unfair if Zain is accepted by him immediately.
This episode was another one of those episodes which just make you wish that this drama would end soon! There were a lot of filler scenes, many emotional dialogues which failed to have an impact and a lot of rona dhona! Am I the only one who is bored of watching all these characters suffer for the longest time now! I have never watched so many unhappy people in a drama before. What the viewers need right now are some light moments without any rona dhona and an ending which would prove me wrong! I would love to see Mahi surviving in the end and leaving Zain's memories behind and I also think that Zain should not be forgiven.
Am I the only one who feels for Mikael more than Mahi at this point? How many of you watched this episode? Don't forget to share your thoughts about it.