This was another emotional episode of Khuda Mera Bhi Hai which once again showed the feelings of the main leads in particular faultlessly. Although Mahi was the star of the show tonight and undoubtedly the best thing about this drama so far, but I must say that I absolutely love the way Zain's feelings have been translated on screen too. Somehow I find it impossible to dislike Zain the way I would normally dislike a father who is not able to love his own child mainly because of the fact that the writer and the director have done a commendable job of showing that this is something beyond Zain. They have told Zain's side of the story just as honestly as that of Mahi. Mahi's love towards her child is relatable not only because she is his mother but also because Mahi has always been shown as someone who will never abandon anyone who needs her. She did not abandon her best friend and a kid who needed her help therefore it is only natural for her to feel this way about her child who she knows will need her help and support for being accepted by the society. Her baby has only been in the world for a few days but he has already been rejected by his own father and immediate family members. This would be added incentive for someone like Mahi to do something extraordinary. Mahi's character has been beautifully etched-out; she is strong and sensible. It is always great watching dramas with strong female leads but watching a mother fight for her child is even more endearing since very often in our dramas we see heartless and helpless mothers who are impossible to relate to.
Mahi's final conversation with Zain before she leaves the house was my favorite scene of tonight's episode. Aisha Khan's acting in particular was exceptional in that scene and the dialogues were right on point. Everything Mahi said went to show that she was out of the emotional phase and she was back to being herself, someone who did not let her feelings cloud her judgment of the situation she was in. She did not hate Zain for feeling disgusted around their child but she understood that their way of thinking was entirely different and she hoped that some day Zain will learn to accept their child. Zain feels like a victim because he thinks he has been wronged, he feels he is the one who needs Mahi's support more than their child but Mahi does not feel that way at all. Mahi knows she is this child's mother and she has to do whatever she can to make him feel loved and wanted.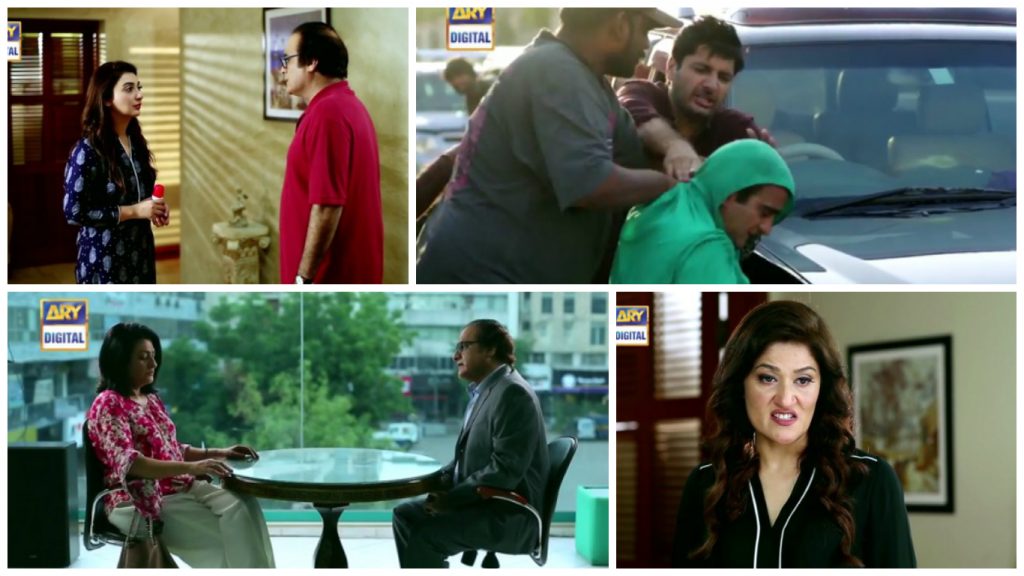 This drama has two mothers, Mahi and her mother, who are strong and sensitive at the same time and then there is also Arshi who has been shown as a bully who feels sorry for herself very often because people around her do not give her their approval! Although Zain is not as negative as his mother but he has a few things in common with his mother. He is not very open-minded even though he has a lot of exposure just like his mother. Arshi got plenty of screen time in this episode as well. Irsa Ghazal is a versatile actress who is doing exactly what was expected from her and I love her dress sense but I can't help but wonder why Arshi is being shown saying the same things repeatedly to different people! Her scenes are highly repetitive and her character is one-dimensional.
The writer and the director of Khuda Mera Bhi Hai have paid attention to detail which makes it easier for the viewers to relate and connect to the characters. There are many dramas in which the viewers are constantly trying to figure out how a character feels about a particular situation and a lot is left to the viewer's imagination which can at times be confusing but in this drama you get to see and hear every conversation which you would want to. The conversation between Mahi and Zain's father was one such exchange which for a change reflected Mahi's fears which she did not talk about with anyone else, not even her best friend. This man is not just her boss and father in law but also someone she can show her vulnerability too, with everyone else Mahi is a strong person therefore she does not share her worries with anyone else.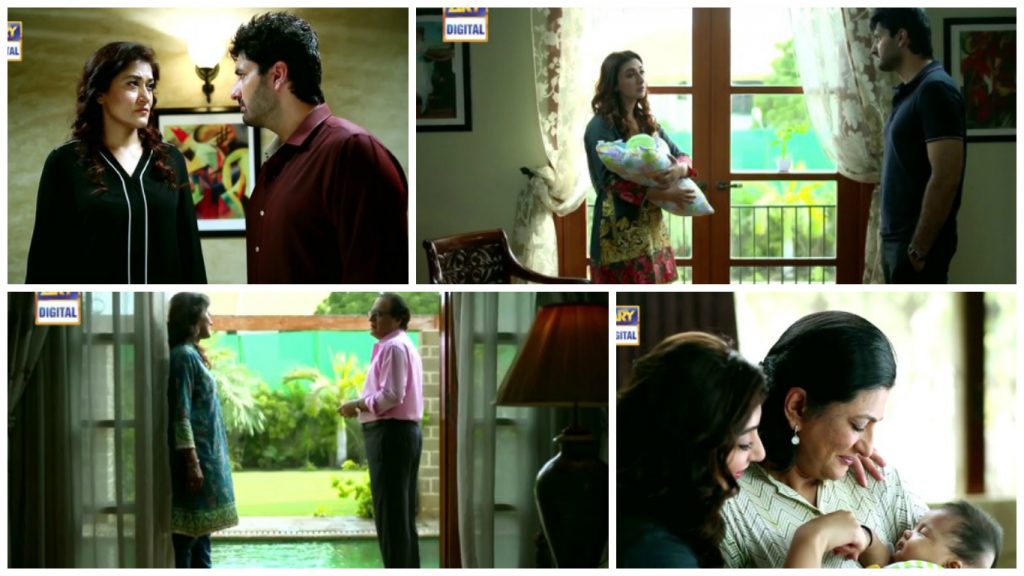 This was one of my favorite episodes of Khuda Mera Bhi Hai, it was logical, emotional and everyone performed really well. This is turning out to be one of those rare plays in which all the actors are completely into their roles and giving their best performances. Apart from the loud make-up everything else about this play is perfect so far.
The preview of the next episode showed Mahi coming back to work, it also showed Zahir proposing Sanam and Mahi trying to fight her fears. I am eagerly looking forward to the next episode.
How many of you watched this latest installment? Do share your thoughts about it.