And I proudly (umm) present to you the latest twist in our dramas! You know how there is the ever present eavesdropping scenario, or the 'daydream' sequence, or the saas/nand/bhabhi saazish, stalkerish other woman, etc – now a new trend seems to be picking up where the father of the 'hero' threatens to divorce his wife if his son does not agree to his demands. This tactic was used in the recently concluded drama Yeh Chahatein Yeh Shidatein which aired on GEO (I know, I know, I have no idea why I watched it but I did and no I do not recommend it!) and now Imran's father used the same to get Imran to give up Aina. Is this is a spin off from the 'tumhari tarbiyat fell flat' taunt or what?
Anyways, as the previous few episodes, these two were well paced and interesting too. Aina agrees to meet Imran even though she feels he has let her down and her family by not having his parents show up with the proposal as promised. Imran however tells her his hands are tied and when she leaves him at the park we are given the impression that she had ended things for good. I liked how Faraz went out to look for her and how he cares about Aina as probably Mohsin does too but Faraz tries to understand where she is coming from and help her see the light whereas Mohsin is waiting for her to take a wrong step and at the same time trying to prevent that from happening not purely because he worries for her welfare but because he feels what she may do would go against his sense of what is right and wrong.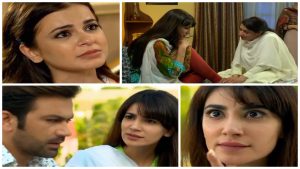 Sajal and Faraz are married and under the pretense of leaving to go pick up Sajal's jewellery Aina has arranged to meet Imran instead and marries him. When he comes to her house he is somehow able to convince her that he can not be without her and a secret nikkah for the time being is the solution. I wonder if the nikkah was to make Aina believe his intentions are true for since they are both technically engaged to others and not eloping, I did not see the need for this urgency otherwise. Aina manages to make it back in time for Sajal's wedding and makes an excuse about the taxi breaking down which her family accepts.
Aina's character seems to be the key one in this drama and a complex one. I can understand her agreeing to go ahead with the engagement and making peace with it all thinking that things with Imran have ended and she has disappointed her mother and should begin to move on. I thought that was possibly the sensible step forward too except I did agree with Faraz where he felt that Aina should not be rushed into another relationship and given time to absorb what has happened. I could however also see where Mohsin was coming from given that he has an unease about Aina and does not trust her and felt she should not be given time to complicate things. However, Aina's mother is on Mohsin's side and both feel the wedding should take place as soon as possible.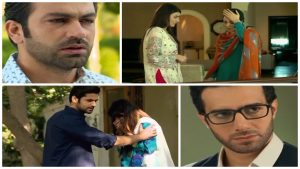 Back to Aina, however. She loves Imran and although she felt let down, she believes what he says when he comes to see her at her house. That too was believable. Aina is impulsive but she cared about her mother and worried about her not forgiving her so what is she thinking now? How can she possibly believe that both families will accept this marriage? Imran's family for one, went to all lengths to play out a whole drama where they went ahead with Imran's engagement, then emotionally blackmailed him into accepting it all and insulted Aina's family in the process. Mohsin and Aina's mother are angry with Aina and what did actually bother me was that her mother chose to be sensible and agreed to meet with Imran's family so it was not as if she turned a blind eye to her daughter's wishes. But then the fact that they did not show up and then landed her beloved nephew in jail was enough for her to want nothing to do with Imran and then she beseeches Aina to forget him. How Aina could see past that to only Imran probably shows that while Aina may seem to love her family she is ready to lose all for the sake of Imran which is what she says actually when she says 'sub kashtiyan jalla kar ayi hoon'. Aina is foolish in thinking she can have her cake and eat it too but oh well.
I like the way things are moving forward. I wish Naveen would stop widening her eyes at the drop of a hat for, forget Mohsin, she is making me uneasy too. Thankfully Emmad Irfani did not have to squeal, I mean shout in these episodes and his constantly exasperated expressions seemed convincing. Nadia's (Mohsin's wife) expressions make me laugh and feel for her at the same time when poor thing is an easy target for everyone's anger or snide comments, especially Mohsin's. Her expressions remind me of Nasreen's, LOL (Nasreen of Rahim Pardesi fame if any of you have watched his videos). I am beginning to warm up to Faraz's character and Mirza Zain Baig has actually done a decent job in this drama portraying the character of the sensible, level headed brother/cousin which is what a lot of our real life brothers are like. Who actually care for their sisters and believe it or not, do not believe a woman should be bullied into each decision they find fitting. I wish the writer had chosen a different name for Imran's cousin for he calls Aina 'Aani' and if Aina and Aini were not a bit too close for comfort, Aini and Aani most definitely are! Also, why does the background music sound familiar? I am sure I have heard it in another drama – can someone help me out here?
Overall, these two episodes were good to watch. It seems inevitable that Aina will be left to face the music and she and Imran will part ways. What did you all think of these episodes? Would love to hear your thoughts.
Kunwal Javid