Introductory Details:
Ohkay so, written by Qaisera Hayat, directed by Ilyas Kashmiri & produced by MD Productions; Kun Fayakun has hit our TV screens tonight. It won't be wrong to say that this was highly anticipated drama & the very first episode not only exceeded the expectations but has laid the foundation of what is yet to come convincingly. The first episode of Kun Fayakun introduced all the main characters & gave an insight into their personalities & mindsets. I am sure this drama is going to be one amazing journey & when this episode ended, I felt like I wanted to watch the next episode immediately.
Cast & Characters:
So basically the story has started with all the characters belonging to one big family of Appa Jee (Azra Mehmood) & her sons Ubaid (Mohsin Gillani) & Abbas.
Ubaid is married to Shama (Nargis Rasheed) & has three children; Armaan (Ahmed Taha Ghani), Bisma (Zarnish Khan) & Burhaan (Raees Muhammad). Abbas is married to Faseeha (Naima Khan) & they have two children Hashir (Imran Abbas) & Areesha (Areej Mohyuddin). Appa Jee also had another son Azam but it seems he & his wife passed away, leaving behind their daughter Mashal (Alizeh Shah).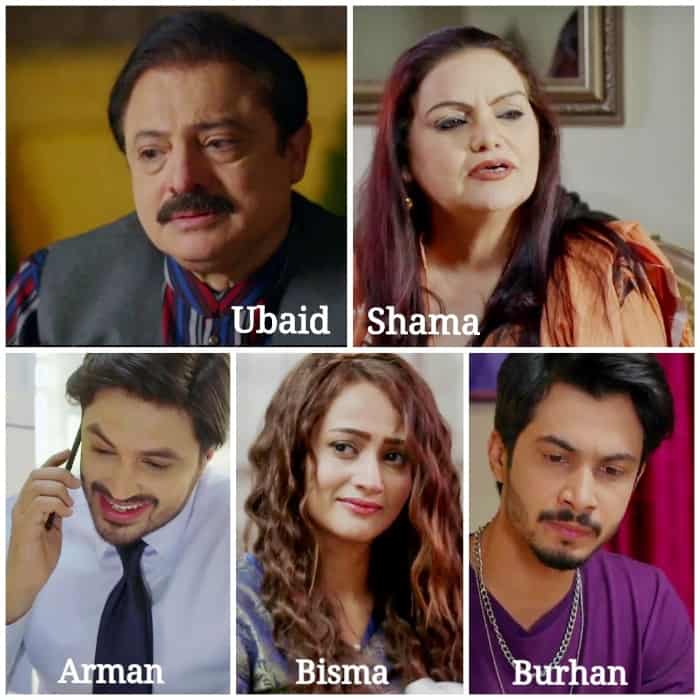 The Plot:
Shama & Faseeha are shown to be living a comfortable life with their sons Armaan & Hashir being at this stage where they earn & provide luxuries to their families. Even though they are leading a decent life, they really can not accept the fact that their husbands; Abbas & Ubaid help their mother Appa Jee financially. Even though Shama & Faseeha won't ever think about their extravagance, but the fact that their husbands have to bear some expenses of their mother & orphan niece makes them restless!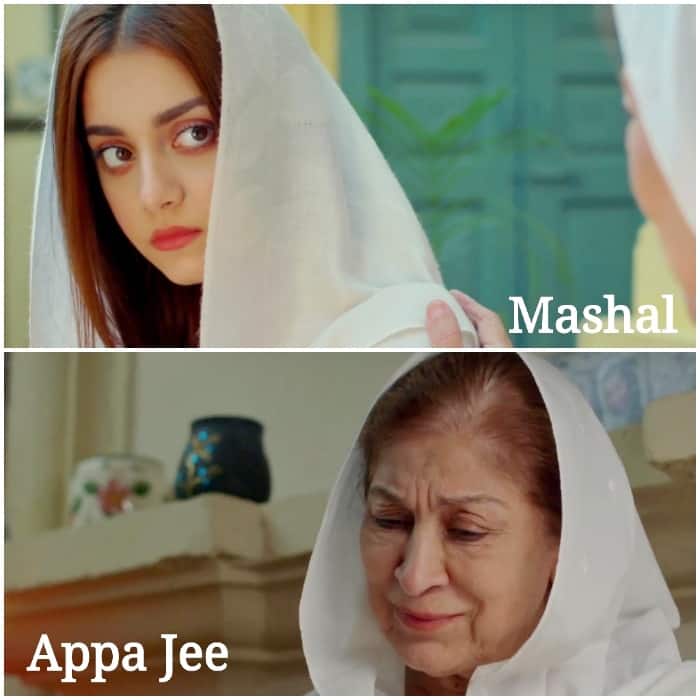 Shama has made sure that Ubaid has no say whatsoever in the upbringing of her children. Right now Shama had everything going in her favor with her eldest son Armaan making decent money in Gulf. Shama has spoiled Bisma as well as Burhaan to no end & Ubaid feels she will pay a huge price for this. Faseeha is no different too & even though she might not be as conniving as Shama, that thing is taken care of by Areesha because she does all the calculations & thinking for her mother!
Mashal lives with Appa Jee & her relationship with her grandmother was the most heart-warming aspect as well as my favorite thing about this first episode. Mashal does complain a little about the things that are missing from her life but every time she feels low, Appa Jee makes sure to uplift her moral with her wisdom. Even though Mashal happens to be Bisma & Areesha's cousin, her life is completely opposite to theirs & being a girl of a tender age, she does get sad with their attitude towards her. Mashal holds Appa Jee closest to her heart & she feels safe & secure with her.
Bisma & Hashir like each other a lot but it was interesting to see how subtly yet clearly the stark difference between their personalities was shown. Hashir believes in doing good, he is selfless & compassionate whereas Bisma is self-centred to the point of being selfish. Bisma has been raised like that by Shama, therefore she believes in being heard. Even though on the surface, both the families of Abbas & Ubaid are on good terms with each other, but in reality, all the ladies pretty much do not hold a good opinion about one another & that is going to create a lot of differences in the future.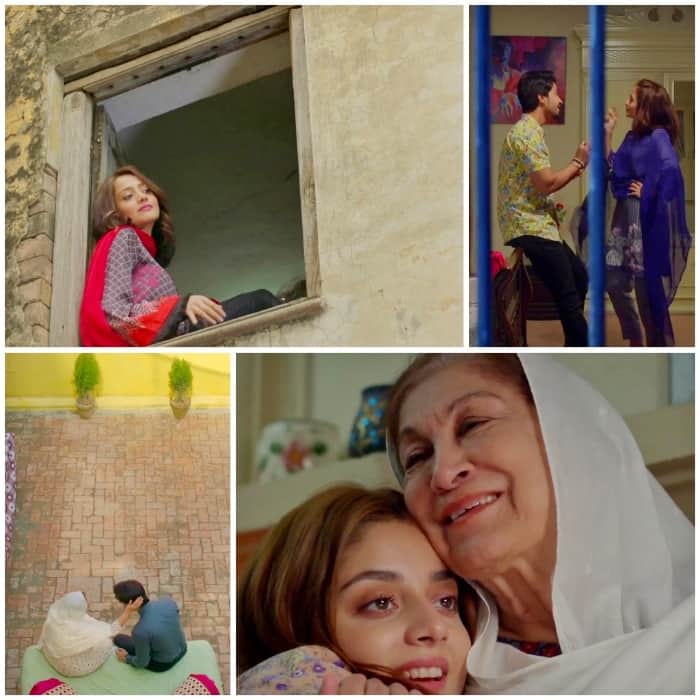 Hashir's interaction with Appa Jee was very sweet, he takes care of some of her financial expenses & has made sure to keep that from his mother as he knows that she won't appreciate it. Areesha suggests Faseeha to take some help of Shama & in order to stop with this financial help that is given to Appa Jee & Mashal, they bring both these ladies to their homes. Faseeha knows that her husband Abbas was not in a favor of this plan but she still takes Shama on board to make it happen!
The first episode of Kun Fayakun unfolded interestingly where all the characters got a thorough introduction & the scenario was set. Even though the first episode did focus on the characters not having good intentions, I loved how there were some of those scenes which were emotional & heart-warming. I am sure there is so much more to this story but after this episode I know for sure that the relationship of Appa Jee & Mashal is going to be my favorite part of this entire drama. I remember loving the character of Naani in Shehr e Zaat, I feel we will get to fall in love with Appa Jee's character in Kun Fayakun too.
Closing Thoughts – Amazing:
Overall, the first episode of Kun Fayakun was absolutely amazing. I had such a great time watching it & I can not wait to learn more about these characters & find out how the story will unfold. I must say the direction was spot on where the director kept on shifting focus on each & every character to show what sort of contribution they will have in the story later. Despite it being the first episode, it didn't just seem new or out of the place because everything was done so well & effortlessly that it all clicked & made perfect sense. I have nothing but good things to say about the first episode or Kun Fayakun. Zarnish Khan looked ravishing & she is an effortless actor. It was so good to see Nargis Rasheed after a long time, I am sure she has been appearing in different dramas but I have seen her after a while, I love her acting & she brings out the best in characters like these. Alizeh Shah was perfect as innocent Mashal. Imran Abbas as Hashir seemed perfect too. I can not wait to see the rest of the episodes. I loved the camera work & different angles. I also enjoyed the detailing & all the backgrounds, it showcased everyone's lifestyle but it was beautiful how the feel of Appa Jee's house was so fresh & homely. I must say, the dialogues were brilliant too. I have nothing but high expectations from Kun Fayakun. Please share your thoughts about this episode of Kun Fayakun.
Keep Supporting,
Cheers,
Zahra Mirza.