Lux Style Awards are one of the biggest award shows in Pakistan. Although the credibility of these awards has been questioned time and again, top Pakistani celebrities always actively participate in these shows. The Pakistani showbiz industry is known for its glitz and glamour. It has designers and make-up artists who have often given many of these celebrities the most impressive looks. However, for some odd reasons whenever there is an award show, these designers and make-up artists tend to disappoint their fans and followers.
There is also the trend to adorn western outfits on award shows in general. Most often, Pakistani designers fail to give the kind of finishing and cuts to these outfits require. Unfortunately, wearing ill-stitched gowns on award functions seems to be a norm now for Pakistani celebrities. This year, the dressing of some of those celebrities who are considered 'style icons' and their make-up looks were not in line with their general impression of being stylish. It won't be wrong to say that there was a serious dearth of style on the red carpet on the occasion. Some of the looks were even laughable!
Saboor Aly
Saboor Aly's fashion sense is liked by many since she has often been seen sporting looks in dramas and in functions that were highly likable. However, this year at the Lux Style Awards, Saboor Aly was seen wearing an ill-fitted gown. Not only was this gown not appealing to the eyes but a white zip could be clearly seen hanging from one side! Apart from this major disaster, Saboor's make-up and her styling were the worst we have seen in the recent past. In her dramas, she has been seen in better hairstyles and make-up looks. The dark lipstick and tightly gel-backed hair did not look good on her.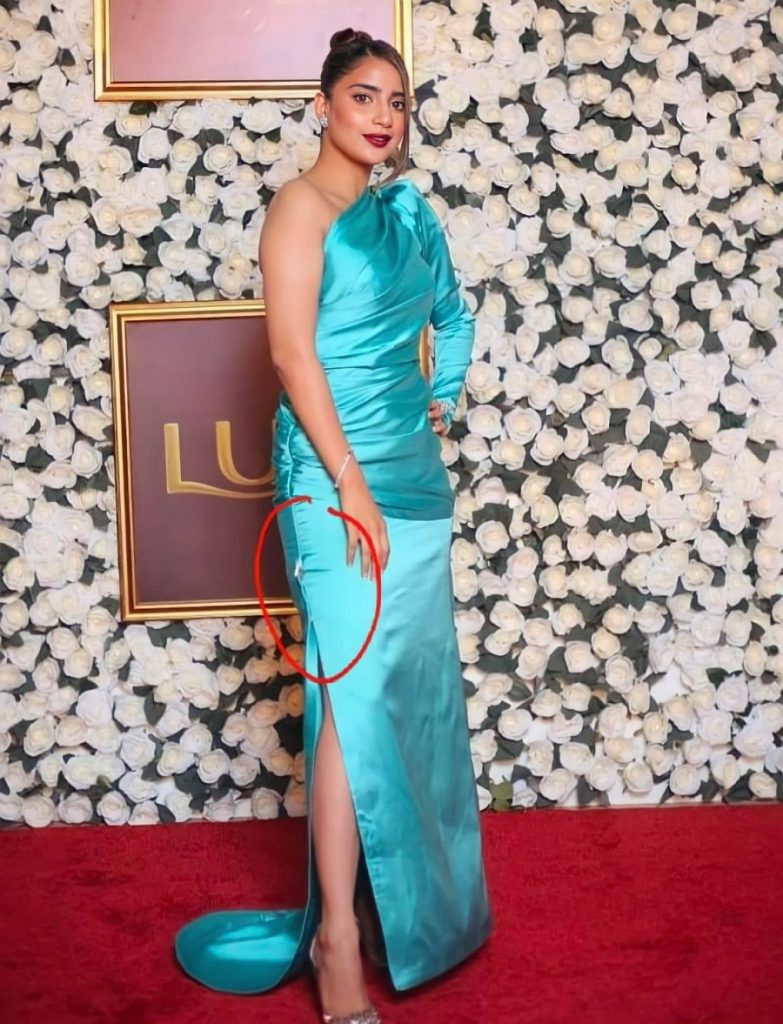 Several videos showing Saboor's exit from the award function also showed how uncomfortable she was in the dress! Pakistani celebrities really need to stop insisting on wearing Western dresses on such shows at the expense of their style and comfort!
Yumna Zaidi
Yumna Zaidi bagged two major awards this year and she surely deserved them. Her talent is limitless and the dedication with which she gives every project her best is one of the main reasons why the public and the critics commended her effort. Usually, Yumna Zaidi does not sport glamorous looks. She is also rarely seen in Western outfits and looks the best in rather simply Eastern looks. However for this award function somehow Yumna Zaidi decided to wear a black dress which was poorly designed. This dress did not go well with Yumna's personality and the color did not suit her since she looks lovely in pastels. Not only was this outfit boring and ill-fitted like most of the western outfits on the red carpet, but her make-up also reminded us of her look in Dil Umeed Tu Nahi. The dark lipstick and highlighting did not go well with Yumna's innocent face at all.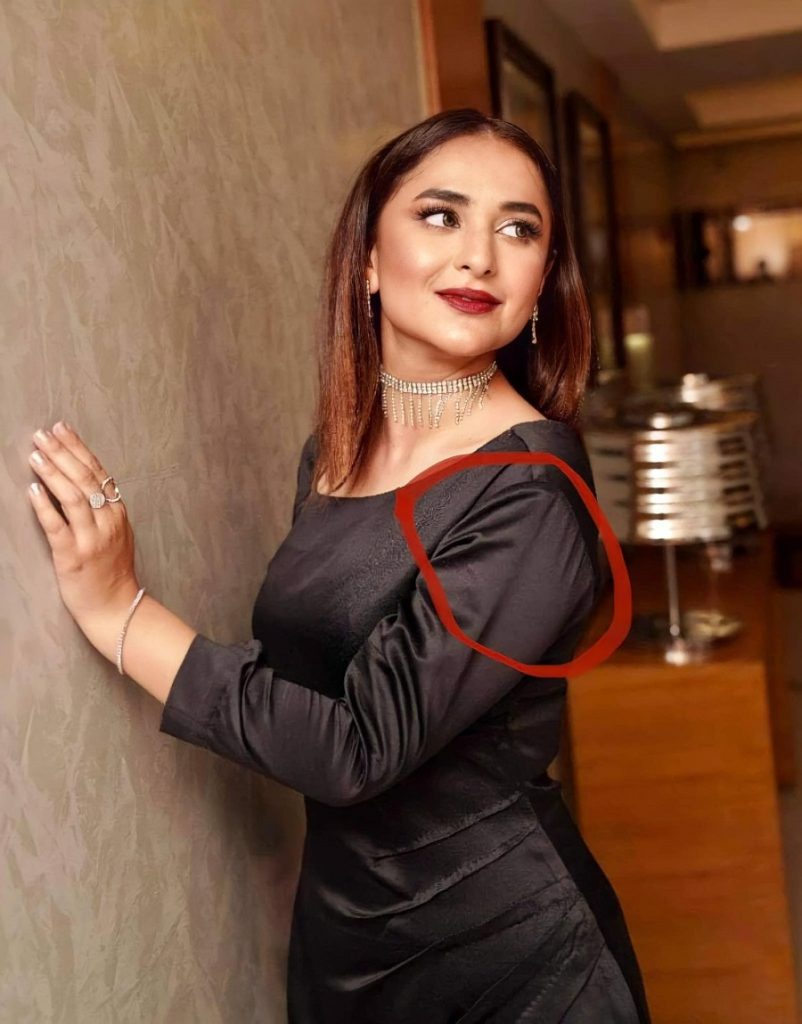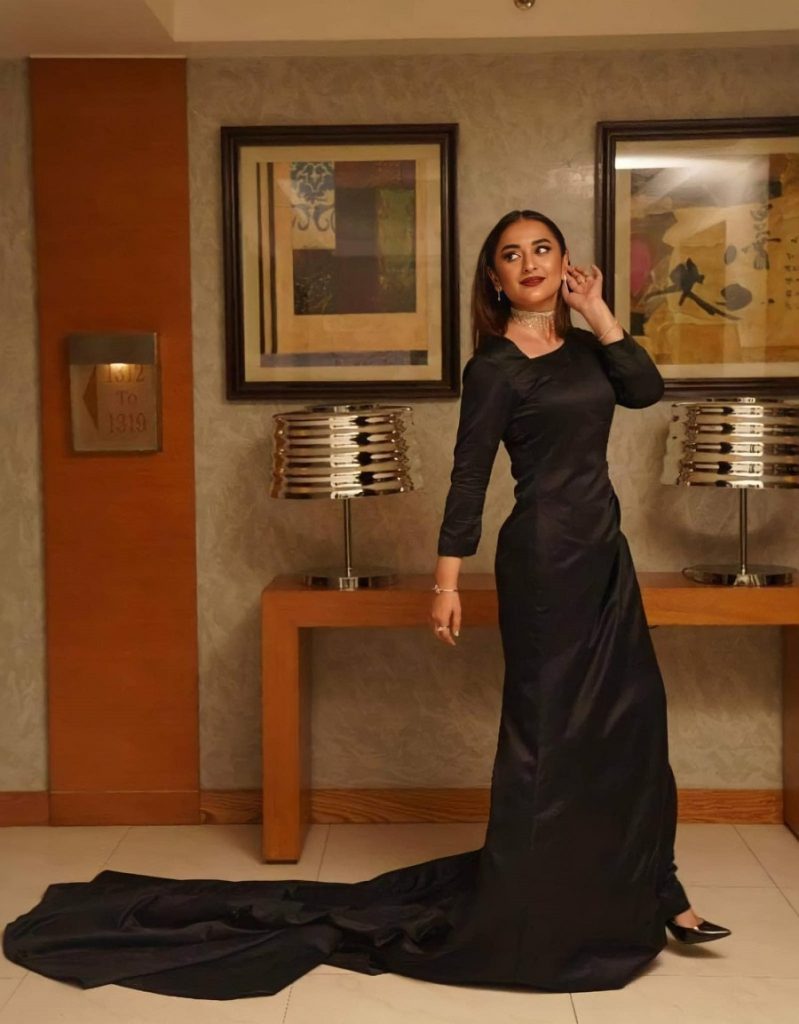 This was one of the most disappointing looks from the evening because we have seen Yumna look effortlessly gorgeous in some of her interviews and dramas. Yet, for the award function, she chose a look that did not suit her at all in an attempt to look stylish!
Hiba Bukhari
Even though we did not have huge expectations from Hiba Bukhari since her dressing sense has hardly ever impressed us, even then she managed to disappoint us! Hiba decided to wear a simple black silk top with straight pants and tried to add the 'stylish' element to her outfit by adding 'statement' embroidered sleeves. This statement was not a stylish one at all! The outfit looked like it was designed by someone who wanted to save money by using leftover fabric to create a look that was not well thought out at all. Hiba's hairstyle and make-up were also quite basic. She has looked better in interviews. She really needs to work on her outfits and looks not just for the award functions but also in general. Hiba can easily be termed as an actress who is in desperate need of a stylist.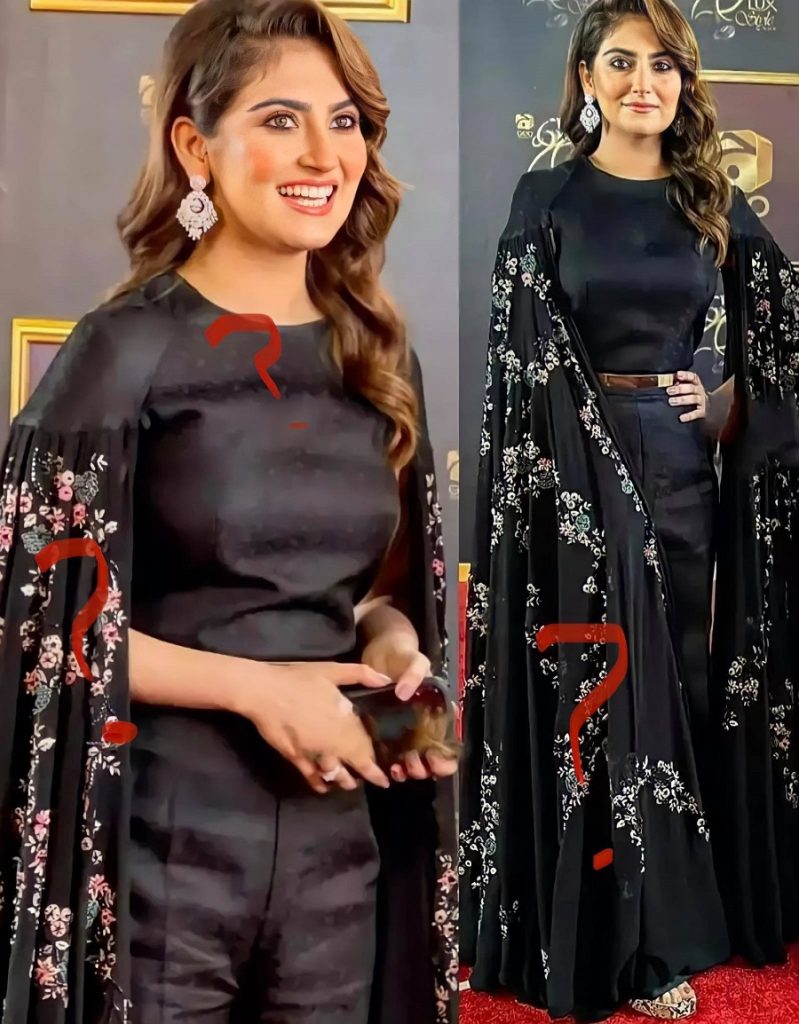 Mawra Hocane
Mawra Hocane transitioned from looking like someone who walked out of a fairytale to someone who looked great while she attended some of the recently held award functions. However, this year, Mawra decided to experiment once again. Although she deserves full marks for originality and for not following the lead of all the other actresses, her overall look was not awarded show appropriate at all. Her outfit was pretty basic, the kind which a girl would get made at the last minute for a wedding function! Since Mawra, just like all the other celebrities, has easy access to all the leading designers, we expected so much better from her! She could have worn a more well-designed Eastern outfit which was more appropriate for an award function. Mawra's styling was not the best either. Her make-up was on point and better than others but her outfit and styling made her look one of the worst we saw this year.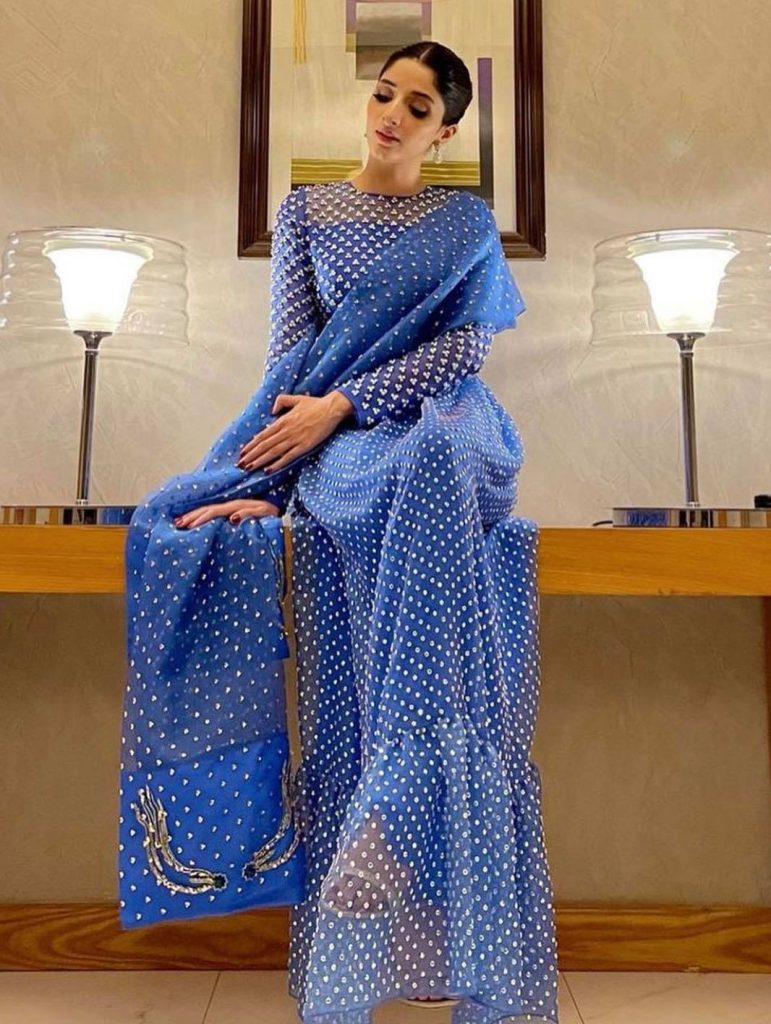 Mehwish Hayat
It was good to see Mehwish Hayat in the limelight after such a long time. Since she has not been participating in a lot of showbiz-related activities, we expected her to make her presence felt by wearing something which would make her stand out. However, the dress Mehwish Hayat wore was not even exclusive. It was an outfit worn before by other social media influencers. It was also pretty basic. The color wasn't fun either. The worst part of her entire look was her make-up and styling. Her hair extensions were dead flat and the color did not even match her actual hair color. Her make-up was loud and not the least bit pleasing. The outfit she wore for her dance performance was equally unimpressive. It seemed as if Mehwish simply wanted to make an appearance given her association with Lux otherwise she could have come up with a better look!

Mahira Khan
Mahira Khan is considered the ultimate superstar of the showbiz industry. We are pretty sure that all the leading designers would have loved to dress Mahira Khan up for the occasion yet she chose to wear an outfit designed by her best friend Feeha Jamshed. While the gown was designed well and the color looked good on Mahira, the fitting was not on point at all! We are wondering how it stayed in place during the entire function since the shoulders were dropping and it was loose from the top to the bottom. Even the sleeves were not properly fitted. The fact that Mahira played it safe with the styling and the make-up did not make this look as bad as many others but it was bad enough to make it to this list.
Aima Baig
Aima Baig is a pop icon of the Pakistani entertainment industry. She doesn't usually shy away from experimenting with her looks but this time around, it seemed she was not in a mood to step out of her comfort zone and decided to stick to the basics. The fact is that her gown and the overall look was so basic that it can be seen as borderline boring. The black sleeveless gown with gold accents to it doesn't do much to add appeal to her. Her hair, makeup, and accessories are a bit too basic too. Aima Baig can definitely do better considering she has so many fashion designers and hair and makeup artists at her disposal.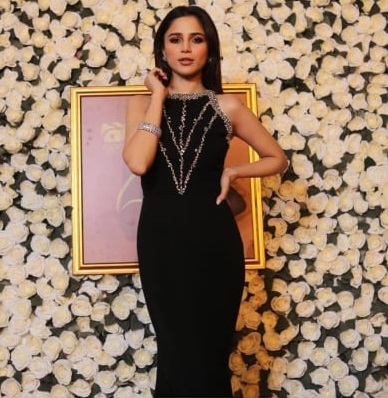 Azekah Daniel
Azekah Daniel has not only emerged as a strong actress over the last couple of years, she has also established herself as a trendy and fashionable celebrity who is very much in touch with the latest and current fashion trends. The pictures that she posts on her Instagram always show the kind of style she has but it is mind-boggling to see her showing up in this all-shades-of-Rooh Azfa gown. The shades of pink are not really appealing but what's upsetting is the bad fitting and silhouette which accentuates her figures in all the wrong places. The neckline makes it look like this dress was never made for her but she insisted to fit into it. The sparkly earrings that she picked to pair with this pink gown is another choice that leaves you in a state of shock. The pink-toned makeup along with side-parted hair goes to show that she was excited to show up as a barbie doll on Lux Style Awards but ended up looking like a copy of Barbie sold in Chinese shops!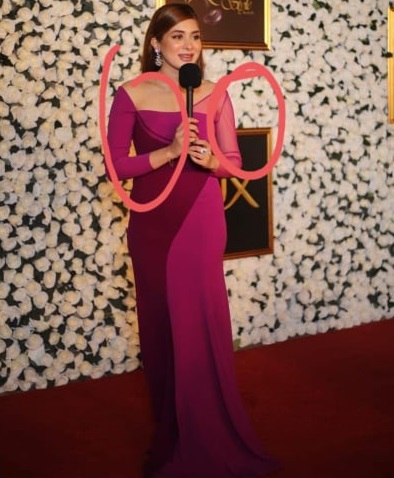 Meera
Meera has enough experience of the red carpets and award functions to know what is appropriate to be worn at such events and occasions. At this stage, she is one of the senior celebrities in terms of her association with the industry. However, just like anything can be expected from Meera, it does not come as a surprise to us that she not only chose to wear a Kaftan to an award function and on top of that, but also decided to make it look this bad. Kaftans are supposed to be loose and flowy but this particular piece was just not fit for her size. Her hair and makeup also did not go well with it. She also chose to wear a hybrid of saree and gown which ended up looking too busy with a lot happening on it. Both these pieces were unflattering on Meera's figure and physique and not to forget the poor choice of hair and makeup made her look unappealing.
Mira Sethi
This is one such look from Lux Style Awards 2021 that has left everyone wondering about the style statement (if any). This is one particular look where only the designer Husain Rehar or Mira Sethi know what they both were trying to achieve because it is beyond anyone's understanding as to why would a celebrity decide to show up like this. The only reason that justifies this look is that maybe Mira Sethi was confused whether she was attending a Halloween party that is why she showed up like this. This look has also made one thing clear that the wet-hair look is definitely not made for her and she should steer clear from her in all the events that she will attend in the future. This entire look is a disaster and the only thing missing from it is probably a broom that would've completed it and put things into perspective.
Mansha Pasha
Mansha Pasha has definitely worked hard on her style and has actually understood what works for her and what doesn't. All the pictures that she posts on her Instagram clearly show how far she can come and how well-groomed she is. However, it is unfortunate that event after event, she lands herself on the list of worst-dressed celebrities. She either tries too hard or maybe is not too bothered about looking good when it comes to award functions. She wore a creation of Sana Safinaz which was a textured bright blue gown with certain design details to it. This entire silhouette didn't do Mansha any favors and made it look like the dress was wearing her and not the opposite which should've been the actual case. Her hair and makeup were definitely nice but sadly, the outfit she chose for her red carpet appearance was unimpressive.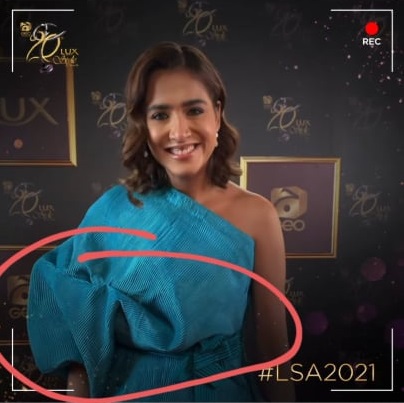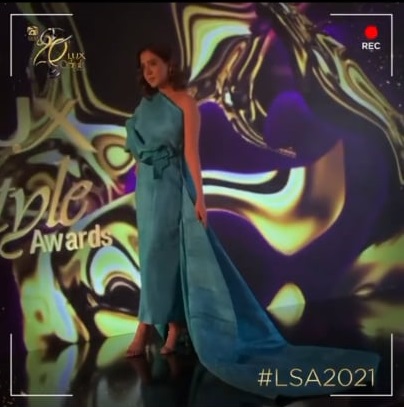 Durefishan
Durefishan has definitely risen to fame in recent times after her performances in different dramas got her some recognition. This was probably one of the first main events where Durefishan made an appearance as a well-known celebrity. However, her overall appearance was too old-fashioned and was definitely not suited for her age. She picked a solid deep purple silk saree and paired it with a sleeveless blouse. The choice of solid-colored saree was boring and to add more to the boredom was her basic hair and makeup look? It looks like she was dressed for a 12th grade farewell party where all the teenage girls probably get excited to be wearing a saree for the first time and get away with how simple their overall look is. Durefishan should've amped up the look or if not, should've gone for a completely different dress altogether. The awkward placement of her hands is enough to show that she herself wasn't feeling confident.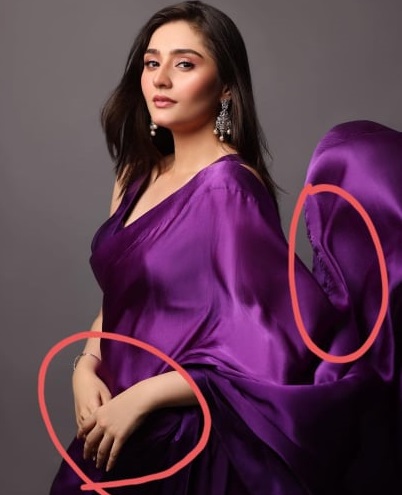 Sunita Marshal
Sunita Marshal is yet another celebrity who has all the experience and know-how in the world of what is fashionable, appropriate for an award function, and most importantly looks good on her. Making an outfit work is one thing, but it being suitable is another and in this appearance at Lux Style Awards, Sunita Marshal failed to leave a mark. This gown with a saree like a pallu just did not make any sense. The color wasn't appealing and the pattern of the fabric used for the drape wasn't pretty either. The sad part is, Sunita Marshal experimented with her hair and makeup and even that didn't do much to add more to her beauty. Her glowy makeup made her look like a grease ball and despite her outfit being airy, it looked like she was feeling the late summer heat.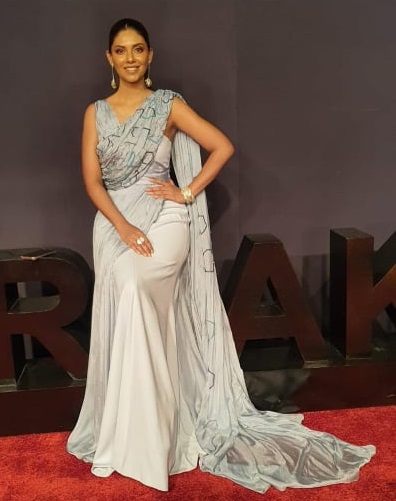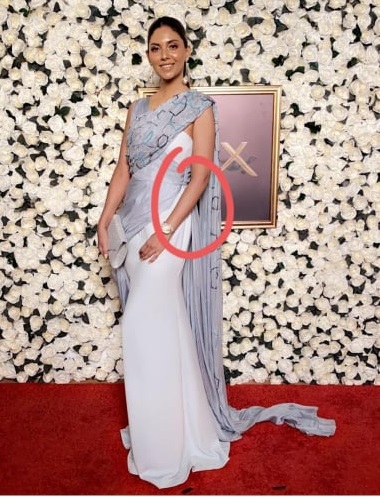 This completes the list of worst-dressed celebrities seen on Lux Style Awards 2021. What are your thoughts and which of the looks did you find to be least impressive? Feel free to share your thoughts.
Fatima Awan & Zahra Mirza.