Maalik (مالک) is an Urdu film released on the 8th April 2016 throughout the country. The film was given the censor certificates by all three censor boards i.e. Punjab Board of Film Censor (PBFC), Sindh Board of Film Censor (SBFC) and Central Board of Film Censor (CBFC).
However now after three weeks of screening the Sindh government has declared a ban on the movie throughout the province.
As per the official facebook page of Maalik, A letter issued by the Sindh Government today said that the Word CM (Chief Minister) should not appear in the film. This is despite the fact that all observations from the Sindh Censor Board were complied with and the film was in Cinemas for three weeks. Suddenly the film has been banned from Cinemas in Sindh. The police has also been been instructed to take action against Mr. Ashir Azeem.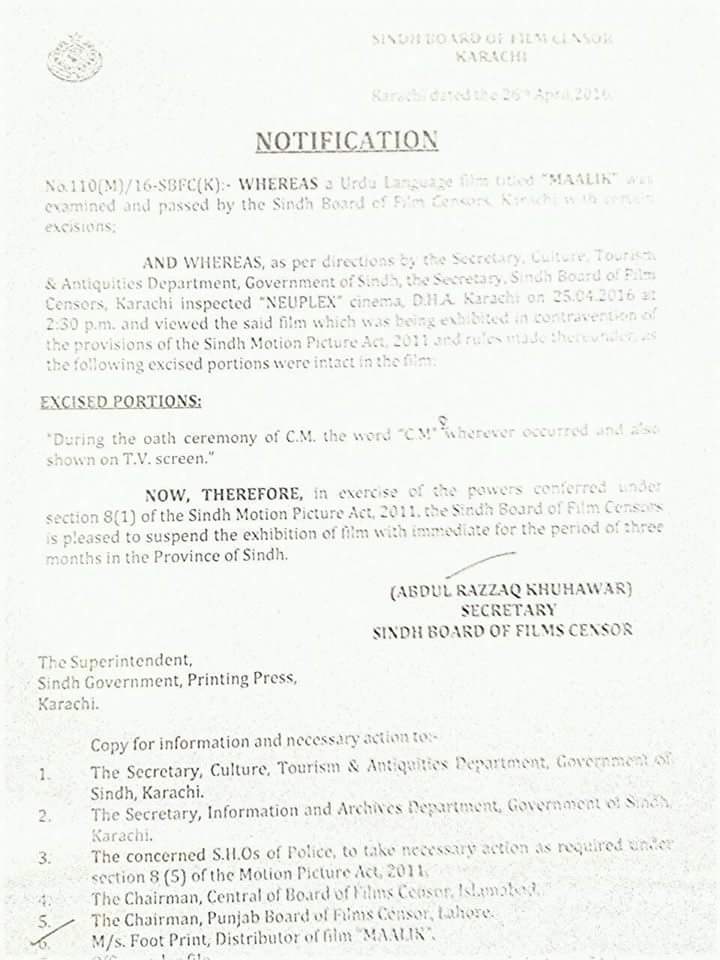 The news resulted in outrage on social media against the Sindh Government and after few hours the government withdraw the earlier notification.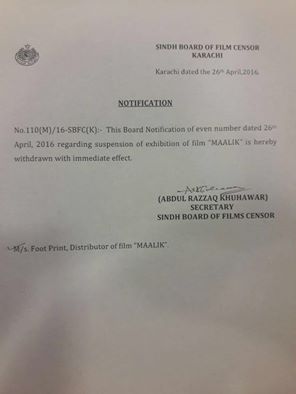 Here is the trailer of the film
Film: Maalik (مالک)
Starring: Ashir Azeem, Farhan Ally Agha, Sajid Hassan, Hassan Niazi, Adnan Shah Tipu, Bushra Ashir Azeem, Ehteshamuddin, Rashid Farooqi, Mariam Ansari, Tatmain ul Qalb, Lubna Aslam, Erum Azam, Pakiza Khan
Genre: Action Thriller, Drama
Written by: Ashir Azeem
Screenplay by: Ashir Azeem
Directed by: Ashir Azeem
Produced by: Media Hub
Shot in: Sindh & Balochistan
Release Date: 8th April 2016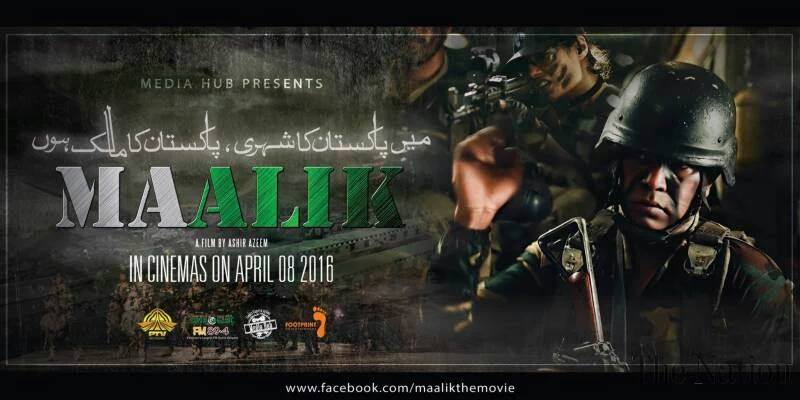 Rashid Nazir Ali