Parveen Shakir is a household name to all Pakistanis, the legendary poetess was not only a famous writer but also a civil servant.  She rose to national fame with her very first book Khusbo (fragrance). Many of her books and poetry have been translated into various different languages. Her book Khud Kalami was translated into Italian.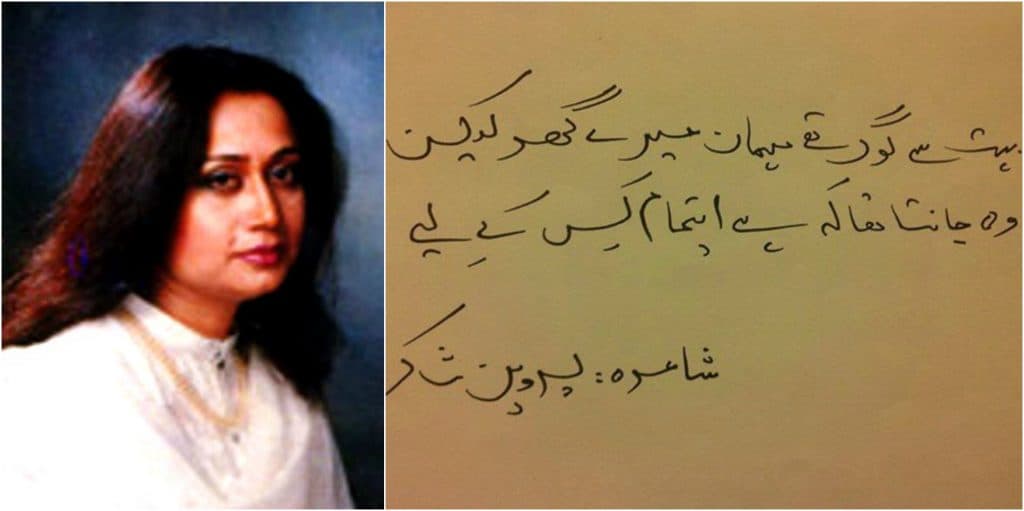 She also received a Pride of Performance award for her contribution to the South Asian literature. She managed to win the hearts of many with her soul-stirring poetry.
Yesterday marked her 23rd death anniversary and Mahesh Bhatt paid her the most heartwarming tribute on his twitter.
Kaisse kah dun ke mujhe chorr diya hai uss ne
Baat tau sach hai magar baat hai ruswai ki -Parveen Shakir pic.twitter.com/0hubWfTcag

— Mahesh Bhatt (@MaheshNBhatt) December 26, 2017
The Murder director posted excerpts from Parveen Shakir's garden of words.
Bicchra jo eik baar , tau milte nahin dekha
Iss zakhm ko hum ne kabhi silte nahin dekha
Eik baar jisse chaat gai dhoop ki khwahish
Phir shaakh pe uss phool ko khilte nahin dekha –
Parveen Shakir pic.twitter.com/uULUokdBv6

— Mahesh Bhatt (@MaheshNBhatt) December 26, 2017
KyuN mujh pe hua hai mehrbaaN tu
Ek zarra-e-khaak aur kahaaN tu
MaiN dhoop ki aadi ho chali thi
KyuN mujh pe bana hai sayebaaN tu
MaiN teri zameen-e-nisf-e-shab huN
TaaroN bhara mera aasmaaN tu
-Parveen Shakir (death anniversary)

— Mahesh Bhatt (@MaheshNBhatt) December 26, 2017
Shakir passed away in a car accident in Islamabad on a rainy winter morning December 26, 1994. She was 42 at the time but her words shall remain with us till the end of time.