Mahira Khan and Sania Mirza are two stars who have made a name for themselves in their respective fields. They have always stood tall and have made sure to project a strong image of women. Mahira Khan is also a doting mother. She is the most celebrated star in Pakistan and made a name for herself Internationally with projects like Humsafar and Raees. She has also worked opposite Shahrukh Khan making a successful debut in Bollywood.
But despite all these successes if you ask Mahira about the centre of her world it is none other than Azlan Askari, her son. It was Azlan's birthday and mommy took the opportunity to share a throwback photo and show some love: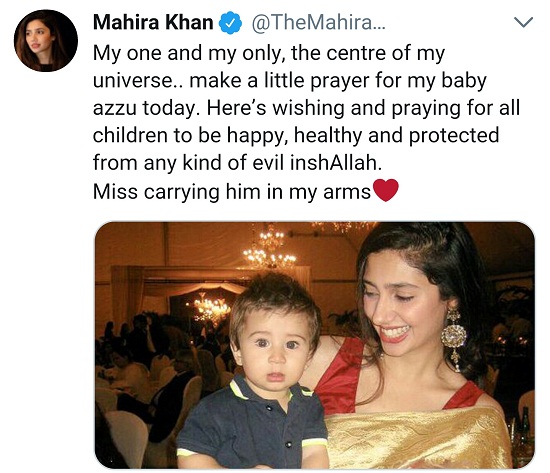 Pakistan's bhabhi and cricketer Shoaib Malik's wife Sania Mirza also found Mahira's message adorable and had to comment:

Sania Mirza is also ready to welcome motherhood as she is in the last trimester of her pregnancy. Mahira sent some love to the mommy to be and the baby. Here is what Mahira replied to Sania:

These two starlets are sure spreading love and showing support to each other. What are your thoughts on Mahira and Sania's Twitter exchange? Share them in the comments section below!