Meri Guriya Episodes 21 & 22 Review
Disbelief and Denial
Tonight's episode of Meri Gurya showed how after Samreen was rescued by Safina, the news that Dabeer was the serial killer spread like wild fire. While Shehnaz, Shahmir, Yawar and Safina were in shock when they found out the truth, Dabeer's parents were clearly in denial. Dabeer's mother in particular did not even want to think on those lines and she blamed Safina entirely for this "false" news. Everyone's state of mind was presented in a convincing manner. When Safina came to Shehnaz and broke this news to her, the expressions on Shehnaz's face in particular and that entire scene was really powerful.
Khaani Vibes
The conversations and some scenes tonight suggested that Dabeer's mother had a big role to play in shaping up his personality. The fact that she always covered up for him even when she knew that he was wrong added to making him what he is today. I must say that I was expecting something entirely different and still hope that there is a better explanation for Dabeer's criminal behavior and evil ways. This particular track gave Khaani vibes. The whole message of Khaani was that parents are responsible for a child's upbringing and if they don't do their job right, the society suffers. Dabeer was never shown as a spoilt child or a grown up seeking control but he always came across as a psychopath. Usually such people have bigger underlying issues. One person who still needs a reality check is Abida's daadi. I was hoping that Dabeer's track would in some way be linked to her but there was no such indication in this episode. The fact that Dabeer was always different from others was reinforced repeatedly therefore it seemed like some incident in his childhood changed his personality. Waiting to find out more about this particular aspect since putting the blame Dabeer's mother is not convincing enough.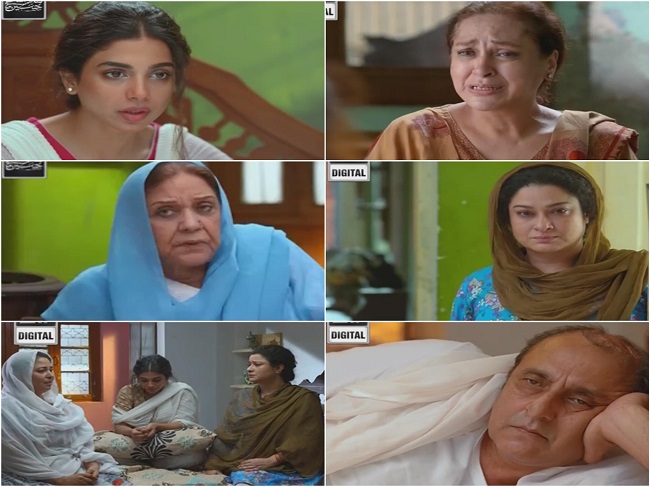 Sheikh Sahab's Stubbornness
Sheikh Sahab's stubbornness once again showed a different mentality which exists in our society. Talking openly about rape is considered a taboo which is why most rapists get away. Sheikh sahab has been shown as the samaj ka thekedar who cannot accept the fact that Shehnaz and Safina made him stand in a line to get his DNA tested. Similarly, Abida's daadi was shown blaming the victims instead of blaming the rapist and the murderer. This unfortunately is the bitter reality of our society.
Shehnaz and Safina – Inspiring As Usual
Shehnaz has always been shown as a strong woman. Tonight, there were times when her strength was difficult to connect to but inspiring nevertheless. Sania Saeed's brilliant performance continues to impress in every episode. Sonya Hussyn's character too never fails to impress and inspire. Although Safina was completely shattered after discovering the truth but the amount of empathy she felt for all the mothers of the victims allowed her to carry on. The fact that Safina can feel other people's pain enables her to do things most people are not even capable of doing. Empathy has always been the main driving force in her track. Even when she overlooked Dabeer's flaws, she did it because she was trying too hard to understand him. The writer has etched-out both these characters brilliantly.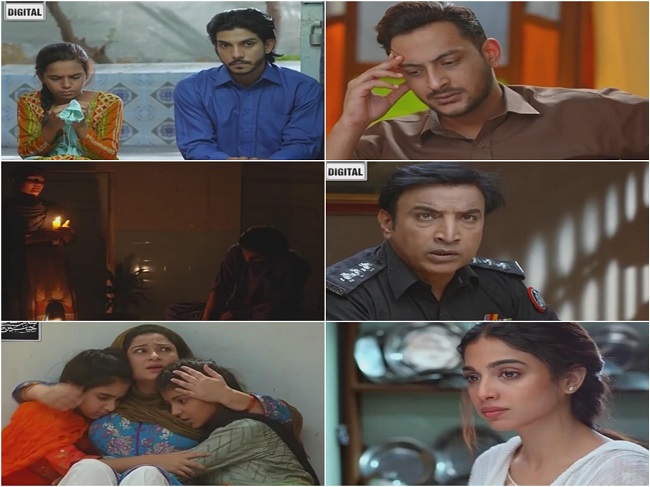 Appearances Are Deceptive – Parents Should Not Trust Anyone With Their Children
The most important message in this episode and the serial overall is that parents should never trust their children with anyone. I was waiting to hear from Abida's father that he was the one who asked Abida to give Dabeer water on the night she disappeared but that never happened. Shehnaz rightly said that she did whatever she could to protect her children but sometimes you are completely helpless. The basic reason why no one doubted Dabeer was because he came across as a shy person who it seemed was incapable of harming anyone. He used this image to have an easy access to people's houses and probably to trap his innocent victims.
Performances, Execution and Script
Just like every other episode, tonight too, the performances were exceptional. Mohsin Abbas Haider is extremely convincing and impressive in this role. Sania Saeed, Sonya Hussyn and Sajid Hassan gave phenomenal performances in this episode. Even the child star playing Dabeer's cousin's role acted so well. The director has done complete justice to this script. The overall feel of this play couldn't have been better. There were some aspects of the story tonight which were not as impressive as the previous few episodes but overall the script continues to be engaging.
The Preview of The Next Episode
The preview of the next episode was short and to the point. The next episode will cover legal proceedings. Meri Gurya has been an engaging and fast-paced play so far, I hope it is wrapped up soon and has a logical ending.