Mahira Khan, UNHCR Goodwill Ambassador for Pakistan and an accomplished actress plus activist for various different causes, condemned the attack on PIC Hospital in Lahore by lawyers on Wednesday. The actress, who has also been vocal about a number of unpleasant incidents in the past, recently took to her Twitter to condemn what had transpired at the hospital and the number of causalities it had resulted in.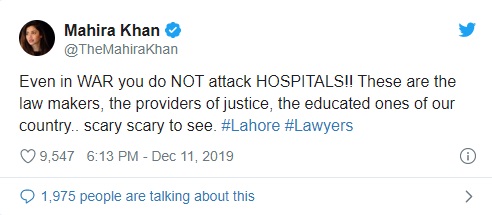 "Even in WAR you do NOT attack HOSPITALS!! These are the law makers, the providers of justice, the educated ones of our country.. scary scary to see. #Lahore #Lawyers," wrote Mahira on her Twitter and rightfully so.
At least three patients were reported dead and more than 25 doctors injured when protesting lawyers broke into the emergency ward of Punjab Institute of Cardiology in Lahore. The chaos forced people out of the hospital and doctors alongside their paramedic staff was locked inside rooms and beaten, being made to leave patients, even critical, unattended.