We have been discussing the upcoming high-budget movie 'Main Hoon Shahid Afridi' with our readers since the day the news first broke about it in the entertainment industry and now that the movie is now all ready to make its grand release this Friday, we can sense hype already been created about the news. Main Hoon Shahid Afridi is a movie which revolves around the world of Pakistani cricket where Shahid Afridi's character is highlighted although according to the latest interview released, the cricketer is extremely upset about the movie and has also stated bluntly that the events shown in the movie are far from his life.
The movie was also in limelight for its bold song where we saw Mathira and Mahnoor Baloch dancing. The video enjoyed criticism and appreciation, both at the same time by the audience. The movie will be releasing in all big cinemas this Friday and  showing her support towards the venture, Mahira Khan has recently recorded a video message where she has encouraged her fans to watch the movie as she too will be availing the chance.
Watch Video here:
The movie was previously said to be released on Eid but considering Chennai Express as a major threat to its potential business, the release was delayed.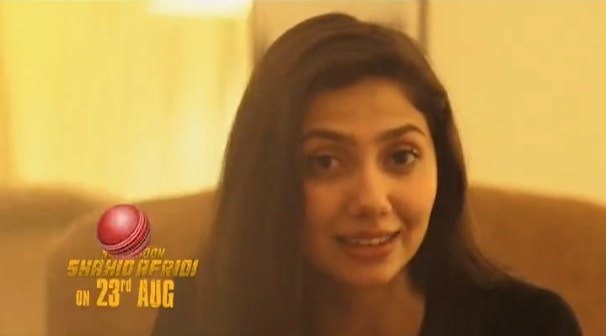 Will you be watching the movie in cinemas? 
Share your views,
Nida Zaidi