Main AFSURDA– I think this would have been the most suitable title for this play because now it's not just our protagonist who is afsurda, this time around EVERYONE (except for Sania I guess) was sooo afsurda that when the episode finally ended, I found myself so afsurda that I don't think anyone having a great day should tune to this play because they'll end up feeling very afsurda and I know the over-usage of afsurda is irritating but the thing is that I am feeling soo afsurda that I can't think of any other word because: ARY IS DOING IT AGAIN! They're about to ruin a play some of us used to wait for. This was one full-of-loopholes, boring and above all- AFSURDA episode. The recent turn of events is bugging me this much because I had quite a lot expectations from this play and now to see the story going downhill like this- it's shattering! My eyes beg for some sweet scenes and my ears beg for some sweet dialogues but all we know up till now is that Bushra is crying, Sabiha is nazrain churay-ing, Shayan is sleepy and Sania is excited (for her marriage to a guy who loathes her presence and makes it quite obvious too but madame abhi tak issi kashmakash mein hain kay un ka to-be-hubby un say muhabbat karta hai ya naha?!!).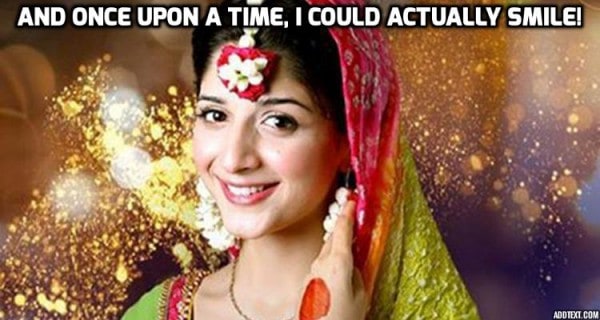 First things first, whatever happened to 'kal tak tumhe apni har baat ka jawaab miljayega'?? I mean, the first few scenes indicated that Shayan will break the news to Sania and I was waiting for the 'kal' in question but guess what? I kept waiting! Even though Shayan did approach Sania once and obviously he intended to spill the beans but the whole scene ended rather abruptly and with a stinging smile and 'ab koi jawaab matter hi nahe karta ', she walked out- just like that! At one point she was begging for an explanation as to what's the reason behind Shayan's berukhi but when she put tissue and tissue together (LOL, you gotta admit the girl has Sherlock-like skills ;) ) and figured out that there's something fishy going on between him and Bushra, she left the conversation in the lurch- this tells you what kind of person she is. She is the sort of person who likes to live in an ideal world of hers where everything is according to her plans and even though she herself has come to realize that Bushra is someone special for Shayan, the thing is that she doesn't have the heart to hear this from Shayan in person- she just can't face the truth. You know, I don't get why every single person in this play is sooo slowww! I mean, why couldn't Shayan tell her the truth right when she asked him? Yeh 'kal' ka intezaar kyunnnnn? Shayan always came across as a level-headed person and I expected him to voice the truth without chickening out but I'm afraid he is not exactly taking charge of the whole situation. And yesss, why couldn't they SHOW Bushra and Shayan in a restaurant, enjoying some light-hearted moments, matlab, itna sukh tou viewers ko mil hi sakta tha yaar!
(see below) Bubbly ka advert match aur Sania- perfect match, huh?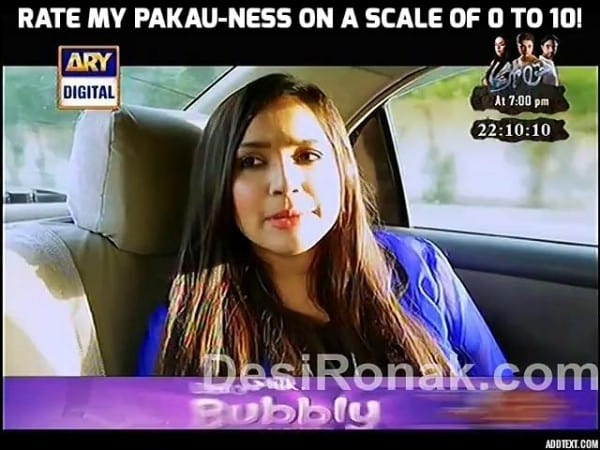 Another person who is proving to be a HUGE disappointment is Sabiha!! I mean, remind me again, isn't she the woman who got Bushra and Shayan married in the first place? Now that the situation is getting out of hand, it's actually Sabiha's responsibility to say the truth out loud. I know that she's concerned about Sania's mother but would it do any good to marry Sania to Shayan just because of her dying mother's last wish, only to find Shayan and Sania leading a troubled marital life in future?  All this time she was like, 'Bushra tou meri beti hai, Bushra tou meri zindagi hai' but now when Bushra is likely to have a nervous breakdown (all jokes apart, I am actually worried about Bushra's health), Sabiha is behaving as if Bushra doesn't even exist! I for one didn't spot her consoling Bushra and reminding her that they're going to deal with this together. Well, I'm veryy concerned about Bushra because the circumstances she finds herself in are exceptionally difficult to cope with and if she loses her mind, I for one wouldn't blame her! I loved the play when the focus was solely on Bushra, her struggles, her triumphs, her failures but look where we are right now!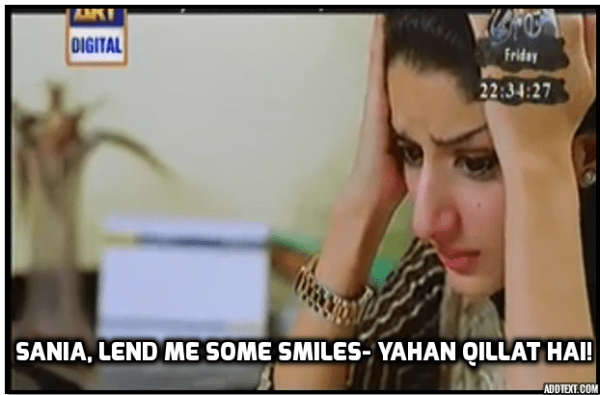 Shayan always looks so constipated, Bushra has 'I am the saddest person in the whole, wide world' written all over her face while Sabiha always has this sheepish look on her face like she's hiding something but isn't it strange that Sania's parents aren't the least bit worried why their daughter's to-be-susraali are anything but happy for the approaching wedding bells? Shukar hai atleast Sania commented that Yahan sab ka muu dekh kar tou lag hi nahe raha kay yahan shadi honay wali hai but even that remark was made very casually. Sania and Shayan are poles apart and I don't know why in the world Sania fell head over heels in love with Shayan. I know that opposites attract but when Shayan is with Sania, he's always so expressionless and insipid that I don't know what compelled Sania to fall in love with him. WHY are girls portrayed so desperateee in our serials these days? If a guy doesn't like you and you're a girl with even an ounce of self-respect in you, you'd think twice before obsessing over a guy who has got eyes for someone else!
On the other hand, Sofia puts two and two together and a call from Fazeela confirms her suspicions about Faraz's disappearance. They wasted quite some time in showing the longg series of flashbacks in Sofia's 'putting two and two together' sequence but when it came to the interesting part, i.e. Fazeela's call- we didn't even get to hear all of it! I really wanted to know what Fazeela knows about Faraz and oh, I was expecting them to show Faraz's accident a lot earlier but at the last minute of the episode, Shayan just received a call from someone informing him about Faraz's accident and nothing was revealed after that. Going by Sofia's expressions, I think she finally knows what actually happened between Faraz and Bushra and I wonder what'd be her next step.
The promo suggests that the next episode will comparatively be more happening so let's see! I want to know what you folks think of the episode, so please share your thoughts!
Maryam Mehdi