Written By: Shabana Ghulam Nabi
Directed By: Emraan Kaleem Mallick
Cast: Hareem Farooq, Ali Rehman, Alamdar Hussain, Rucksar Naaz, Mahjabeen Habib, Zia Ghurchani, Anjum Habibi, Sabina Ahmed, Imran Farooq, Shehram Akram among others.
The Diyar e Dil duo Hareem Farooq and Ali Rehman Khan are back on screens and of course this time with a very different setting. The first episode as usual introduced us to the main characters but that is not it. The first episode was extremely happening as far as the pace goes. the whole theme and story of the drama were introduced immediately and no scenes were dragged in the whole episode. Daniya (Hareem Farooq) and Zaryab (Ali Rehman Khan) are two lovebirds planning their life together and thinking that they love each other more than anything else. But the third angle will strike, Armaan (Alamdar Hussain) is the third angle of this triangle.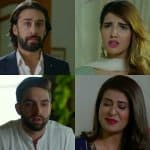 Zaryab is an adopted child and for this reason, he does not feel entitled to getting his wishes. He feels indebted to the people who brought him up and for the same reason he did not say a word when his mother engaged her own son to his love interest. From the start, it seems like the mother will be the evil being. She has sidelined the adopted boy just to keep her own son close. Armaan is a character written according to the stereotypical notions we have. He is a boy from the UK who thinks wedding invitations are Whatsapped. Like boy, did you not see Prince Harry's wedding invitations recently? Which UK were you living in? He loves his brother but not as much to notice that he actually loves his fiance. But well ignorance is the reason many of our dramas progress. Zaryab's mother's motive is understandable. She wants to keep her son with her who will only settle in Pakistan if she marries him to Daniya whom he fell in love with at first sight.
Hareem Farooq and Ali Rehman Khan have done a good job in transforming into their respective characters. They were good at showcasing the emotions of the characters. Alamdar, however, has to work REALLY hard. His dialogue delivery was too sloppy and it seems like he was working too hard. But since he is a newbie, he will naturally take some time.
P.S: Loved the scenic shots in this drama.
Did you guys watch the first episode? Share your thoughts!