Makeup is an essential part of an actor's job and it is also the demand of the camera. An actor, irrespective of wanting to wear makeup or not is supposed to look a certain way because the high definition cameras and bright lights not only wash out the features but also accentuate the skin conditions which are absolutely normal but end up looking exaggerated on-screen. An actor is supposed to wear less or heavy makeup, going by their personal preference or also according to the character that they are playing in a film or a drama. As much as the makeup seems to be the glamorous part of an actor's job or life, it is something that can make or break the look of the characters that they are playing.
In recent years, a lot of celebrity makeup artists as well as the celebrities themselves have started speaking more about the kind of makeup they like to wear and the products they apply. In the past, makeup was used but it was not so easily spoken about because the celebrities feared that the secrets of their signature looks will be revealed but times have changed. Now, every other actor feels comfortable in sharing their tips and tricks because they believe in transparency between them and their fans who also share the love of makeup.
There are a lot of makeup products available for every skin tone, every skin type with numerous brands offering variety to their customers world wide. Our celebrities are also seen endorsing a few products repeatedly which do the job for them and make them look presentable on-screen. Although every single actress or celebrity wears all sorts of brands and different kinds of makeup products, there are still a few which everyone is seen speaking about unanimously.
Here is the list of all those makeup products that are most commonly used by Pakistani actresses:
Kryolan TV Paint Stick
As the name of this product suggests, it is a TV paint stick which has been formulated to stay on the skin under harsh studio lights. For the longest time, all of celebrity makeup artists as well as those celebrities who do their makeup themselves have relied on Kryolan TV Paint Stick. This product is thick and extremely full coverage. It hides all the spots, dark circles or pigmentation as well as stays on the skin in hot and humid weather. This product is suitable to be worn in Pakistani weather that is why this happens to be the go-to product of all the bridal salons all over Pakistan. A lot of celebrities have endorsed this product in different morning shows and they have shown step by step tutorials of how they have been using this product for years. The best thing about Kryolan TV Paint Stick is that is can also be used sparingly to achieve a very natural finish but also can be used to achieve a full coverage airbrushed look. It is easily available all over Pakistan as well.
MAC Studio Fix Liquid Foundation
MAC Studio Fix Liquid Foundation is another high-end foundation which is widely and commonly used by the celebrities as well as celebrity makeup artists. This liquid foundation is medium to full coverage and sustains the hot and humid weather. It is also suitable for all types of skin, but dry skin type requires some decent amount of prep and priming before using MAC Studio Fix. Celebrities like Nadia Hussain, Nazia Malik, Sadia Imam, Noor Bukhari and makeup artists like Wajid Khan have time and again showcased this foundation on different morning shows and have spoken highly of it. MAC Studio Fix Liquid Foundation is easily available all over Pakistan and has a wide range of shades to match all kinds of skin-tones.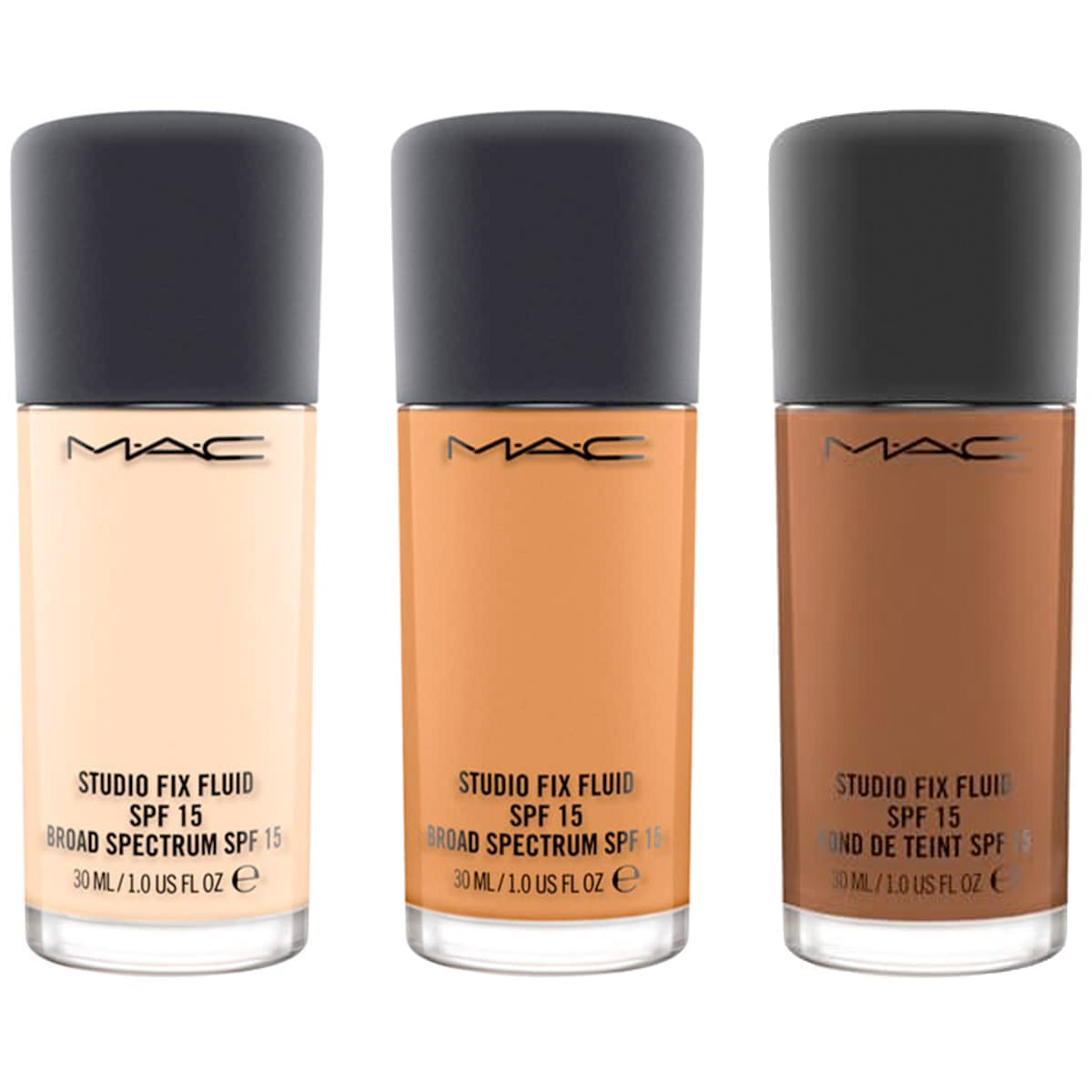 MAC Studio Fix Powder Plus Foundation
MAC Studio Fix Powder Plus Foundation is a powder-based foundation. Although it can be worn on its own like any other foundation, but our actresses like to use it to set any sort of foundation that they have applied, be it a stick foundation or liquid foundation. When worn on its own, it gives a natural makeup look and is best for quick on-the-go makeup looks but when added on top of a liquid foundation, it not only adds another layer but sets the base in place adding longevity to the foundation. This is another product that is commonly seen in almost every other actor's makeup kit. Apart from actresses, male actors also use this powder foundation comfortably.
Nabila's Zero Makeup Palette
This product has been raved about and endorsed by a lot of celebrities. Since the actresses tend to wear heavy makeup for longer hours, at times they also need a break. For a day time and effortless makeup, they rely on Zero Makeup palette because it does the job for them and gives them enough coverage to make them look presentable. Nabila's Zero Makeup consists of a base shade, a concealer, a cheek and lip tint. It also comes in different shades which caters to the different skin tones, ranging from fair to deep. Actresses like Mawra Hocane, Urwa Hocane or Ushna Shah who like to keep a fairly simple, fresh and minimal makeup look rely on Nabila's Zero Makeup and this is commonly used by other actresses as well.
Masarrat Misbah's Silk Liquid Foundation
This is one such product which is heavily used and promoted by almost all the celebrities and celebrity makeup artists. Masarrat Misbah has designed and formulated this product keeping Pakistani weather and skin-tones in consideration. This is the reason all the celebrities who have worn this say that this product does not budge. Masarrat Misbah's Silk Foundation is not only reasonably priced but is easily available all over Pakistan. It is nice to see that almost all the celebrities have time and again promoted this product and have spoken highly of it because they wanted to show support to Masarrat Misbah. Hina Altaf and Sadia Imam are avid users of this product.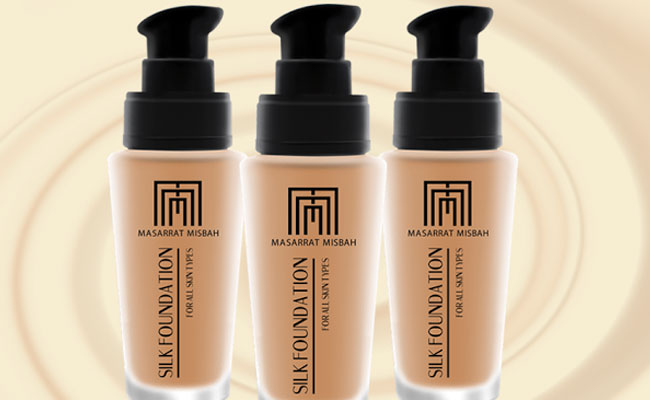 Lip and Cheek Tints
This is one such product which is used by every other actress. Usually the two products which are highly used are Benefit's Benetint and The Body Shop's Lip and Cheek Stain. This is the product that gives a very natural flush of color to the cheeks and lips as the name suggests. This is one of those go-to products that brings life to the face and gives the cheek some definition and adds freshness to the complexion. Ushna Shah, Hira Mani, Mawra Hocane, Urwa Hocane, Hina Altaf, Iqra Aziz, Sanam Baloch and a lot of other actresses use a variant of this product. A lot of brands offer cheek and lip tints but the ones that are popular among Pakistani actresses are by Body Shop, Benefit and also Lancome.
Highlighters
Every single brand has a variety of highlighting products. Our actresses are also following the trend of highlighting. Some use powder highlighters and others also use stick highlighters. It is hard to pick a name of one famous brand or its highlighter which is popular among Pakistani actresses but it is a done deal that every time they will be seen speaking about their favorite or most used makeup products, they will definitely name a few highlighters because the look is incomplete without them.
MAC Lipsticks and Liquid Lipsticks
MAC is a renowned and well-established brand which is comparatively older to most of the cosmetics brands that have now become popular among the customers. However, MAC Tube Lipsticks have remained consistent in the makeup bags and kits of Pakistani actresses for the longest period of time. MAC makes some of the most amazing lipsticks and has a huge shade range. With the popularity of liquid lipsticks, our actresses have picked up on this trend as well because it lasts for a longer period of time and does not budge. Almost all the famous and popular brands now have their range of liquid lipsticks which are heavily used by our Pakistani actresses.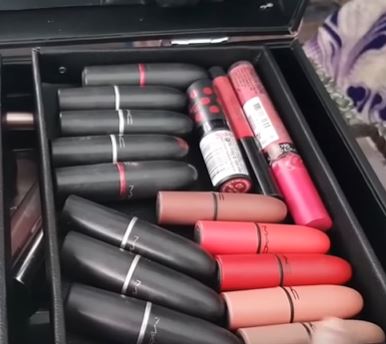 Sanam Jung was seen sharing names of two shades when she got a lot of requests after the episodes of Jago Pakistan Jago were aired. Sanam Jung shared that she usually wears MAC's Relentlessly Red and Candy Yum Yum.
In Shahista Wahidi's Show Hareem Farooq shared that her favorite and go-to liquid lipstick was by Anastasia Beverly Hills named Baby Pink.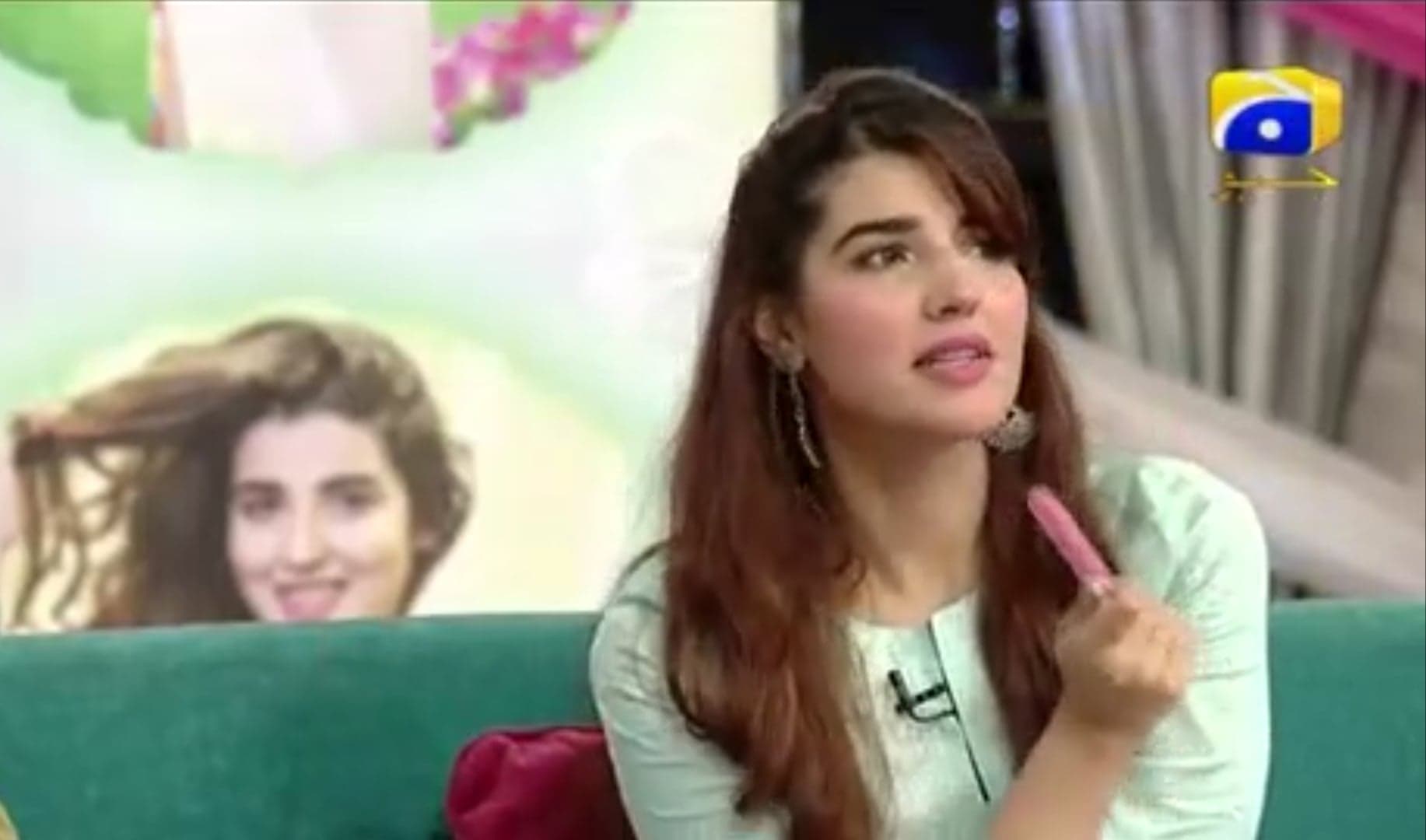 Primers and Setting Sprays
These are two products which are purely picked going by the skin-type and personal preference. Pakistani actresses have spoken about primers of brands like Makeup Forever HD, Benefit, Maybelline, MAC, Smashbox etc. They do emphasize a lot on the fact that makeup application turns out better when they have their skin properly moisturized and primed. It is hard to pick one product because when it comes to primers, everyone has a different preference and skin condition but Pakistani actresses do believe in wearing primers. MAC Fix+ happens to be the most commonly used makeup setting spray by our Pakistani actresses. This is one such product that will be seen in their vanity or makeup kits for sure.
Beauty Tools
Eyelash curler happens to be one such product that is most commonly carried by almost all the Pakistani actresses in their day-bags. When they are on the go, a little lash lift turns out to be a game changer and amps up the look while making the eyes look awake and pretty. All the actresses have time and again mentioned that they definitely carry eyelash curler with them and even if they are wearing mascara or not, this is something they don't leave without.
Beauty Blender is also another makeup tool which is highly in demand and is being widely and commonly used by almost all the Pakistani actresses to apply the foundation. Beauty Blender sheers the foundation and gives an airbrushed look to it. Not only our actresses but celebrity makeup artists also use Beauty Blenders. A lot of brands have come up with their version of makeup sponges but the original Beauty Blender remains a top pick of Pakistani actresses. Makeup brushes are also definitely used by every actress who uses makeup, but Beauty Blenders have taken a top spot for foundation application.
Brands That Are Popular Among Pakistani Actresses
Benefit Cosmetics
MAC
HudaBeauty
theBalm
Morphe
Anastasia Beverly Hills
Masarrat Misbah
Last but definitely not the least, the place that they all love to shop at while travelling abroad definitely happens to be:
Sephora