All the forced emotional scenes fell flat in this latest episode even with all the dramatic background score and mere shauhar ne mujhe ghr se nikal diya dialogues. On the contrary few of the scenes and situations were hilarious. For instance Jeena trying to 'distract' Salahuddin when he saw Mannu in the kitchen. It was a 'vo dekho chirya' sort of a scenario!!! Also, while Aba could barely breathe, everyone around him failed to notice that he was dying until the conversation ended! Mannu's interest in Salahuddin's love life makes her character annoying! If she still loves this man, she should just go ahead and marry him. She is a hypocrite who is constantly trying to prove that she loves her husband when actually she never got over Salahuddin. I must say though that Maya Ali unlike Hamza Ali Abbasi has tried her best to make the viewers feel for her character. The twists and turns in tonight's episode were unconvincing to say the least.
Mannu and Salahuddin 'love' (fixation) for each other is supposed to be the integral part of this 'beautiful love story' but I am certain I am not the only one who has a very difficult time relating to their 'undying love'! Mannu has been through so much but when she looked at Salahuddin and Jeena tonight, when actually she should have been trying to hide from them, she is reminded of their last meeting – which wasn't really the last one! So, Mannu expects this man to be 'sincere' to her even now when she is married and has two kids! Mann Mayal's story primarily revolves around Salahuddin and Mannu's chance meetings in which they are reminded of their love for each other and then most often Mannu goes back to 'disowning' Salahuddin!! Salahuddin has made a lot of stupid decisions in his life but getting engaged to Jeena had to be the stupidest of them all!! Hamza Ali Abbasi looks confused and annoyed most of the times, as if he isn't sure what is expected from him. Salahuddin's character is the weakest link in this drama.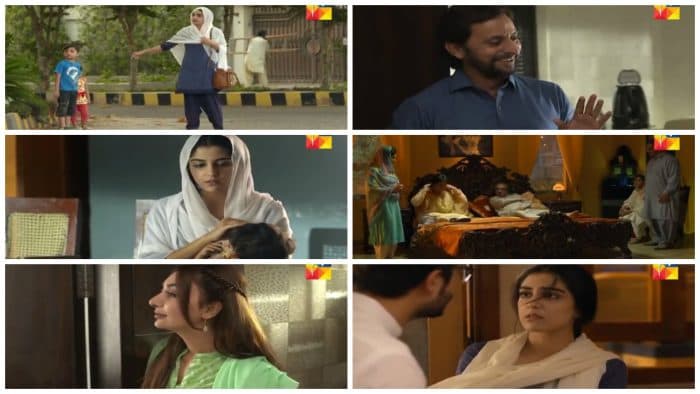 Mannu does not deserve an ounce of sympathy, some might call all that she 'endured' her hosla but that is exactly the reason why her problems are self-created! Even today, she could have asked her parents to send her a plane ticket or maybe some money – easy paisa to Jameel?? But she continued saying things like she didn't want to be a burden on them! A statement like that sounded really strange coming from someone like Mannu who lived with a husband who did not only consider her a burden but also an irritant in his life. Mannu's self-respect surfaces whenever it is not needed and she becomes a door-mat when it is time to protect herself! Mannu is not a role model in any way, she is a stubborn girl who likes feeling sorry for herself. She has the option of going back to her parents any time she wants but she decides to live with Mikael – still not sure why!
Mann Mayal has weak characters who have not changed in all these years. Mannu might be living a tragic life but has she really grown as a person? Salahuddin's actions today – putting that ring on Jeena's finger – also proved that he has learned nothing from life. He still thinks relationships are a joke. Mannu's father's phone call to Salahuddin also went to prove that he too had not changed one bit!!
The preview of the next episode showed that Jamil is the real hero in this play ;) Will Mikael finally divorce Mannu?? I really hope so since it won't change much in Mannu's life. Is it going to be another one of those 'intelligent' decisions by superman which will land Mannu in this situation or will it be a dream sequence? Can't say I am dying to find out but I can say this that I am looking forward to this drama ending in the next 4 or 5 weeks!
How many of you watched this latest episode? Do share your thoughts about it.
Fatima Awan