Manto (منٹو) is an upcoming film releasing on 11th September 2015. It covers the life of Saadat Hussain Manto, the years he spent in Pakistan after partition in 1947 till his death in 1955. Its music has been launched in Karachi yesterday.
After its release, it will also be telecasted as a drama on Geo Tv.
Film: Manto
Cast: Sarmad Sultan, Sania Saeed, Saba Qamar, Mahira Khan, Nimra Bucha, Arjumand Raheem, Faisal Qureshi, Humayun Saeed, Hina Khawaja Bayat, Shamoon Abbasi, Nadia Afgan, Sawera Nadeem
Writer: Shahid Nadeem
Director: Sarmad Sultan Khoosat
Producer: Baber Javed
Distributor: Geo Films
The film stars many artists like
Sarmad Sultan is playing the role of Saadat Hassan Manto
Sania Saeed is playing the role of Safiya, wife of Manto
Saba Qamar is playing the role of Madam Noor Jehan, a leading singer of Pakistan also a friend of Manto
Arjumand Raheem is playing the role of a dancer, also a friend of Manto
Mahira Khan is playing a unique role.
Shamoon Abbassi and Yasra Rizvi are fictional characters, the lead roles of short story Thanda Gosht
Nimra Bucha is also playing a role which exists in the imaginations of Manto
Faisal Qureshi is appearing as a radio host
Humayun Saeed has a cameo appearance.
Here are the songs from this film, the trailer of the film is yet to be relesaed
Ali Sethi sings "Aah Ko Chahiye" famous ghazal of Mirza Ghaalib

Ali Sethi & Zeb Bangash provided the vocals for the song "Kya Hoga" written by Muhammad Hanif
Meesha Shafi gave her voice for the song "Mehram Dilaan De Mahi"  the famous kalam of Punjabi poet Shiv Kumar Batalvi
About Manto
Saadat Hassan Manto is considered as the leading short story (afsana) writer of Urdu literature. He also wrote the stories and dialogues of many films in Bombay, British India before 1947. After the partition in 1947, Manto migrated to Pakistan with his wife Safiya, the couple has three daughters.
In Pakistan Manto continued writing Short Stories and also wrote an Urdu film Beli in 1950. He also wrote the sketches of famous persons whom he had met. In Pakistan, he faced many financial hardships and being addicted to alcohol he passed away in 1955 at a young age of 42. During his life he also faced the court charges of writing obscene content and portrayed as a controversial figure. His widow Safiya passed away in 1970's. His three daughters Nusrat Jalal, Nuzhat Arshaf and Nighat Patel are alive and live in Lahore.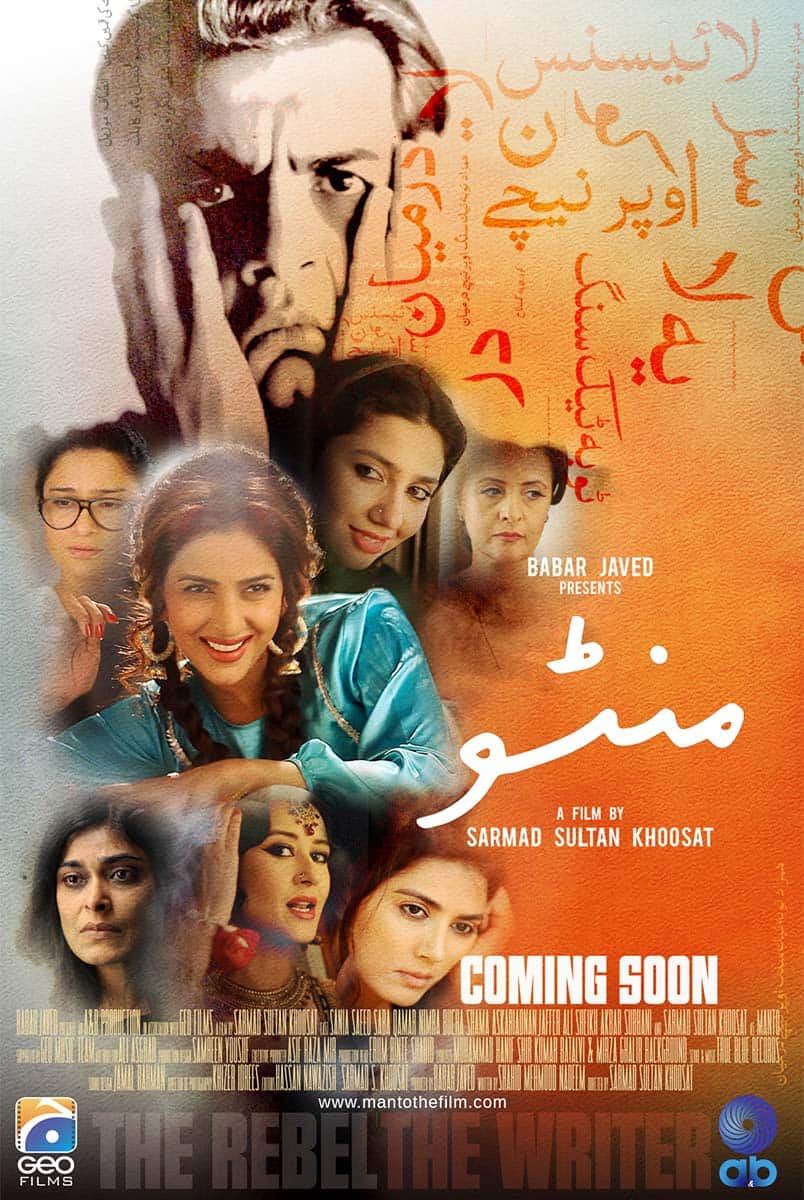 Rashid Nazir Ali