I don't know from where I should start, a great play came to an end. Marasim is one of the absolute masterpiece that we rarely produce nowadays. Applauses to the whole team of Marasim. I think if the drama industry is still alive in Pakistan, it is just because of dramas like Marasim. This shows that thought provoking writers are still writing some great handy stuff but what actually pisses me off is that why these shows never get ratings and viewership? Why these shows are telecast on least watched Channels? Anyways keeping aside my disappointment, let's start with the message of drama Marasim.
First of all I would like to thank Writer Zanjabeel Asim Shah for providing such a great story to us. Believe me I could hardly see any writer now writing the story which defines the harsh realities of life. Seems like our writers are out of stories and now all they got to write is about oppressing women and love triangles. Marasim gives a brilliant message to society that we should learn to forgive and forget others wrong doings and that's what Islam teaches us. Life is indeed very short to fight with each other and hate each other. Life is a beautiful gift from ALLAH and we should spend it by doing good deeds like taking care of your family, relatives and friends and helping others. Marasim gives out a clear message that hate and ego which grows inside us not only destroys our own life but infect others and leaves many marks on others life. Gitiara hatred towards her sister in law and family had badly infected Nayab's and Daood's life. There is a saying that don't hurt others because one may forgive you but never forgets.
Another message that Marasim gives out, your destiny is written by ALLAH and never regret what you didn't get because there is a saying in URDU "HAR CHEEZ MEIN ALLAH KI MASLEHAT HI HOTI HAI". Poor Nayab she went through many difficulties of life, first her mother passed away then she received worst treatment from her brother in law, then her cousin died who was her only hope and finally daood also left her but in the end ALLAH rewarded her with daood's business and property and after daood's death her mother in law also realises that she had failed to provide happiness to his own son.
The strong message of Marasim was that every soul has to depart one day and we should always remember that we have to die one day. This world is finite and the actual life starts hereafter, so never consider anyone below you. Every human being is born equal and die equal so why do we have so many standards and complex society norms? I simply adore one dialogue of this drama "Bas sirf aik rassi khechne ki dair hoti hai saari shaan-o-shaukat thikaane lag jaati hai". The lavishness of life is nothing but illusion and we could live a better life if we wipe out illusion from our eyes. No wonder this drama was an eye opener and will remind you about the harsh reality of life and that is death.
BRAVO TO DIRECTOR
Marasim is just not only a good play from its strong and powerful storyline but the direction had taken this drama to another level. Each every scene is so well directed that your eyes remain glued to the screen. Owais Khan is definitely a talented director. I can also link his one quality with director of "Ranjish Hi Sahi" Nadeem Siddique and that is the use of colourful extensive wardrobe and use of different bright colours in background. Directors should consider to use range of colours because it gives a visual treat to viewers. The lovely colour combinations allure screen and helps a lot in catching viewers' attention.
Other credit we can give to director is that he had not dragged the drama at all in fact viewers were commenting why this is ending so early. Similarly to Aunn Zara this drama got finished in 19 episodes.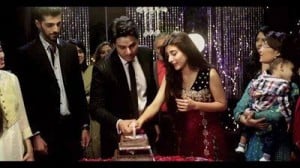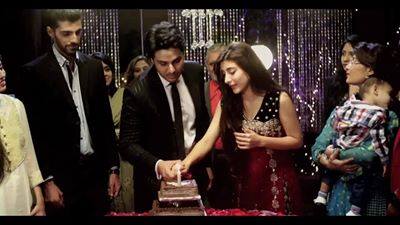 CREDIT TO THE WHOLE CAST
Whole cast deserves real applauses specially Ahsan Khan, Urwa tul Wusqa and Sonya Hussain. I have to agree with Zahra that I have never seen Ahsan Khan before in such a good role although he is labelled as "nakaam aashiq" but he was splendid in this drama. I hate Hocane sisters for their over-acting but after watching marasim I came to know that Urwa got such brilliant acting skills. Actually it all depends upon director they knew how to get best out of best from actors for example Haissam Hussain he exactly knew the potential of each and every actor/actress. Soniya Hussain is a new talent of our Industry and she can easily rule the Industry, just one good project on her Lap and she will become a star. Salman Saeed (the guy who played Zaid's character) was also brilliant. Naila Jaffery and Saba Hameed are veteran actresses.
In the end I just want to give gratitude to the production house of Humayun Saeed and A-PLUS Channel. I am realizing that A-PLUS is becoming a good channel as it is providing with some quality stuff now, first it was Aunn Zara in 2013, then Marasim, now Pehchan I wonder how many good dramas I have missed on A-PLUS. I mean if we compare, this channel is better in this quarter and if they continue to provide us with quality stuff then people may switch to A-PLUS. So I have some great expectations now with this Channel, hopefully they will continue to provide quality stuff in future.
So have you watched this drama? If yes then please give your views as well, if not then it is strongly recommended to watch this drama.