I have not seen so many dukhi people in one drama and the background score is just as sad as the fate of all the characters in the play! Mubarak ho! The good news is that a year passed in few minutes in tonight's episode but not much has changed in this one year. Hashir is still stuck on Saman, Shazia is still counting days, "waqt guzarana" is her favorite hobby, talk about being fixated… she needs treatment! Hashir's father continued blackmailing his mother, Nigar and Saman are still going to the same parlor and Saman still hasn't figured out that Faisal and Shazia are "in touch with each other". Looks like everyone has started borrowing foundation from Saman or they have been using Zubeida Apa's whitening cream:) It was good to see that at least one unmarried lady in the drama has some self-respect; Mehreen decided to move on after finding out why Hashir left.
The recap of everything that transpired between Shazia, Hashir and Co was a waste of time, it was totally unnecessary. And although the music that played in the background while Shazia recalled everything that happened was really melancholic but I did not feel an ounce of sympathy for her. Like I said before she comes across as someone who needs professional help from a good psychiatrist. No girl in the right state of mind would obsess over someone she barely knows the way Shazia has been obsessing over Hashir. What she feels for Hashir is anything but love because if it really was that then she wouldn't be involved with Faisal at the same time too. It is almost as if Shazia will do anything to ensure that Saman does not get any happiness at all. She feels pride in the fact that Faisal does not treat Saman well and is still in love with her.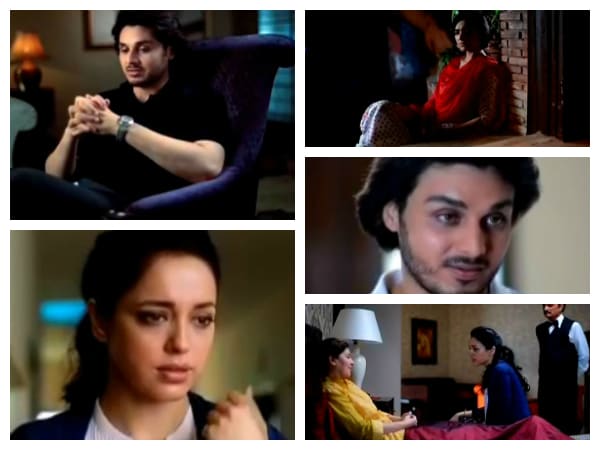 I must say that this drama has been very thanda till now. Something or the other happens in every episode but the story doesn't really take off. There has been no character development in the play at all. Faisal is still mean, Shazia has always been selfish, Hashir is too seedha and dukhi of course and Saman does not believe in using her brains or showing any emotions. It must not have taken the writer Aliya Bukhari a lot of time to pen this script down because the amount of "effort" that has been put in character development and story development shows clearly in every episode. I honestly feel like it is about time that our writers start concentrating on quality and not quantity! And our producers stop relying on the same ghissi pitti stories. I am so not looking forward to the next episode; nothing about the preview appealed to me. I just hope the drama ends decently, right now it seems to be going nowhere. Romaissa has been replaced by Saman on Friday nights….hurray!
Fatima Awan