Our prince charming and damsel in distress finally met in tonight's episode and actually had a very "intelligent" (from Saman's standards) discussion. I thought I'd never say this but the story has finally taken off after 13 episodes. More dialogues and more feeling from Saman added the life which this drama needed for so long now…yes it maybe too little too late but better late than never, right? I enjoyed watching tonight's episode because Saman's conversation with Hashir was a breath of fresh air; I had no idea that Saman could have a normal conversation! Hareem Farooq's acting in that scene was superb too which basically showed that she can act if she is playing a smart (normal) girl. Saman did not even share the details of her rift with Faisal with Shazia, which was another pleasant surprise. Hashir's mother's plan worked like a charm until Hahsir and his mother ended up at Saman's door step. That too proved to be a blessing in disguise because now Hashir's mother knows what kind of a person Saman's husband is, this will help her deal with him. For the first time I could connect to Hashir's mother's concern for him and Hashir's feeling for Saman. Things will get worse before they get better between Hashir and his mother because of his father but I have a feeling that the story is going to take a very filmy turn from here and if it is not dragged further, things may just get very interesting too. Saman's mother still hasn't told her what she knows so Saman still thinks that Shazia isn't as bad as her mother thinks she is. Shazia only keeps her ties good with Saman so that she can get information from her about her relationship with Faisal, that is so sickening. I hope Shazia ends up getting married to Faisal and Saman and Hashir find their happy ending.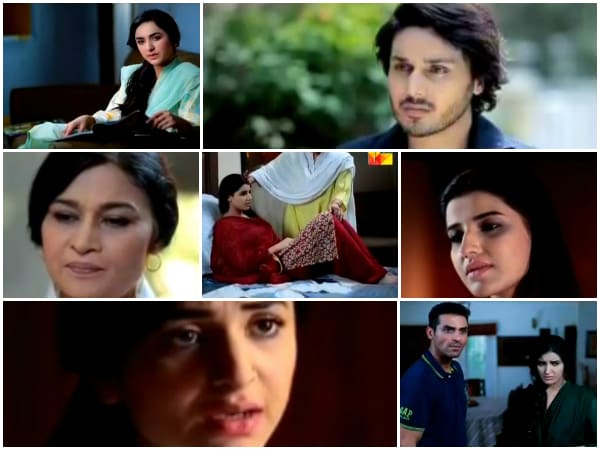 I still have a huge problem with Hareem Farooq's foundation because not only is it too white but the make-up artist forgot to put foundation on her neck altogether. The person responsible for the lighting could have covered up the flaw in the make-up but they did not. Her face looks too white and her neck is a completely different tone. I hope that the story will move on at a fast pace from now on. The preview of the next episode showed that Faisal threatens to divorce Saman and Hashir's mother suggests that they should pay Faisal to leave his wife. I really don't want to see a long series of misunderstandings at this point if they are not going to be resolved quickly. It took 13 long episodes for the hero and heroine to finally meet if something good doesn't come out of it then I am giving up on this play for good. Tonight's episode proved that a few changes in characters and speeding up the pace of the show could have done wonders.
Do share your thoughts about tonight's episode. Do you think it was better than all the previous episodes that have gone on air till now or not?
Fatima Awan