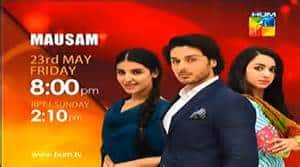 Mausam comes across as a hodge-podge of previous HUM TV dramas and not a very good one at that! The channel clearly didn't get the memo that repackaging old classics will not guarantee the success of its latest presentation. I'm all for inspiration as long as the messaging is consistent and leaves a positive impact. That's definitely not the case in this love triangle comprising yet another filthy rich, eligible bachelor about town who has a way with women; a desperado middle-class girl who dreams big and finally the self-sacrificing cousin jisko azaad khayali nahin pasand!
The ladies of the house- Rabia Apa and Fazilat give Salma the go-ahead for her son Faisal. A few quick words of wisdom suffice to shut Shazia up momentarily. Faisal is supposedly the most-sought after man in their family despite his tacky wardrobe. Shazia has her eyes set on Hashir and some conversations and chance meetings later, she is convinced he reciprocates her feelings. Shazia is yet another not-so-pretty-yet- conceited spoilt brat. Jal rahi ho, har koi mujhe hi pasand kar raha hai! Yeah, whatever!
I don't get the deal with Hashir and his mother Nigar- he feels neglected but it seems more like Nigar purposely avoids Hashir. Is she running away from some memories she wishes she could forget? Even if she had a strained relationship with her husband, surely she could put that aside and focus on developing the mother-son relationship to one of normalcy if not more. Once again, the house-help has an integral role in offering advice and are the keeper of secrets. Filling this role is a uniformed butler, Sharif who reminded me of Qutub from BILY. Sharif suggests that Hashir's marriage is the solution to the mayoosi felt by Nigar. Eureka! And just like that, Nigar ushers Mehreen and discusses Hashir's laparwahi.
Hashir, who has fallen helplessly in love with Saman (don't ask why) tries to find excuses to get to talk/ see/ drink coffee with her by using Shazia as his wing-mate. Shazia mistakes his attempts as signs of love for her. It would save everyone a whole lot of heartache if they simply spoke to one another instead of leaving things to assumptions. She sneaks out of her house to meet Hashir while lying to her mother that she's going to her friend's birthday party- for someone as uptight as Rabia Apa, she sure fell for that easily.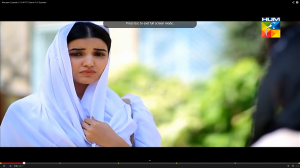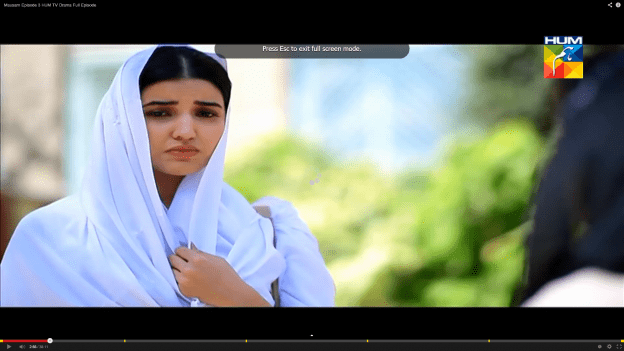 Acting-wise, Yumna Zaidi is extremely OTT- she's yet another victim of being typecast. Hareem Farooq is holding her own pretty well for a newbie, Yasir Mazhar provides a bit of comic relief unintentionally and Ahsan Khan has yet to get on my nerves. Sooner or later, he always does! What do you think happens next?
P.S Mausam was not on my watch-list but I've caught up with all 4 episodes solely for the purpose of covering for Fatima. She will be back soon to review this weekly.
Yours in watching,
Kanwal Murtaza