Mental health does not discriminate. Many actors accomplished amazing things despite suffering from mental illness. We are so impressed by glitz and glam of Lollywood that we forget our celebrities are normal human beings like us. They also suffer from different problems like us.
When celebrities open up about their battle against depression and anxiety they create new conversations to destigmatize mental illness in its many forms.
Marwa Hocane is super active. She is a great actress and VJ. Her terrific acting and heart touching emotions she has gathered huge fan following.
Recently, Mawra posted a video of her doing morning cardio on her Instagram handle.
Here is her video doing morning cardio.
Under the comments section, one of her followers asked her about whether she is battling against social anxiety or not?
Mawra replied, "Yes. I developed anxiety recently & I've been battling with it one day at a time. For everyone who is reading it & has suffered anxiety. We are all in this together. Lots of Love."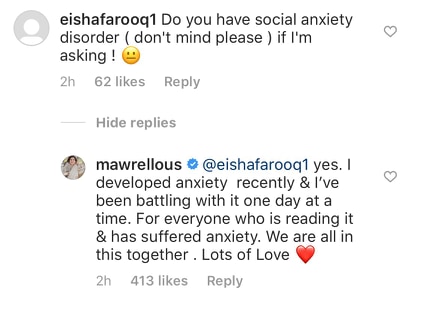 Mawra Hocane is surely a brave person who came out to speak about her mental illness. We wish her speedy recovery.