Opening Thoughts – Intense & Gripping:
Ohkay so, these episodes of Meer Abru were intense & had so many gripping moments. What I like the most about this drama is that all the tracks have been handled with a lot of finesse & attention. There is so much going on but nothing feels like an afterthought. All the developments unfold appropriately & does not leave anything for viewer's imagination. The credit definitely goes to the director for handling this script in such a way & doing justice to it completely.
The Dynamics Are Changing:
Haya turned out to be more stupid that I thought. Even though she knew that Abru had an issue with Waleed & she constantly took Sana's name in the mix but still she was so blinded by the love she had for Waleed that she didn't even think about the consequences. At this point I feel Abru should have involved Sana & they both should have had a conversation with Haya about the game that Waleed was playing because Abru clearly understood what he was upto. When Abru especially found out that Waleed had proposed to Haya, that is when she should have told Sana to tell Haya everything. I am not sure what Abru was waiting for, or may be she thought that Haya wasn't this stupid, Waleed had just proposed & they weren't going to do something serious!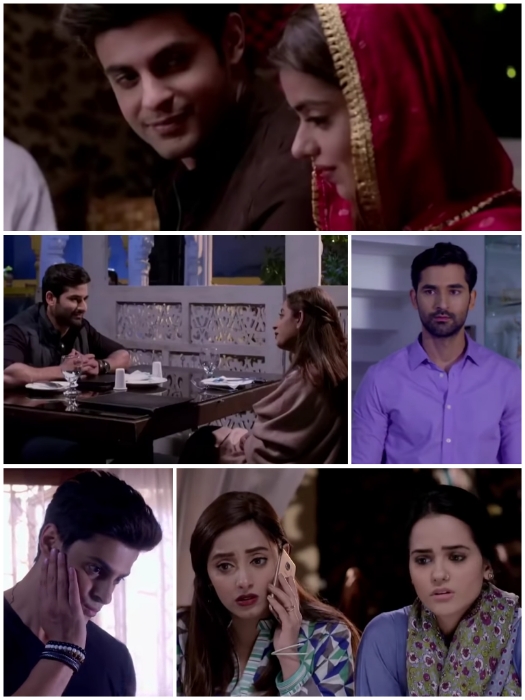 Waleed & Haya got married & that's when Haya's attitude changed. I seriously don't blame Haya because people often take such steps in the name of love but they don't really realize what the other person is actually like. When I saw the promo last week I thought Waleed will harm Haya but ye to kafi sharif type hi nikla, lol. He married her & then dropped her home tameez se. Which was unexpected but nice. May be Waleed will slowly start torturing Haya which obviously is his plan but for now, he is behaving which is good. Haya's attitude made me chuckle, it was like after finding a wealthy & smart guy she started behaving all high & mighty in front of her sisters – so typical & real because this is what actually happens when immature people fall in love while having a wrong idea!
Abru's character is just so so nice, she is well-rounded person who not only understands everyone around her but strives to be there for her loved ones always. I love the way she is so authoritative with her sisters while still being frank with them. Every time Abru says 'ye tum kiss tarhaan baat kar rahi ho' always seems so genuine as if she really is hurt because she can see where her sisters are going wrong & are not allowing Abru to help them. Abru is someone who only expects her sisters to respect her & when they don't, that is what hurts her the most!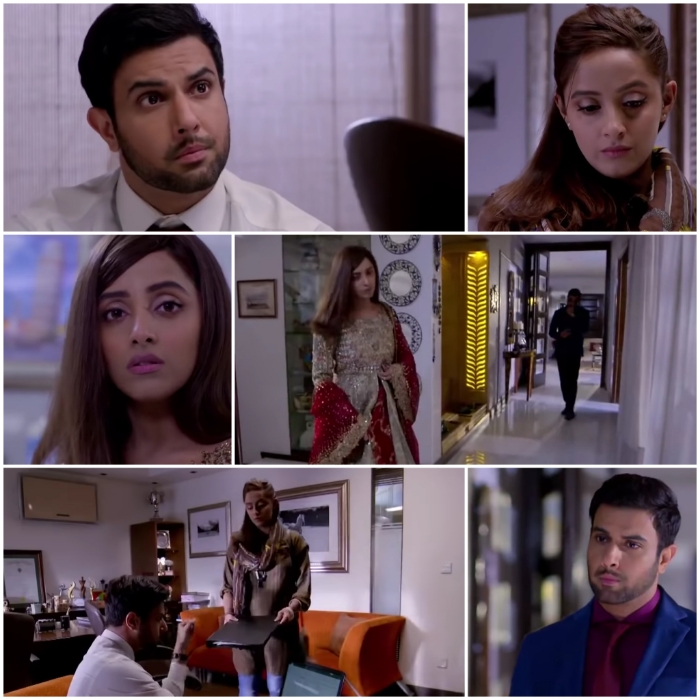 Meer continued to be unreasonable with everyone around him, be it Abru or Saim or even Waleed, where he supported Waleed & overruled all the concerns Saim had about his involvement with Abru's sisters. Meer loves Abru madly & he is proving it by taking one irrational decision after another. Meer is unable to put his mind to the fact that he is causing pain to everyone around him just because he himself is hurt. Ah! That scene where he calls Abru to the office for a few minutes, only to see her. Our hero here is so misunderstood but sad is, he is not doing anything to fix his image either.
Saim continued to show support to Abru because he genuinely understood her struggles especially in the matters concerning Meer. It is like Saim loves Abru but he also feels guilty for what he is putting her through as no matter what, Saim is well-aware of the fact that even Abru had feelings for Meer & she loves him, even if she denies it. The scene where Abru is dressed as bride with Meer walking upto her & they both have their eyes locked on each other was beyond brilliant. In that moment, no words were spoken yet so much was said, Abru still melts every time she sees Meer & Meer doesn't hide his feelings either but unfortunately, they both can't be together. Saim saw everything which made him uncomfortable to the point where he even decided to ask Abru if she still wanted to be with Meer. If Saim had known that it is only Meer who is involved in a one-sided love with Abru, Saim wouldn't have been this conscious but now he is because he knows that Abru loves him too & what he saw confirmed it as well. Abru still denies as she firstly can not trust Meer & secondly she can not hurt Saim because he has been nothing but nice to her. Even though Saim is totally supportive right now but it does look like he will run out of patience & might find himself suffocated in this relationship later especially with Meer being around them all the time. Even now Meer makes sure to not leave Saim & Abru alone or allows them to have a moment to themselves. Unfortunately, Meer is just emotional, he is not too conniving to read between the lines & understand Zaibi's hidden agendas. Zaibi makes sure to keep Meer informed about Saim & Abru, as she can totally see her dream becoming materialized because of Meer's irrational behaviour.
Meer has started doing exactly what Zaibi wants him to do because she knows this way both the families will drift apart. It has come to this point where both Ghazanfar & Jamal are actually concerned because they feel whatever is happening is not beneficial to their families in the long run. I will say, Meer has made it his mission to outbid Saim in whatever he does & he is trying to crush him emotionally, that is why Meer didn't even let Saim question Waleed. However, it was nice to see that Meer didn't just let Waleed off the hook completely & he actually left after warning him. All such moments add a lot more depth & complexity to the story which makes it all super interesting to watch!
Closing Thoughts – My Favorite:
The team of Meer Abru has created magic on screen. I love how they have kept the chemistry between Meer & Abru so strong but when Abru is with Saim, there is not really a chemistry but just good vibes that two good people share. Also, even though Waleed & Haya's relation is going to hit the rock bottom but they both look good together too. I love the relationship that all these sisters & brothers share with each other. It was so realistic that after Haya misbehaved with Abru & Sana, she was feeling bad. I wish Sana also has an important role to play in the future because for now her character doesn't have much going for her. The styling of everyone is on-point except Jia Ali's. I must say her botoxed hair are the funniest thing about her character, I say botoxed because I am certain that no amount of hairspray or gel or any normal product can't stop your hair from moving, so may be she got her hair botoxed to keep them stuck like a cardboard. Everything else about this drama is on-point. I am enjoying watching all the equations & how the dynamics are changing. All these characters are complex & dynamic which makes Meer Abru another favorite of mine. In simple words; story, acting, direction, editing – everything on-fleek. Please share your thoughts about these episodes of Meer Abru.
Keep Supporting,
Cheers,
Zahra Mirza.