While we see our film industry grooming gradually, there are some remains of the typical lollywood industry that is still being a source of humor for the world outside. The Lollywood actresses are now striving hard to get some limelight by either being in news for frauds and crimes or are passing punching statement to drag attention. Meera, one of the A class actresses of Lollywood, who is also known for her exceptional English recently said that she is all ready to compete with Bollywood Actress priyanka Chopra.
The actress said that she has a lot of potential and hoping for a chance to prove herself by competing with Priyanka Chopra. She is looking forward to offers where the two can share screens together so that Meera can prove her talent and the fact that she is even better than Priyanka.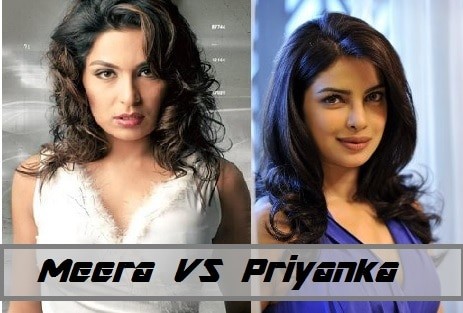 Meera said:
"I hope I get to do many more good films and I want to compete with A-list actresses in Bollywood. I want to compete with Priyanka Chopra and I would also like to share the screen space with her. This will give me an opportunity to prove myself and the audience can see the other side of me.I believe in competition and competition allows a person to prove his or her talent,"
We did share a news where a Bollywood Director Ajay Yadav sued Meera for not coming on shoots and the promotional activities of the movie "Bhadaas" which is said to be a psychological thriller. The movie will be releasing this July. 
Lets see how far Meera proves herself in India all over again.
Wishes
Nida Zaidi