Mehreen Syed is a supermodel in every sense. She is a diva who has always ruled the ramp and is also an entrepreneur. Mehreen has established a new norm in the modelling industry as she has still been ruling the ramp as she is heavily pregnant. Mehreen is expecting her second baby and it has not slowed her down. She is still the showstopper for many designers and is doing her job without any breaks.
Mehreen was also a major face in the recently conducted FPW 2018. An incident happened when the diva was walking for a designer as a showstopper and slipped on the ramp. Mehreen knows her craft and handled the fall gracefully as she got herself up and completed her walk. Her fans and people generally on the social media were concerned about her and the baby and sent many messages to her. Mehreen has been overwhelmed by the response and has thanked people for their support. The supermodel has informed everyone that she and the baby are fine. This is what Mehreen communicated to her fans via Twitter: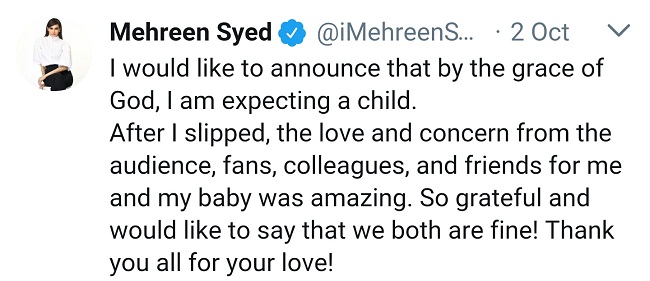 We wish Mehreen all the luck and like her fans are glad to hear about her and her baby's well being!