The viewers were introduced to the ugly side of the film industry in this episode. Everything is not always what it seems in the world of glitz and glamour and there are times when even directors like Farhad Sethi who do not compromise on quality have to make decisions they don't necessarily agree with. Jharna's decisions in tonight's episode were based on her own insecurities but she had no idea what kind of a woman she was letting into her husband's life. Naseem Dil Ruba is a back-stabber who makes Jharna believe that she is her biggest fan and at the same time she tries her best to woo her husband. Meera's acting in this episode was spot on, she fits the role perfectly but unfortunately it seems like the director let her have her own way when it came to her dressing. We all know that Naseem Dil Ruba is a bazari aurat. Her actions in tonight's episode were convincing enough to prove that, the revealing blouses did not help at all. I really appreciate the director for keeping the dance performances decent but disappointed with this particular aspect.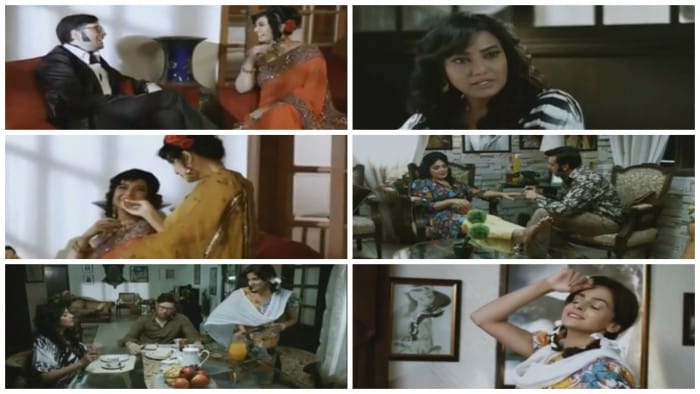 So far the viewers had seen a very strong and confident woman in Jharna's character but this episode showed a very different side of Jharna which was slightly typical but very believable. Jharna shared all the details of how she met Farhad and how people around them reacted when they decided to get married. The age difference between Farhad and Jharna was yet again highlighted in this episode. The first meeting between them suggested that Farhad was in love with Jharna's voice, her talent more than anything else about her. Farhad's assistant in one of the previous episodes also said something that suggested that Farhad's marriage with Jharna was much more than just a love marriage, he made it sound like it was also an investment into Farhad Sethi's future in the film industry. Farhad has been shown as a man who is very focused, he does not want to cast someone like Naseem Dil Ruba because he only wants to work with professional people. At first watching Jharna support Naseem Dil Ruba seemed a little odd since she could be a bigger threat to her marriage than any other heroine but later on when she talked to Surraya about why she insisted on casting her in that role, everything made more sense. Jharna obviously thinks that she can trust Naseem Dil Ruba but Naseem has other plans.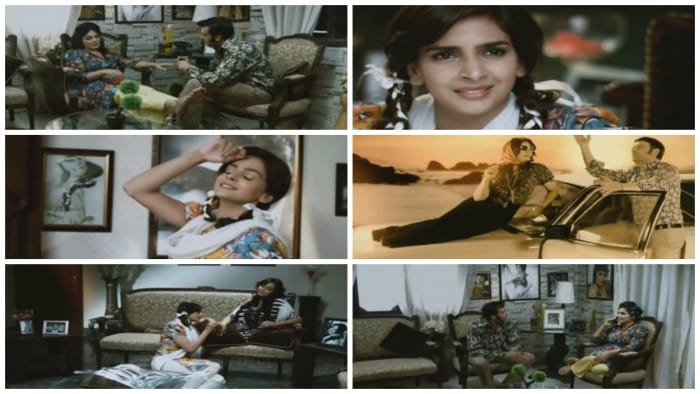 Surraya loves her baji but Farhad never even accepted her as a maid therefore she is scared of him. Surraya is still full of life, she never went to school but is still as interested in music and dance as she was so many years back. I especially liked the answer Jharna gave to Surraya when she asked her why she left everything for Farhad. It seemed like Jharna is someone who got a lot of fame but never the kind of love which every woman wants therefore when she found the man who would love her like that she was more than willing to leave everything for him. Jharna trusts Farhad but she is very possessive about him. She is also used to making Farhad's decisions for him and won't let anyone else do that. To be honest, Saba Qamar did not blow me away with her performance. While I had absolutely no problem connecting to all the other characters in this play and falling in love with quite a few, the older Surraya did not instantly click with me. I am however waiting to see more of her.
The way this drama has been shot is absolutely brilliant, it manages to transport you to another world every time. The story is different and so far very entertaining but the performances on entire songs in almost every episode is getting monotonous. They add to the overall feel of the play but need to be short. Mikaal Zulfiqar has been flawless as Farhad Sethi and Aisha Gul has also done complete justice to her character. I feel for her character so much that I am actually scared of watching her getting betrayed or hurt! The preview of the next episode suggested that Naseem Dil Ruba will somehow succeed in having her own way. Jharna will start suspecting Farhad when he starts taking decisions to please his new heroine and that is when Surraya's journey as Sitara will start. Does Farhad have skeletons in his closet? It surely looked that way! I am waiting to find out.
How many of you watched this latest installment? Do share your thoughts about it. If you missed it, watch it on http://www.dramasonline.com
Fatima Awan