Written By: Jahanzeb Qamar
Directed By: Asad Jabbal
Produced by: 7th Sky Entertainment
Mera Rab Waris has been on air for more than 20 weeks and although it isn't picture perfect, it breaks quite a few stereotypes and has a female protagonist who is different as well as likable. The first few episodes of Mera Rab Waris showed the clarity with which the writer focused on different pressures and criticism girls face when they decide to follow a path which is unlike others. There are times when this drama can be a typical saas bahu story but the refreshing elements stand out in the play more than the stereotypical ones especially because of the way the main protagonist deals with these situations. The first 15 episodes were well paced and after that the story slowed down a bit. Mera Rab Waris would have been the perfect entertainment if it wasn't stretched. Madiha Imam is the star of the show in every single episode and her on-screen chemistry with Danish Taimoor makes their scenes a treat to watch even when the scenarios are somewhat preachy.
The Main Protagonist Ayesha
Ayesha (played beautifully by Madiha Imam) is one such girl who observes strict parda and does not compromise on her values even if it means losing a job or the only man she ever fell for. Ayesha's character has a lot going for it; the writer has convincingly shown that a girl who does parda can be just as intelligent and open-minded as the one who wears Western clothes – perhaps more. Most importantly, showing that Ayesha was perfectly capable of falling in love with someone gave her character the human element it needed. I am glad that the writer avoided the rich boy, poor girl scenario and decided to tell the story of two people with the same financial background but different values. The way Ayesha's character was introduced and has been etched-out in general has been remarkable. The first two episodes laid down her priorities and the relationship she had with everyone around her beautifully on screen. The solid start of this drama played a big role in keeping my interest alive in it. Madiha Imam deserves due credit for making Ayesha more likable even though her outlook sometimes doesn't go well with the role she is playing – the heavy make-up and the net scarves. I am pretty certain however that this must have been the demand of the production house or the channel since Madiha Imam is most often quite comfortable in her own skin and would happily compromise on glamour if that is what her role demanded.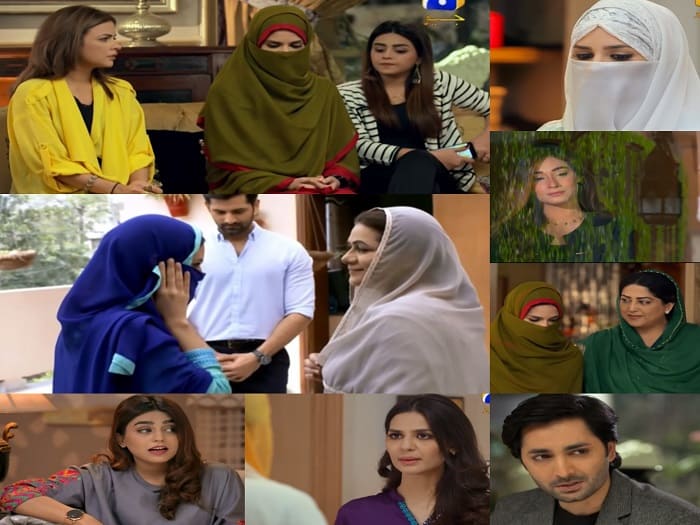 Ayesha's relationship with her parents (played gracefully by Fazila Qazi and Tanveer Jamal) is one of the best things about this play. They love and understand their daughter, even though they might not have the same priorities as Ayesha but unlike so many other parents in Pakistani dramas, they have tremendous respect for the choices Ayesha has made in her life. Ayesha's character reminds me of Noor in Noor-e-Zindagi – the kind of woman who can turn everyone's life around due to her strength and positivity.
Ayesha's relationship with Faizi (played impeccably by Mirza Zain Baig) was also the highlight of this drama for the longest time. Their interactions have been heart-warming because they were written, shot and acted-out so well. Mirza Zain Baig has performed especially well in scenes which cover Faizi's feelings for Ayesha. His body language shows the kind of respect he feels for Ayesha and his anger is reflected equally well by him. Ayesha's feelings for him have been translated brilliantly too and this is definitely something the writer deserves credit for too. The limitations, love and respect in this relationship has been laid down so well right from the get-go.
Ayesha's troubled relationship with her mother-in-law (Seemi Pasha) in particular has to be the most repititive and boring aspect of this entire show. Her mother-in-law's attempts to bring her down despite of all the good things she has done for this family, make her the only unreasonable character in this play.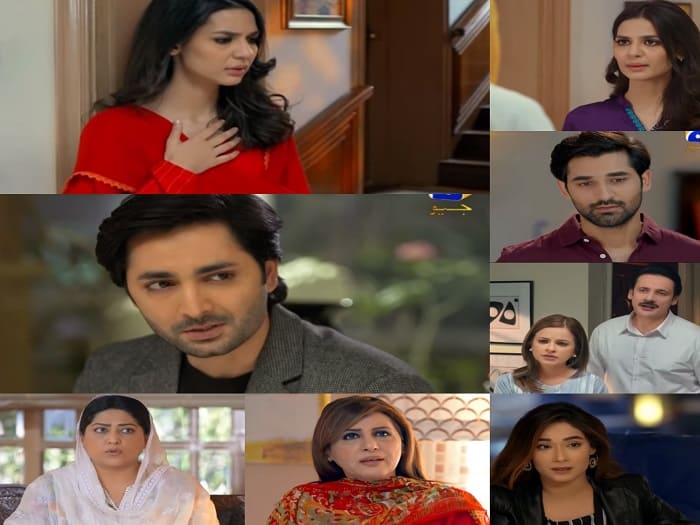 Haris and His Family
Haris (nice underplayed by Danish Taimoor) does not have the strong personality Ayesha has and the way he fell for her was also convincing since being somewhat shallow, her appearance was the first thing about her which attracted him. Later on, when he figured out that he never wanted the kind of wife his mother had always envisioned for him, he made a decision which he has done a great job of upholding so far. Haris isn't only genuinely in love with Ayesha but the fact that he is also in awe of her reflected from their very first meeting. Ayesha has introduced him to a world, he never knew existed and his struggle to understand what he wants from life has been shown convincingly. He sees the world through Ayesha's eyes except for the recent developments in his friendship with Ayla (Shameen Khan). Tipu Sharif has done justice to his character although the character itself doesn't have much going for it.
Except for Haris' mother, everyone else in the family has accepted Ayesha as part of this family. However, Ayesha's decision to talk to Faizi regarding Nimra's proposal might make things complicated for her in the future.
Final Remarks
Overall, Mera Rab Waris is a must watch for all those viewers who want to watch a simple story with a different narrative. The dialogues and situations never disappoint. Ayesha's character is one of the finest female characters we have seen in dramas in recent times – definitely a breath of fresh air. Madiha Imam deserves an award for her sweet portrayal and especially for making this character so pleasant to watch. The downside is that this drama is being stretched and like every other drama which airs on Geo, the soundtrack has been used excessively. I must admit that I have forwarded many scenes in the past few weeks. It should however not be missed and since so many episodes have already aired, binge-watching this one would be a great idea for all the Madiha Imam fans out there. Anyone who isn't already a fan is bound to become one after watching it ;)
Do share your thoughts about Mera Rab Waris if you are already watching it and do tune into it if you aren't.