Hmmm…tau Fahd marra nahin! Neither did he ditch Mushq, so to speak. Shame! I was hoping either of the two would happen because now that Fahd is relatively innocent, he may end up with Mushq again. Nahiiiin!

I wonder what Fahd was thinking when he was taking Mushq to Lahore in the first place. Where was he going to take her? His reaction when he hears his mother is coming to bail him out makes us believe she would not have been welcoming at all of Mushq. I wish he had been a bit more adamant when the crafty SHO said to him that Mushq had already left. He should have dashed off to the ladies side to check – God knows he has been walking around that prison, demanding a phone call, meeting with Mushq, conversation with the SHO – surely he could have gone and seen for himself. However, when the SHO threatens to throw him back in jail, Fahd's mother takes control and ushers him out of the police station. So, Fahd believes Mushq has left and Mushq believes that Fahd has left her to rot in jail.
Fahd's mother takes him back to Lahore and after the 'a girl who did not care for her parents' izzat would not care for yours' speech, she forbids him to leave his room too! Honestly, the number of times Mushq has been locked in her room, then the jail scenarios and now Fahd stuck in his room – I feel claustrophobic! I suppose Fahd thinks maybe Mushq's father bailed her out and took her home so he does not feel betrayed. Or does he? Mushq however has been led to believe that Fahd has left her behind. I am surprised there have been no wails, no cries of outrage, no reaction from Mushq as yet?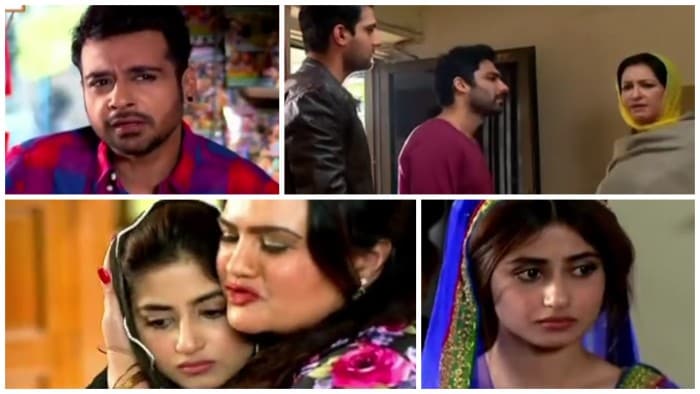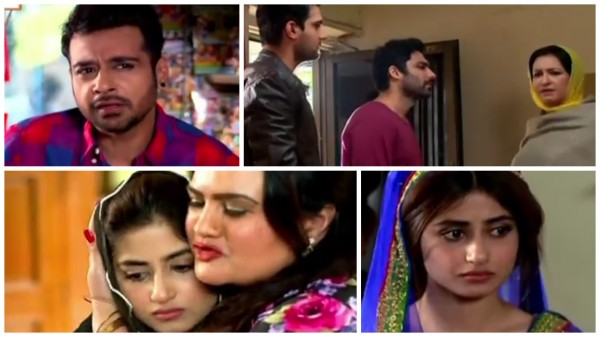 Dabbu Bhai is ridden with guilt. Grief over Mehru's 'bewafai' seems to have taken a backseat and now all he can think about is how he was wrong to have not believed Fahd. The intentions of the 'madam' who has taken Mushq home seem quite obvious and with the man who invites Dabbu to his daughter's wedding suggesting there may be some sort of 'event', I suppose this is where Dabbu and Mushq's paths will cross. There is one thought that keeps crossing my mind – had Dabbu or Striker ever seen Mushq? And had Mushq ever met Dabbu or Striker? I do not think so but please do point it out if you remember them ever crossing paths earlier? Would Dabbu 'rescue' Mushq without knowing who she is?
Zeba and Nayaz. And the evil nand. Uff, I hate all these evil nand, evil saas tracks. I get misunderstandings happen between in laws and there can be tiffs but this outright evil-pan that is portrayed in our dramas gets a bit tedious at times. Zeba however is putting up the sickeningly happy front when Dado comes to visit.
I found Mushq's reaction quite odd in today's episode. Sajal Ali had a very deadpan expression on her face and I expected a bit more reaction, some desperation, disbelief. But she just seems to be moving along with the flow with no expression on her face. Maybe the extent of her situation or the reality that Fahd has left her has not really sunk in yet. She did seem to 'waken' up when she reaches Madam's house and her expression seemed skeptical about Madam running a 'welfare'. I was surprised when writing the title of my review that only 13 episodes have aired. Thirteen episodes where I have said, and most of you have agreed, that quite a few episodes were such a drag. It is as if we all know what is to happen and the episode drags for 40 minutes and just presents us with that 'moment' in the last few minutes.
Also now that Fahd is not really the 'baddie' will Dabbu take care of Mushq and then 'deliver' her to Fahd? Or Mushq and Dabbu will begin to care for each other and then Fahd will show up? I would have preferred to have Fahd out of the scene to be honest! Oh well. Ali Ahmed for some reason just has not clicked with me from the very start and watching him with his friend today I thought -why could the friend not have played Fahd instead? He would have made a much more 'interesting' hero to watch. Haha!
How many of you watched this episode and winced? Not at the pace (although yes maybe that too) but that annoying flashing background light?! Would love to hear your thoughts!
Kunwal Javid
P.S  I wrote my review then waited to catch the preview recording for next week. Seems as if Fahd will meet Mushq again next week and help her escape from 'madam' and her goons. Interesting.