Written By: Radain Shah
Directed By: Ali Hassan
Produced By: Big Bang Entertainment
Schedule: Every Wednesday 8pm
******SPOILER ALERT*******
I have to admit that the only reason I tuned into this show was the writer, I absolutely loved drama serial Nibah and was waiting for another drama written by Radain Shah. Also, right now, those dramas which highlight either social issues or revolve around family ties interest me more than those which focus on love triangles. Dar Si Jati Hei Sila set the bar really high therefore I couldn't help but compare the two after watching the first episode of Meri Guriya. While Dar Si Jati Hei Sila dealt with abuse alone, this one showed the aftermath of a child's brutal rape and murder and will also be focusing on the person responsible for this horrific act. Unfortunately, since we have all heard the gruesome details of how the beautiful and innocent Zainab was subjected to torture and rape therefore connecting the dots immediately was easy. The fact that the policeman pointed out that this was the 12th case of its kind showed that this particular incident wasn't just fictional but was taken from Zainab's tragedy. While this has unfortunately become a "trend" nowadays, I wish the makers of the drama didn't add these details which showed the link of this story with that of Zainab. It is painful for the parents to watch such dramatized events on screen specifically when they know that this is their child's story. Even if the intention of the makers is honest, this is unethical since Zainab's parents made it quite clear that they do not want to see their child's murder be dramatized. The details under the YouTube videos also mentioned that the drama makers have taken "inspiration from a real-life incident". Having said that, I have faith in the writer and few of the actors involved therefore I am definitely going to follow this play and hope that the makers will be able to do justice to the story.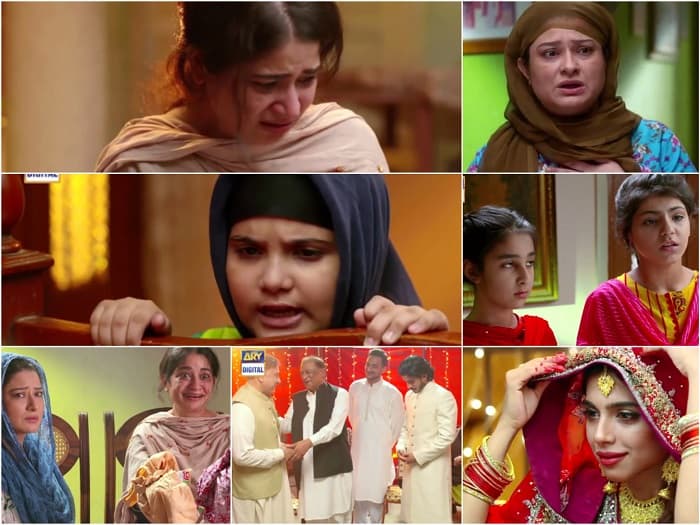 The first episode of Meri Guriya gave me goose bumps, it was a little too disturbing because it covered how Arfa, a nine year old girl, was dumped in the forest after being brutally raped and murdered. While these events were covered with utmost honesty and realistically, I did feel that Big Bang Entertainment yet again used the shock factor as an attention-grabbing tactic. Shehnaz (Sania Saeed) and Shahmeer's (Sajjid Hassan) track had Mubarak Ho Beti Hui Hei written all over it therefore it won't be wrong to say that this particular track isn't too original either. The fact that Sajjid Hassan is playing the role of a man who cannot take a stand for his wife and doesn't love his daughters enough and Ayesha Khan yet again is playing the daddi who hates her granddaughters, is constantly mocking them and her daughter in law doesn't help either! Also, Shehnaz just like Naheed is a strong woman who loves her daughters and is completely focused on their well-being. One of Shehnaz's 3 daughters Abida was really close to Arfa therefore she finds it really hard to cope with the loss. At the same time she is also fascinated by the dulhan next door since there is a wedding taking place in the neighborhood. She insists she wants to see the bride even though everyone is feeling terrified and insecure after Arfa's murder. In these two episodes Abida and the new bride Safeena (Sonya Hussyn) develop a special bond with each other. Abida looks up to and adores the new bride and Safeena also likes her.
Safeena's character reminded me of Farwa in the first episode but in the second episode the viewers were shown a different side of her as well. Safeena is outspoken, she plays badminton professionally and expects her husband Dabeer (Mohsin Abbas Haider) to divorce her soon so that she can pursue her career. Dabeer too isn't interested in this marriage, he got married only to please his mother. ARY pretty much gave away the basic storyline and the reality behind the characters therefore even right now when the viewers should be wondering why Dabeer was crying in front of his wife and later on laughing when he heard that the rapist committed suicide, we know exactly why! Abida's fate has also been mentioned in the summary given by ARY on YouTube! Sania Saeed. Mohsin Abbas Haider and Sajjid Hassan are my favorite actors, they are constantly experimenting and never fail to impress. These two episodes however could have been far more powerful had they not been inspired from Zainab's tragedy and Mubarak Ho Beti Hui Hei. The story obviously will be completely different from that of MHBHH but these similarities should have been avoided.
After watching these two episodes I am still on the fence because of the lack of originality but curious to find out how the makers treat this incredibly difficult subject since they are not only going to focus on the victims but also the perpetrator. Also, I would like to request ARY to keep the summaries of their plays short and to the point because they give away a little too much!
How many of you watched these episodes of Meri Guriya? Do share your thoughts about it.