This was my favorite episode of Meri Gurya; poignant and powerful. Tonight's episode highlighted how the families of the victims are silenced for all the wrong reasons and the viewers also saw how this silence benefits the rapist and murderer. The spell-binding performances coupled with crisp editing, faultless direction and a well-written script made this episode a must-watch and extremely impactful. Although everyone performed exceptionally well but Sania Saeed's performance and her character was simply amazing tonight. Sania Saeed translated the strength of a mother impeccably on screen. The scene in which Shehnaz was sending her daughters to school was very touching. The writer also brilliantly showed how two women who were determined to seek justice managed to overcome every single obstacle that came in their way and did whatever they could in order to get their message across. The recent events also rightly highlighted the power of social media and the impact it has on such cases. This episode also gave a strong message about how important it was for the victim's family to stand up for their loved ones. Electronic media can be manipulated and the police too often does whatever it can to close a case but no one can stop the voice of those people who care enough to share such videos and do whatever they can to help the victims.
Safina's character continues to be interesting and likeable. Tonight, it was also good to see her trying to reach out to her mother. She can no longer ignore just how "strange" her husband behaves but at the same time she has not started to think that he might be the killer. This recent development in the story would have been more convincing had Safina not known that Dabeer had tried to kill her. Sonya Hussyn is doing complete justice to her character and tonight her makeover too was right on point. Abida's father's character and the role he is playing has also been shown in a realistic manner. I am glad that he has not been shown as a heartless man but he is someone who comes into pressure easily and cannot assert himself the way his wife can. He is guilty of backing out and not doing enough for his daughter but at the same time he is not the bad guy. You understand why someone like him would end up feeling clueless and frustrated in such a situation. The neighbors who are more interested in keeping the women indoors than ensuring that their streets are safe were also a true depiction of the mindset which exists in our society. I am extremely thankful to the writer for showing so clearly how all this was benefiting Dabeer and not helping the victim's family in any way. Sajid Hassan has nailed his character, he makes it really easy for me to connect to his character and even with all his shortcomings, I find myself feeling for him.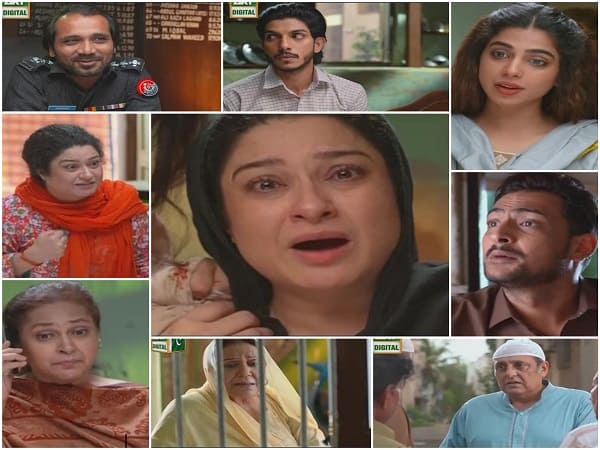 Arfa's mother said that one of her dolls was missing – was Dabeer collecting all the dolls which belonged to his victims in his closet? I must say that Dabeer's character has also been etched-out brilliantly. His behavior when he is in public and his reactions when he is alone and listening to a development which helps him cover up his tracks say a great deal about his personality. He is clearly a psychopath who must have gone through some ugly experience in his childhood which made him the devil he is today. Mohsin Abbas Haider is extremely talented and I especially liked his acting tonight in one particular scene in which Dabeer finds out that Abida's dead body might be dug out again for a proper autopsy. This drama is terrifying and realistic but most importantly it has tons to offer. The only downside is that some incidents are greatly inspired from Zainab's actual case. The producers could have easily made this drama without dramatizing those tragic events.
This episode wasn't just emotional and powerful but also inspiring. It showed that sometimes it only takes two determined individuals to question system in such a way that it doesn't go unnoticed. The preview of the next episode showed that Safina will no longer be alone in this battle and she will be heard! Really looking forward to that.