These two episodes gave further insight into the personalities of all the central characters and their relationships with each other. It was just as disturbing as the first two episodes because it was shown in detail how a paedophile's mind works. Dabeer's scenes were the most frightening element of these two episodes. Mohsin Abbas Haider has once again nailed a character which isn't easy to translate on screen. However, I must say that because lately we have seen a few really good dramas which highlighted the mindset of such sick people you can't help but compare this drama with Udaari in particular and Dabeer's character with that of Imtiaz. While Imtiaz was a more clever person who knew how to manipulate others and his personality characteristics definitely fit in more with the general profile of such criminals, there are certain aspects of Dabeer's personality which are difficult to understand. It was shown that Dabeer always liked playing with dolls and still owned dolls, I am wondering how does this aspect of his personality fit in the whole picture and why is it considered "not normal" for a little boy to play with dolls. I feel that it would have made more sense if he kept these dolls to allure little girls as opposed to showing that because he played with girls as a child there was something wrong with him since he was little. I could be wrong but that is the impression I got from this scene.
Overall however the writer has intelligently conveyed how such people get all the details they need and the fact that this is someone who is really close to the family also hits home. In these two episodes, Dabeer made up his mind that Abida was going to be his next victim and he did whatever he could to get all the information he needed to execute his evil plan. All his interactions with Abida were terribly frightening and when Abida went missing I found myself hoping that she was still alive. I am glad that the writer didn't rush things and I also hope that Abida is somehow saved in the upcoming episodes too. In these four episodes, Abida has been introduced as a sweet girl who unlike her sisters goes to a madrassah because the education there is for free. Although, she is the third girl her grandmother never wanted and wished she was a boy but she is also the one who is relatively closer to her since she doesn't go to school and isn't "liberal" like her sisters. The child actress playing Abida's role has played her part really well. Sania Saeed's acting as usual has been effortless and effective. She is convincing and likeable as a mother who does whatever she can for her daughters under the given circumstances. Safeena's character is likeable but Sonya Hussyn's hairdo and overall outlook isn't up to the mark. This character could have been far more impressive had it been translated on screen differently. Having said that, it isn't difficult connecting to the kind of relationship Safeena and Abida share and the genuine concern Safeena has not just for Abida but for everyone else too. Big Bang should give up this hairstyle for good, it didn't look good on Saboor in Meeras and it doesn't suit Sonya either. The production house is coming up with better stories but the supporting actors and the overall feel of their plays needs a makeover.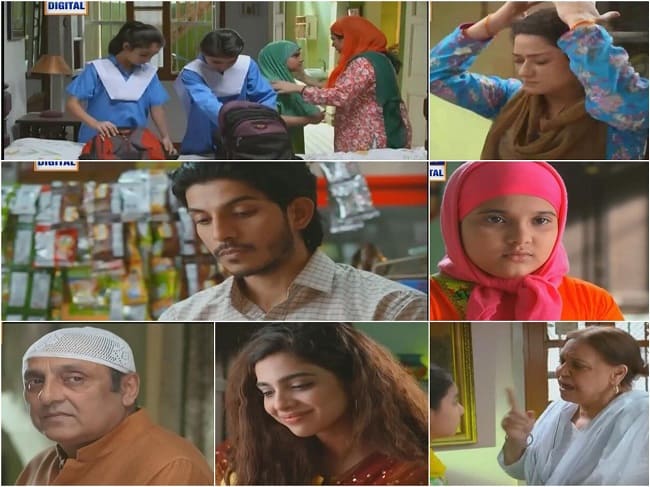 Although Safeena wanted Dabeer to divorce her whenever he could but now she has realized that she can fulfill her dream while being married to him therefore she has decided to make this relationship work. Dabeer's withdrawn attitude around her made perfect sense. He was constantly planning his next step and thinking about all the information he had gathered so far. Safeena could tell that there was something wrong with him but she could never even imagine that the person who she thinks needs help, actually needs to be put behind bars. Dabeer mentioned that Jahan Ara's father used to teach him Quran and he said so in a meaningful manner. I am wondering if he went through a traumatic experience in the past!
In this episode the viewers saw that Abida's phupo Jahan Ara will ultimately end up "assisting" Dabeer without knowing it. Shehnaz's close relationship with her daughters has been well established in these four episodes therefore it will be heart-wrenching watching her suffer in the upcoming episodes. The preview of the next two episodes was confusing and it was difficult to tell whether or not Dabeer will be able to execute his evil plan, which is definitely better than knowing exactly what will happen next! So far, Meri Gurya has been a decent watch and I am waiting to see how the story moves forward in the upcoming episodes. The way this drama shows that a murderer and rapist could be a seemingly harmless neighbor is yet another reminder that parents should not trust anyone with their children. Although, Udaari and Muqabil both gave the same message but I do feel that these things should be shown on television repeatedly since there are times when parents tend to overlook such aspects.
How many of you watched these latest episodes of Meri Gurya? Do share your thoughts about it.