Tonight's episode of Meri Gurya covered how Abida's parents finally found out that their daughter was brutally killed and it also showed the role of the media and the police. It was shown how Abida's father who vowed to get his daughter's murderer and rapist punished was silenced by the authorities. Everything was shown realistically which is why just like every other episode of this drama this one too was impactful as well as upsetting. The most upsetting part of tonight's developments was the helplessness of the parents and the role played by the police. Having said that, there were scenes in which the background score was annoying. Sania Saeed and Sajid Hassan's acting was so powerful that there was absolutely no need to play the melancholic background score. Mohsin Abbas Haider continues to be impressive and it is definitely refreshing watching Sonya Hussyn play the savior for a change. Every little development was shown in detail in this episode which made it even more painful.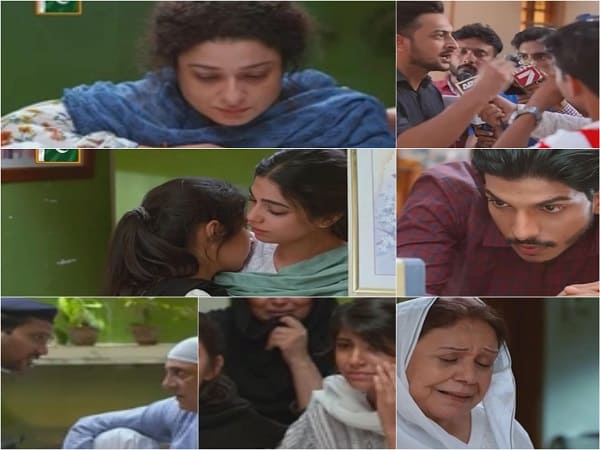 The writer introduced the characters brilliantly in the first few weeks which is why Abida's loss tonight was even more disturbing and I had no trouble connecting to everyone's feelings. Everything that happened in this episode, once again reminded me of Zainab's brutal murder and I can't help but wonder how watching all this would impact people who actually knew Zainab and were related to her. I have said this before and I feel the need to say this again – the makers of this drama could have highlighted this issue without dramatizing the actual events. Shehnaz and Safina's characters continue to be my favorite part of this drama. They are strong women who will eventually do whatever they can to get Abida justice. Dabeer's scenes tonight once again showed how evil he was and how content he was to get away with another murder. Safina on the other hand did whatever she could to help Shehnaz not because she felt for her but because she could relate to what Shehnaz was going through. Shamir's character has been etched-out brilliantly too. He loved his daughter and wanted to do whatever he could to get her justice but he is also someone who is easily led. His mother managed to convince him that he should listen to the police and as a consequence he decided to leave everything to the authorities and stopped putting pressure on them.
This episode also showed how the people who had gone through the most traumatic experience of their lives had to host lunches and dinners for the "guests" who came to give their condolences. . This is another one of the bitter truths of our society! The role of the social media was also highlighted realistically in this episode. Some of the issues which were highlighted tonight were sadly a little too familiar and this is definitely not the first time that we watched these issues being highlighted in a drama. I do feel however that these issues should be highlighted over and over again! This episode of Meri Gurya had some of the most amazing performances to its credit. I am looking forward to Shehnaz's journey now. The preview of the next episode showed that she was not going to stay quiet.
Overall, this was a powerful episode but it could have been far better if it wasn't inspired so much from Zainab's murder and was slightly less dramatic.