These days when wedding ceremonies are at peak, many celebrities are entering into a married life now and then. Next in the list is the famous model of Pakistan, Mehreen Syed.  The 10th most sexiest Asian woman of the world,as per the reveals of 2012, Mehreen Syed is a 33 years old Model who has been winning many awards for her immense beauty and modeling.
It was only few hours back that the news alarmed the social media  about her wedding ceremony that was held in Lahore, this Thursday. The groom, himself is a famous businessman and the son of leading fashion designer Nasreen Humayun. Ahmed Sheikh is a father of two children from his  first marriage while its the first wedding of the bride. As can be seen in the images, the couple wore white dresses having white color as a theme.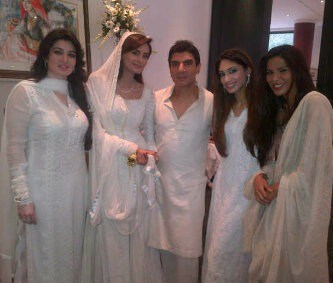 The news is still limited to the e-media where no news has been heard about it on Television. Mehreen Syed is still determine about her career as she would also make her debut through a Bollywood movie as an actress, soon. Looking extremely stunning in her wedding  dress, Mehreen seems to be  satisfied and pretty happy about the new bond. 
We Wish the couple a very happy life ahead,
Blessings
Nida Zaidi