From Ishq e Mamnoo to Fatima Gul and then Feriha,we,Pakistanis have developed a vibrant flavor of Turkish dramas. As we welcomed ,almost every Turkish Serial warm heartedly, a Turkish Movie for the very first time will soon hit Pakistani screens soon.
Turkish showbiz industry is well aware of great response of their serials from Pakistani viewers,they have decided to launch a movie named as "Mohabbat.. Ek Ittefaaq" soon.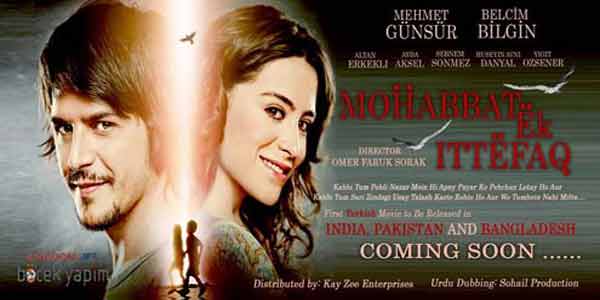 Names of movies and dramas of Turkey are given according to native language of country in which they are launching.Like for Pakistan, Urdu name is allotted. For India, it would be Hindi and so on.
Plot of movie revolves around Deniz,Buraaq and Ozgur.Deniz is a young ambitious girl,who has a dream of becoming a fine actress one day. She meets Buraaq one day and falls for her.Problem arrises when Buraq parents disagreed for Deniz and Buraaq marriage.In the meanwhile,Deniz meets Ozgur in an exhibition and they came to know that they have met somewhere else before. Ozgur  falls for Deniz and then love triangle make this movie enter into another phase.
This movie is a must watch due to perfect performances by artists,its well paced track and classic climax. I would like to congratulate Pakistani film production houses to dub this movie as much close to real voices as possible.
Share your views.
Rabia Basharat