Here are the highlights of tonight's episode:
*Romaissa loves to do household chores so thanks to her the servants of the house are getting a good break.
*There was much more interaction between Romaissa and rest of the family members in tonight's episode. Zeeshan is the only person in Nabeel's house who thinks that Romaissa deserves to be treated with respect.
*Zeeshan for the first time feels like the way Nabeel keeps on gifting expensive things to Rabbiya may effect his relationship with her.
*Nabeel's mother has happily accepted Romaissa as the new helping hand in the house and belittles her every chance she gets. Things will get worse between the two in the future.
*The class difference between Romaissa and rest of the women in Nabeel's household was highlighted further in tonight's episode.
*Hamnah finally confronts Hassan, who had nothing to say in his defense.
This episode was much better than the last one because things are finally moving ahead but at the same time there were still many scenes that could easily have been chopped down. The first scene was too long for my liking. The maid went on forever although there was actually no need for that extensive unnecessary discussion at all. The fact that non of the women in the house get up early or make breakfast for themselves was reinforced over and over again. Romaissa's character is turning out to be holier than thou which makes it very difficult for me to connect to her character. She does not appear to be human at all but she seems like someone who was programmed to be good. A few minor human flaws in her character would have made it more relatable. Sanam Jung politeness seems forced and exaggerated at times.
I actually found myself feeling for Nabeel more in tonight's episode than Romaissa maybe because Romaissa's character is such that it appears to be void of all feelings. Nabeel gets very upset after the phone call from Hassan's girlfriend which basically went to show how tired he was of taking care of people who were not worth it at all. Romaissa feels like she does not belong in Nabeel's house because she can never be good enough. It was nice to see Romaissa paying a visit to her friend this time around and not her Khala's family.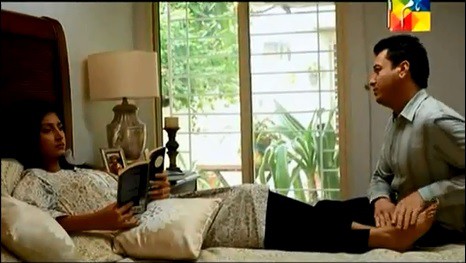 Hamnah and Hassan's scenes are getting highly repetitive. Rabbiya has nothing new to talk about every time she comes on screen. Nabeel's mother is turning out to be a very annoying character. She is the typical saas who enjoys putting her bahu through hell. Nabeel takes a stand for his wife whenever it is needed and wants to move out of the house as soon as he can. Romaissa's family is just bad as Nabeel's, I wonder why Nabeel commented that he didn't want Romaissa's family to be like his. Has he forgotten that Romaissa's Khala literally sold her niece to him.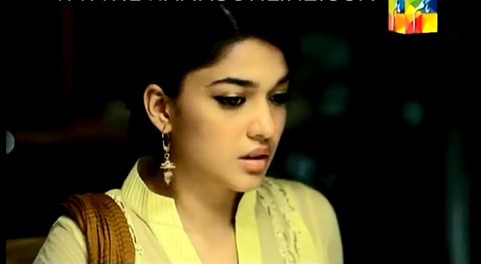 Mikaal Zulfiqar acted very well in tonight's episode, I wish he can maintain these standards. Sanam Jung is way too sweet and almost unreal, I am sure that was the demand of the character she is playing but sadly it is not coming across as impressive at all. Even ten episodes later, the x factor is completely missing from the play. There is nothing new about the story at all and the characters are too black and white.
Fatima Awan