This episode had some important developments to its credits which made it relatively more interesting but there were also a lot of scenes which were a little too slow and stretched to the limit. Ami Begum's mind games in particular and Maheen's mother's antics were especially annoying. Neelam and Waqar's scene was one of the best scenes of this episode; it was emotional and for the first time the viewers watched these two characters interacting on a completely different level. Waqar and Maheen's track is complicated like most such track written by Khalil-ur-Rehman. Maheen shared the reasons why she was not getting in touch with Waqar and Waqar must have his own reasons too therefore these two will only meet when they finally decide to part ways! It was funny when Maheen's mother locked her in the room and warned Fajr that only she could answer the phone when Maheen had her own cell phone with her!! How can her mother be so sure that she won't call Waqar?
Waqar and Jia's conversation was also very interesting! Jia's proposal and Waqar's suggestion both had ulterior motives. Jia also wanted to get married to Waqar but he has never shown any interest in her therefore at least right now she does not want to "help" him in any way. Just like Tau Dil Ka Kya Hua, this drama too shows how the male protagonist will sacrifice the love of his life to make other people around him happy. The women in both these dramas are important but they are definitely not the centre of attention. Also, the writer has put in more effort into giving the viewers a male lead they would feel for more than a female protagonist they would be rooting for! Right from the beginning Waqar has been a likeable character and a lot of viewers have been feeling for Gulrez. Maheen's character has been the least likeable character among the main protagonists. Also, this is not the first time that Waqar is going to put everyone's happiness before his own.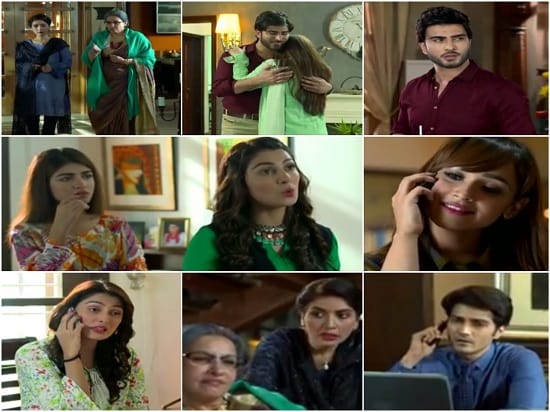 Ami Begum and Mehrunissa's conversation could have been interesting if it didn't look so staged! The dialogues are already heavy duty and the actors involved put in even more effort to deliver them in a distinctive manner which actually makes the whole scenario unrealistic and made-up. Gulrez's voice in this episode also sounded dubbed and strange as well. Ayeza Khan's acting when she was mimicking Ami Begum was right on point and funny.  Waqar's character has been translated flawlessly on screen by Imran Abbas but his make-up artist has not done justice to his face. His beard also did not look neat when he was talking to Jia in the restaurant. In the first few episodes I really liked Saba Faisal as Ami Begum but now after watching all these episodes with Ami Begum getting so much screen time, I am convinced that her character could have been translated on screen in a much better manner if it was underplayed.
The preview of the next episode showed exactly what turn the story will take from here on. The viewers know what Waqar's next move will be but it remains to be seen how Maheen will react to this new discovery. Will she get married to Gulrez? It seems highly unlikely. I am also wondering why at the beginning of this drama Neelam showed her hatred for Waqar by hitting him with a stone.
How many of you watched this episode? Do share your thoughts about it.