This had to be one of the best episodes of MTSNH so far; the story moved forward at a rapid pace and all these developments were unexpected. Ami begum's realization and Gulrez's wisdom came as a complete surprise and for the first time these two characters had to be the best part of an entire episode. Ami Begum's scenes were funny as well (and this time in a good way!). The way she asked her daughter to reassure her that she wasn't such a bad person and later on her use of English language was hilarious! It was great watching her realize her mistake and making a decision which was going to hurt Gulrez but which was definitely better than the one she had taken before. Saman Ansari has always played an important role in all the dramas she has ever been part of therefore it was also a pleasant surprise watching Mehrunissa's character which seemed unimportant few weeks back, playing a major role in making Ami Begum's reflect upon her behaviour and actions.
Gulrez and Maheen's conversation was the highlight of tonight's episode mainly because of the fact that Gulrez turned out to be much more wise than everyone gave him credit for. Gulrez has always been shown as a sensitive person therefore watching him take such a bold step which was surely going to break his heart was very touching. Also, watching Maheen believing what he said instantly was a refreshing change since Maheen usually does not get convinced so easily. Ayeza Khan was phenomenal in this particular scene, the change in her expressions when Gulrez told her the reason why Waqar was all of a sudden saying something entirely different made this scene more impactful. Gulrez's suggestion that Maheen's baraat should go on his foxy was another brilliant addition to this scene. This was the most important scene because it had a major development to its credit and it was handled faultlessly.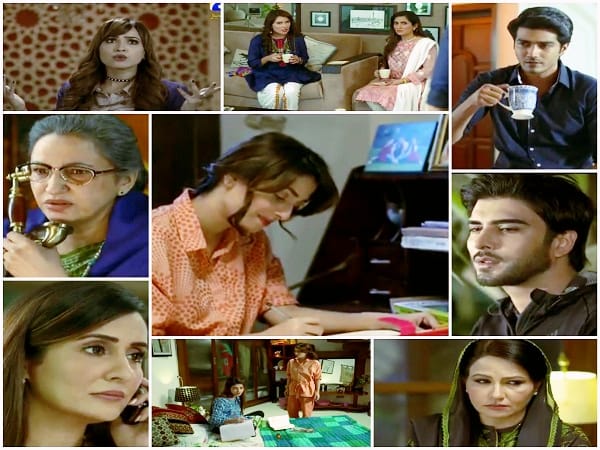 Jia is investing all her time and energy into taking revenge from Maheen for what her father did. She managed to make Waqar think that Maheen might be playing games with him. Before his conversation with Jia, he was fully convinced that Maheen loved her. Jia has done all her homework and now when she shows Waqar the diary he will walk away from this marriage and I guess it is easy to tell now why everyone hated him so much. It still remains to be seen what happened to Gulrez. Will he die in an accident too just like his parents?
For the first time I enjoyed watching all the mind games which the characters played with one another because they are headed towards a definite direction. This episode also had some impressive dialogues which explained Ami Begum and Gulrez's state of mind in particular. Although the story can pretty much be summed up as kon bane ga Maheen ka shauhar but even then the intricate relationship of all these characters with each other and also the fact that the drama is headed towards an interesting finale makes it a must-watch at this point at least. There are dramas which get slow towards the end and test your patience and then there are those like Mohabbat Tumse Nafrat Hei which test your patience for weeks but get really interesting towards the end!! Looking forward to the next episode because the promo looked enticing!
How many of you watched this latest episode? Don't forget to share your thoughts about it.