This second last episode of Mohabbat Tumse Nafrat Hei promised a happy ending but the ending cannot possibly be as simple as it seems at the moment. Waqar and Maheen's conversations in this recent episode clearly suggested that Maheen wanted Waqar to pay for the way he made her suffer for all these years. Everything that she said to him suggested that although she was going ahead with this marriage but she had not forgiven or forgotten what he had done. Maheen and Gulrez's conversation in this episode showed that Gulrez always knew that Waqar will come back at some point and he wanted Maheen to go back to him. Maheen however in a way blamed Waqar for Gulrez's death perhaps because she could never love him the way she loved Waqar or the way he deserved to be loved. Waqar told Maheen over and over again that he was willing to do whatever it took to make up for everything he had done in the past and not once did Maheen tell him that they should put the past behind them.
Ami begum's change of heart was easy to relate to since it has been well established so far that she loves Waqar despite of every bitter thing she has ever said about him. Even though she didn't even want him around few hours back, the thought of never seeing him again changed everything. Her decision to get him married to Maheen however was rather sudden but definitely not surprising. Neelam's reaction to the proposal yet again showed that she still felt that Maheen belonged to Gulrez. Maheen's conversations with Gulrez however suggested something entirely different. It remains to be seen why exactly was Maheen waiting for Waqar for all these years. Although Waqar's mistake isn't easy to forgive but even then I would have liked it if somehow he was forgiven. However, I feel that the writer has a twist in store for the viewers.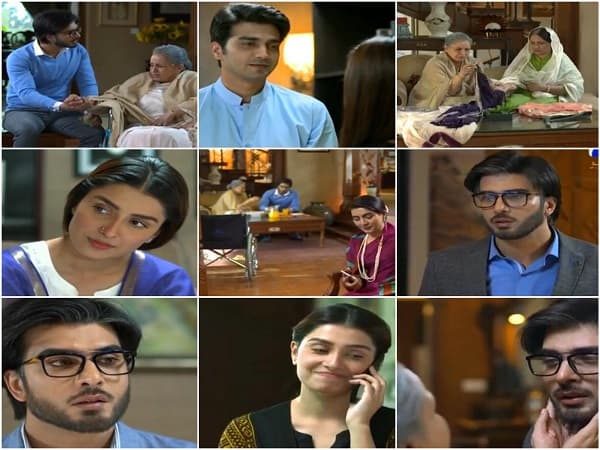 The writer hasn't rushed the ending, which is definitely something which should be appreciated but the director slowed the pace of the drama considerably by stretching the scenes. Also, the background score of Mohabbat Tumse Nafrat Hei has to be the worst part of this drama since it stands out like a sore thumb and is very often distracting as well as annoying. The last scene of the episode did not contribute much to the story. I was waiting to see some flashback scenes which would have shown how the relationship between Gulrez and Maheen was after marriage but somehow this scene didn't work for me at all. Through the other scene however the writer conveyed that Gulrez wanted this to happen therefore although Neelam does not approve of this wedding but Gulrez would have approved of it.
The conversations between Maheen and Waqar were the highlight of this episode. Maheen's reply when Waqar asked her what she wanted for the wedding was poignant and beautifully penned down. Ayeza Khan was the star of the show tonight and Imran Abbas definitely brings out the best in his character. You can't help but root for these two but at the same time it is quite obvious that Maheen wouldn't let Waqar off the hook so easily. The viewers can't wait to find out what Maheen is going to do next. The preview of the next episode showed that the wedding will take place but will it reach its culmination? Can't wait to find out!