Mohib Mirza refused to present award on the Hum Style Awards 2016 for free.  Mohib has simply said No to Hum TV Network that he will not be presenting any award at the show just thinking that it will be a great honor rather the channel should be paid for it.
Mohib, even wrote on his Facebook page: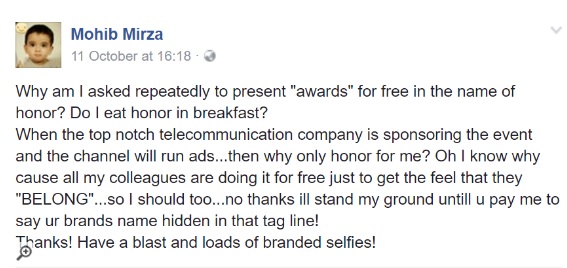 According to the Bachaana star, the award show is being sponsored by a huge telecommunication brand, then why the channels expects the channel expects the celebrities to do work for free or for the sake of feeling honored at the ceremony. Mohib insisted that the stars should be compensated fro being part of the show.
After Mohib's post, Ali Azmat also shared that he has also refused from presenting any award just like that. Filmmakers Shahzad Nawaz and Asad ul Haq  and  other fellow actors Sami Khan, Uroosa Siddiqui and Rubya Chaudhry also supported Mohib's decision.